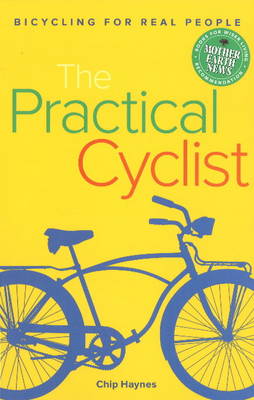 The Practical Cyclist: Bicycling for Real People (Paperback)
Chip Haynes
Paperback
Published: 16/04/2009
"...with plenty of tips and advice for those who want to get back into biking even after decades have passed, "The Practical Cyclist" is a read many readers will embrace for fitness and the environment." - James. A. Cox, The Midwest Book Review "Dust off the bike, put some air in the tires, and discover a new world that has been waiting for you. that's an easy-to-accept invitation from the author, who is a bicycle enthusiast, commuter, and self-described all-round "neighborhood bike guy" from Clearwater, Florida. the text addresses the transition into a two-wheeler mindset in an easy-to-follow format. His writing style is light enough to convince a reluctant reader to take that first spin around the block and do so eagerly and confidently. The advice is sound, too. The author encourages first-time bike commuters to resist the temptation of taking the same route they take with an automobile. "There are many roads that all, eventually, lead to the same place if you're willing to work at it,"he writes. "You want, poetically speaking, to take the road less traveled. It will make all the difference." And this book will make all the difference for a bicyclist with an open, resourceful mind and a willingness to step outside the box for an adventure on two wheels."- ForeWord Magazine "This introductory book is an easygoing ramble through the basics and joys of cycling for anyone who has just mastered riding or is returning to the bike after a long hiatus. Haynes, a commuter cyclist in Florida, aims to encourage more regular local riding and commuting with practial tips on selecting from various types of bikes; basic bike mechanics; gear and accessories. This practical, low-key approach eases the reader into integrating cycling more often into their life for pleasure or health and as an affordable, flexible, local transportation option. - Jean Chong, Momentum Magazine "First off, here's what this book is NOT; a comprehensive guide to training, repair, nutrition, racing strategy or any of that other in-depth stuff. What his book IS is a very simple, very practical and extremely humorous guide to bicycling for everyday purposes. Seasoned cyclists and hardcore commuters probably won't get much out of The Practical Cyclist other than a lot of laughs...frankly, it's just not written for the accomplished cyclers among us. But for someone just entering this wonderful world of bicycles, this book is a must read. Let's hope this book sells a billion copies!!! - Jack "Ghost Rider" Sweeney, bikecommuters.com Riding a bicycle is something you never forget-even if the last time you owned a bike, it had playing cards pinned to the spokes. People are coming back to bicycling in droves; propelled by rising gas prices, expanding waistlines, or the allure of fancy gear, bicycling for all ages has never been more popular. The Practical Cyclist is for those who have not been actively cycling for years, or perhaps are new to the sport; it is bicycling for real people. The author recognizes that not every cyclist cares about fancy equipment and competitive riding. The book's low-impact approach is uniquely geared to people who would like to come back to cycling but don't know where to begin. There are many reasons for hopping back on a bike-becoming healthier, saving money, saving the environment, but mainly to have fun. The Practical Cyclist provides simple, basic information that takes the intimidation out of visiting a bike shop and includes: * How to choose equipment * Proper riding technique * Safety tips * Accessories * Easy rules on where, when, and how to ride As this book says, anyone can ride a bike and look good doing it. You don't have to go fast, and you don't have to go far. You just have to go. Chip Haynes has been a year-round commuter for a decade, and he owns too many bicycles. He writes about bicycling for The Wire Donkey and is known as "the neighborhood bike guy" in Clearwater, Florida.
Publisher: New Society Publishers
ISBN: 9780865716339
You may also be interested in...
We would love to hear what you think of Waterstones. Why not review Waterstones on Trustpilot?