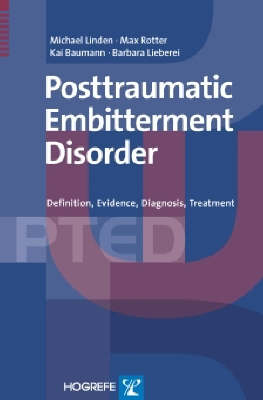 Hardback
172

Pages / Published: 01/11/2006
Pathological reactions to adverse life events are frequent. However, it has become increasingly clear that current clinical descriptions and diagnostic classifications, which subsume all such reactions under terms such as "PTSD" or "reactive and adjustment disorder," are inadequate. One widely seen type of pathological reaction can be classified as "Posttraumatic Embitterment Disorder (PTED)." Like PTSD, this disorder is characterized not by a particular type of stressful events, but by a distinct psychological process (experiences of injustice and violation of basic beliefs) and by a highly specific psychopathological profile (embitterment and intrusions). While the incidence of PTSD rises in times of danger, such as war, PTED is seen more frequently in times of societal changes which force people to cope with reorganizations of their lives and prospects. The symptoms of PTED can be very severe, chronic, life-threatening (because of suicidal and/or homicidal fantasies), and hard to treat, and often result in disability in almost all areas of life. This book provides the first comprehensive description of PTED. The authors first summarize the theoretical background for PTED and reactive and adjustment disorders. They then describe the psychological processes involved in coping with insults, humiliation, and injustice. Data on the epidemiology of PTED in the general population and patient groups are reported. Diagnostic criteria, diagnostic interviews, and self-rating scales are presented. Finally, promising and innovative avenues for treating these patients are described, based on new concepts from wisdom psychology. A highly practical Appendix includes diagnostic checklists and tools for treatment planning with PTED patients, suitable for use by both researchers and clinicians. This ground-breaking book is of interest to researchers and clinicians working in the field of posttraumatic and adjustment disorders, as well as to forensic psychologists and psychiatrists who may have to give expert opinions in cases involving trauma.
Publisher: Hogrefe Publishing
ISBN: 9780889373440
Number of pages: 172
Weight: 431 g
Dimensions: 229 x 152 x 18 mm
---
MEDIA REVIEWS
Reviewed by Steven TaylorJuly 4, 2007, Vol. 52, Release 27, Article 11(c) 2007, American Psychological AssociationPsycCRITIQUES1554-0138Reports of putative new mental disorders frequently appear in the popular press and in the research literature. Examples include traumatic or complicated grief (Shear, Zuckoff, Melhem, & Gorscak, 2006) and various forms of anger disorder (Feindler, 2006). Posttraumatic embitterment disorder (PTED) is another addition to this ever-growing list. But are these real disorders or are we, in the words of Tana Dineen (2000), "manufacturing victims" by calling every little emotional or behavioral problem a mental disorder? Is it valid or useful to label these as mental disorders? Posttraumatic Embitterment Disorder: Definition,Evidence, Diagnosis, Treatment, by Michael Linden and colleagues, provides an opportunity to examine these important issues as they pertain to posttraumatic embitterment.The monograph begins with an overview of the stress literature and areview of the descriptive psychopathology of PTED. Etiologic models of PTED are then discussed, with particular focus on "violation of basic beliefs" and "lack ofwisdom" as explanatory constructs. The monograph then proceeds to describe the assessment of PTED, including psychometric details on a scale the authors developed to measure PTED. The monograph then describes cognitive-behavioral methods for treating PTED, along with a discussion of the challenge of engaging and retaining embittered patients in treatment. Throughout this concise and well-written monograph the authors provide numerous illustrationsof the various features of PTED. The context of discovery of the concept of PTED was the authors' observations that many of their patients displayed clinically significant adjustment reactions in the wake of German reunification in 1990. Reunification caused many people, especially those in the former German Democratic Republic, to suffer dramatic reversals in social, occupational, and economic status.Individuals who thought that they could foresee their career suddenly had to realize that their qualifications were no longer honored. Public servants in high positions suddenly had to sell insurance contracts or drive a taxi. Individuals who had previously enjoyed a high rank in society lost their status. (p. 17)Understandably, this led many people to feel embittered about their lot in life. Linden and colleagues conclude that the more severe cases of embitterment were pathological and that PTED is a distinct reaction with its own distinctive etiology and psychopathologic features. PTED is said to be triggered by an exceptional though normal negative life event such as conflict in the workplace, unemployment, death of a relative, divorce, severe illness, or experience of loss or separation. Such events are experienced as unjust and as a personal insult, and psychologically there is a violation of basic beliefs and values. The disorder is said to be universal (i.e., not specific to German reunification) and commonly seen in patients who have had to cope with events of personal injustice, humiliation, frustration, and helplessness: "Within minutes, such events can lead to a change from perfect health to prolonged down-heartedness, hopelessness, embitterment, and impairment in all areas of life" (p. vii).Linden and colleagues define embitterment as a distinctive mood state."Embitterment is an emotion of having been let down, a feeling and cognition of injustice together with the drive to fight back but not being able to find one's proper goal" (p. 22). Embitterment can entail elements of anger and depression, but it also differs in some ways from these emotions. In contrast to anger, embitterment involves self-blame and a feeling of injustice. Unlike depression, embitterment is episodic, triggered when the person is reminded of the disturbing event. Embitterment further differs from anger and depression in that the person might even grin and feel haDoody's Listings and Reviews of Your Books, July 9, 2007Nicholas Greco IV, M.S., BCETS, CATSM, CCRA(College of Lake County)**Description**This is a phenomenal exploration into a new area of psychopathology,post-traumatic embitterment disorder (PTED). This new diagnostic classification is not characterized by stressful events, but rather by perceived injustices and violation of basic beliefs. The books explores how PTED is a more frequently seen condition during times of psychosocial changes such as job loss, changes in society -- economic, legal, and cultural, as well as divorce, serious illness, and conflicts in the workplace.**Purpose**The purpose of this book is to examine how there is a strong need for a new diagnostic category for those individuals who do not meet the criteria for PTSD, yet have had or are still experiencing negative life events that result in feelings of personal injustice, humiliation, frustration, and helplessness. The authors examine the diagnosis, assessment, and treatment of individuals with PTED, citing strong empirical research throughout the book. This is an intriguing exploration for any clinician who works with PTSD.**Audience**Practicing clinicians, researchers, and academics will be best served by this book. Yet, one cannot cast aside the potential use of this book for advanced graduate level courses or post-doctoral fellowships.**Features**As this is new, uncharted territory, the authors provide a detailed historical basis for PTED with exceptional empirical evidence to support this cutting-edge diagnosis. What stands out the most are the examples as well as the case vignette which helps to put the diagnosis in perspective. Clinicians will find the PTED Self-Rating Scale as well as the diagnostic tools in the appendixes tobe a strong feature of this book.**Assessment**As a board certified expert in PTSD, and a diplomate of the American Academy of Experts in Traumatic Stress, I am always interested in empirically based treatments for PTSD. What makes this book unique is that the authors have addressed the diagnostic void for those not meeting the criteria for PTSD yet have a significant presentation to warrant treatment. PTED is clearly an area in need of further study, and the authors have opened the door. Strongly recommended!
You may also be interested in...
×
Download the Waterstones App
Would you like to proceed to the App store to download the Waterstones App?
Reserve online, pay on collection.
Or,
add to basket
, pay online, collect in as little as 2 hours, subject to availability.
Thank you for your reservation
Your order is now being processed and we have sent a confirmation email to you at
When will my order be ready to collect?
Following the initial email, you will be contacted by the shop to confirm that your item is available for collection.
Call us on or send us an email at
Unfortunately there has been a problem with your order
Please try again or alternatively you can contact your chosen shop on or send us an email at