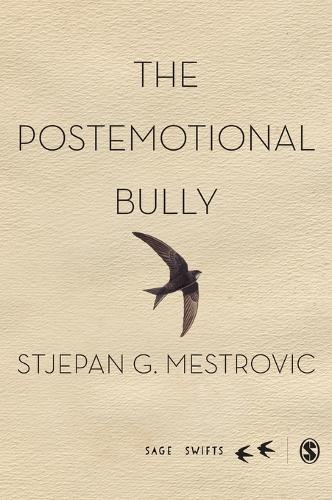 Hardback
136

Pages / Published: 21/01/2015
The topics of bullying and hazing have sparked interest and discussion in recent years. Hazing is a crime in the United States, and Western nations have made efforts to stamp out bullying in schools, the workplace, and institutions. However, for the most part, bullying and hazing are ill-defined and lack theoretical perspective. Mestrovic brings classical as well as contemporary social theory to bear on this discussion.

Thorstein Veblen defined the predatory barbarian as the social type, enshrined by modernity, who prefers to use force over peacable means to achieve ends. On the other extreme, Marcel Mauss wrote about the spirit of the gift and its obligations - to give, to receive, and to reciprocate - as the fundamental basis of social life. Yet, he argued that the spirit of modernity was disappearing with the progress of modernity.

Mestrovic traces this fundamental opposition between barbaric force or bullying versus benign obligation that is the spirit of the gift through a host of modernist and postmodernist thinkers and theories. He introduces the concept of the 'postemotional bully' as an alternative to both of these major bodies of social theory. The postemotional bully, as a social type, is fungible, beset by screen-images on media and social media that are isolating, and is at the mercy of the peer-group.

Case studies focus on bullying and hazing, specifically the cases of an American solider who committed suicide in Afghanistan, instances of torture at Abu Ghraib, and the murder of a 23-year-old African-American inmate in a Southern state prison in the US.
Publisher: SAGE Publications Ltd
ISBN: 9781473907805
Number of pages: 136
Weight: 302 g
Dimensions: 210 x 148 x 12 mm
---
MEDIA REVIEWS
Stjepan Mestrovic has always been worth reading, and here is Mestrovic at his very best. Written with passion and principle, this book builds on the sociological tradition to explore the darkness of these postemotional times. A shining example of sociology as it should be - and so rarely is. -- Keith Tester
Stjepan Mestrovic presents a thought-provoking and critical piece of cultural sociology on the contemporary social issue of bullying rooted in the everyday but with recognition of the influential belief of historical forms of barbarism. He draws many vivid examples from social media, popular culture and the distressing but his close observations from the fallout and confrontations of the Abu Ghraib prison abuses in Iraq. Mestrovic keenly frames bullying as part and parcel of the paradoxes of a postemotional age, society and zeitgeist comprised and sustained by interpersonal estrangement, personal anxiety, and artificial and standardized emotions. -- Marcus Aldredge
Mestrovic's The Postemotional Bully is a Maussian gift. This deeply intellectual and theoretically informed exploration of the Bully as a universal character-type, shows the deep tie-in between the Modern's transformation of how we experience emotions, and demonstrates Western culture's simultaneous attraction too and fear of the bullying impulse. Through the lens of a wide range of neglected sociologists, philosophers and anthropologists, this work offers-up the first bridge to understand the social and cultural roots of bullying and thus demands from the reading public, a reciprocal obligation to explore, understand and change our own role in coming to understand the bully in us. -- Professor Keith Kerr
Stjepan Mestrovic offers a timely, new perspective for exploring the social problem of bullying. Contrary to the assertion that modern life appeals to the better angels of our nature, Mestrovic observes that modern society has accelerated serious dysfunctional and disruptive human tendencies. The act of bullying is not just carried out by the violent person hiding in the shadows of the classroom, the workplace, the boardroom, or a government office. Mestrovic demonstrates that the act of bullying hides in plain sight in the daily acts of fraud perpetrated within modern society: sham political processes, the abusive manipulation of consumers' emotions by advertisers, peer group opinion that acts like a poltergeist within the machine that is the Internet, the relentless trend to make every person fungible or replaceable, and media saturation that becomes a type of electronic solitary confinement for most people. The Postemotional Bully is a welcome contribution to ongoing debates about the character and future of modern society.
-- Ronald Lorenzo
In lay terms, The Postemotional Bully provides a practical and up-to-date application of classical theoretical statements with regards to coercive forms of power in industrialized society. Furthermore, the text exposes how the role of deconstruction and mass emotional manipulation has permeated postmodern culture. As the voice of "postemotional theory", Mestrovic provides readers with an essential and unique perspective for interpreting a range of human activities from common everyday interactions, world events, and public policy, in order to better discern the proliferation of institutionalized barbarianism and broad and subtle forms of bullying. -- Michael D. Royster
Professor Mestrovic is one of the few social scientists who consistently pushes the boundaries of the discipline. With this book, he has once again confirmed his reputation as an original and important thinker.
-- Ambassador Akbar Ahmed
In this thought-provoking, theoretically dense essay, sociologist Mestrovic seeks to understand and explain the phenomena of bullying and hazing through the lens of what he labels "postemotional social theory." [...] His theory is informed by a plethora of popular cultural artifacts, and also by empirical studies of high-profile cases of bullying worldwide. The result is an ambivalent gift to the discerning reader: a novel manner in which to better understand the cultural and social roots of these phenomena, but little suggestion or guidance on "what is to be done" to curtail this disturbing trend. -- J. R. Mitrano, Central Connecticut State University
You may also be interested in...
Simply reserve online and pay at the counter when you collect. Available in shop from just two hours, subject to availability.
Thank you for your reservation
Your order is now being processed and we have sent a confirmation email to you at
When will my order be ready to collect?
Following the initial email, you will be contacted by the shop to confirm that your item is available for collection.
Call us on or send us an email at
Unfortunately there has been a problem with your order
Please try again or alternatively you can contact your chosen shop on or send us an email at