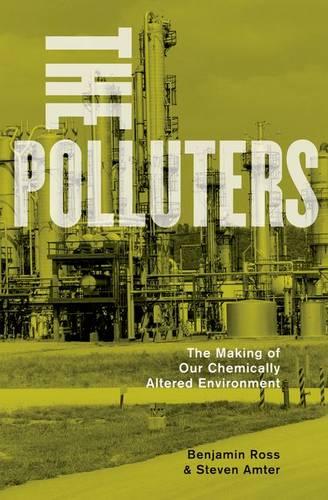 Paperback
240

Pages / Published: 12/07/2012
The chemical pollution that irrevocably damages today's environment is, although many would like us to believe otherwise, the legacy of conscious choices made long ago. During the years before and just after World War II, discoveries like leaded gasoline and DDT came to market, creating new hazards even as the expansion and mechanization of industry exacerbated old ones. Dangers still felt today-smog, pesticides, lead, chromium, chlorinated solvents, asbestos, even global warming-were already recognized by chemists, engineers, doctors, and business managers of that era. A few courageous individuals spoke out without compromise, but still more ignored scientific truth in pursuit of money and prestige. The Polluters reveals at last the crucial decisions that allowed environmental issues to be trumped by political agendas. It spotlights the leaders of the chemical industry and describes how they applied their economic and political power to prevent the creation of an effective system of environmental regulation. Research was slanted, unwelcome discoveries were suppressed, and friendly experts were placed in positions of influence, as science was subverted to serve the interests of business. The story of The Polluters is one that needs to be told, an unflinching depiction of the onslaught of chemical pollution and the chemical industry's unwillingness to face up to its devastating effects.
Publisher: Oxford University Press Inc
ISBN: 9780199930968
Number of pages: 240
Weight: 320 g
Dimensions: 235 x 156 x 16 mm
---
MEDIA REVIEWS

"The engrossing, infuriating history of American pollution... An important, disheartening account of widespread willful ignorance."--Kirkus Reviews
"Startling, intense, and brilliantly elucidated... sharply relevant to the present-day disasters of the BP oil spill and the Upper Big Branch Mine explosion... an unlikely page-turner."--Booklist

"The Polluters documents how the strategies used by today's polluters to duck regulation of their toxic chemicals were pioneered by polluters who poisoned the American landscape and killed hundreds of Americans in the early twentieth century. For nearly one-hundred years, corporate polluters have subverted democracy and corrupted public officials to control government regulation of toxic chemicals maximizing profits at the expense of public health."--Robert F. Kennedy, Jr.

"The Polluters is a readable, comprehensive and authoritative study of the history of pollution. No matter how much you think you know about this issue, you'll learn something from this book--and you'll be outraged as well as informed."--David Kusnet, Chief Speechwriter for President Bill Clinton, 1992-1994

"The Polluters is a fascinating account of how the polluters in this country got away with murder for decades. This book puts a name and face on the many polluters who knew for years the damage they were doing to the public's health and to the environment and unveils their efforts to cover up the effects of this pollution; a must for any activist who wants to understand the strategies these polluters used to continue business as usual."--Lois Gibbs, Executive Director, Center for Health, Environment & Justice

"The Polluters details how the chemical industry in the 20th century erected political and scientific barriers to government oversight by failing to test the toxicity of their compounds or, worse, keeping secret damning data about health risks of widely used and profitable chemicals."--Lyndsey Layton, Washington Post

"Ross and Amter are certainly not friends of the chemical companies, but they deserve credit for also being able to see things from the industry's standpoint... by taking us back to the period before the great environmental awakening, the book provides an invaluable historical perspective. There's no doubt from this saga that we still need strong government regulation: 100 years of experience shows that companies cannot be trusted to regulate themselves."--Chris Mooney, The American Prospect

"A remarkably timely, extensively researched, and accessible book offering a fresh
perspective . . . This is little-known history that makes for fascinating reading."--The Washington Post

"Frustration. That is the best way to describe the experience of reading The Polluters: The Making of Our Chemically Altered Environment. Page after page reveals the history of industries spewing toxins into our air, water, and soil and a government more apt to look the other way. Presenting the conflict through the lens of individual action and human cost, authors Benjamin Ross and Steven Amter provide an engaging and unsettling account of U.S. pollution."--BluePlanetGreenLiving.com

"The Polluters is a commendable effort to present the history of industrial
environmental harm with candor and clarity in a readable, anecdotal form."--Chemical & Engineering News

"Keep moving if you're looking for a happy ending . . . But if you seek a knowing, readable chronicle of humanity's struggle to rein in its own mess-making, these 223 meticulously footnoted pages are, well, the bomb." --Lancaster Sunday News

"To write a history of industrial pollution, with a few shining exceptions, is largely to document its denial by both industry and government. That just the history Benjamin Ross and Steven Amter have given us in The Polluters, an amply footnoted but briskly readable new book published by Oxford University Press." --Dakota Resource Council

"[A] spellbinding and detailed compendium of corporate deceit and defiance that will leave readers fuming at the towering gall of the Polluting Class . . . The Polluters is brimful with decades of tales that will have readers grinding their teeth in indignation and frustration."
--Berkeley Daily Planet


You may also be interested in...
Simply reserve online and pay at the counter when you collect. Available in shop from just two hours, subject to availability.
Thank you for your reservation
Your order is now being processed and we have sent a confirmation email to you at
When will my order be ready to collect?
Following the initial email, you will be contacted by the shop to confirm that your item is available for collection.
Call us on or send us an email at
Unfortunately there has been a problem with your order
Please try again or alternatively you can contact your chosen shop on or send us an email at