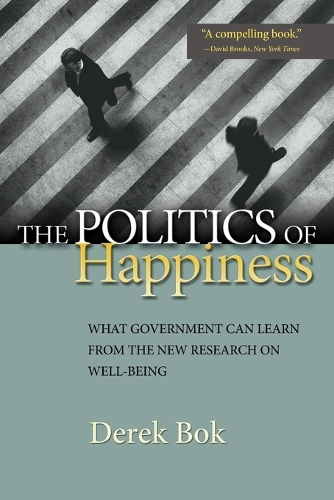 The Politics of Happiness: What Government Can Learn from the New Research on Well-Being (Paperback)
Derek Bok
(author)
Paperback
272

Pages
Published: 04/10/2011
During the past forty years, thousands of studies have been carried out on the subject of happiness. Some have explored the levels of happiness or dissatisfaction associated with typical daily activities, such as working, seeing friends, or doing household chores. Others have tried to determine the extent to which income, family, religion, and other factors are associated with the satisfaction people feel about their lives. The Gallup organization has begun conducting global surveys of happiness, and several countries are considering publishing periodic reports on the growth or decline of happiness among their people. One nation, tiny Bhutan, has actually made "Gross National Happiness" the central aim of its domestic policy. How might happiness research affect government policy in the United States--and beyond? In The Politics of Happiness, former Harvard president Derek Bok examines how governments could use the rapidly growing research data on what makes people happy--in a variety of policy areas to increase well-being and improve the quality of life for all their citizens. Bok first describes the principal findings of happiness researchers. He considers how reliable the results appear to be and whether they deserve to be taken into account in devising government policies. Recognizing both the strengths and weaknesses of happiness research, Bok looks at the policy implications for economic growth, equality, retirement, unemployment, health care, mental health, family programs, education, and government quality, among other subjects. Timely and incisive, The Politics of Happiness sheds new light on what makes people happy and how government policy could foster greater satisfaction for all.
Publisher: Princeton University Press
ISBN: 9780691152561
Number of pages: 272
Weight: 369 g
Dimensions: 235 x 152 x 18 mm
---
MEDIA REVIEWS
One of Fiscal Times Best Books for 2010 "Compelling."--David Brooks, New York Times "With his clear analysis and outside-the-box ideas, Bok encourages thoughtful consideration of what we should want for ourselves and expect from our government."--Sarah Halzack, Washington Post "Careful and cogent... Bok believes ... that the American government, which is in no danger of tranquilizing its citizens, can and should design policies to enhance their happiness."--Glenn C. Altschuler, Boston Globe "Delving into the burgeoning field of happiness research, former president of Harvard University Bok (The State of the Nation) sifts through scientific studies on how societal well-being indications can and should be used to shape social and political policy... Bok's arguments on how good government, access to education, and adequate child care make for a pleasanter society are incontrovertible, and he initiates an important, jargon-free discussion of American public policy, especially when its aims contradict or diminish the public weal."--Publisher's Weekly "Bok addresses how happiness research could inform US policy. The first three chapters unpack the claims of happiness psychologists, evaluate reliability and discuss policy application. The remainder address happiness in relation to economic growth, inequality, financial hardship (retirement, healthcare and job loss), suffering (chronic pain, sleep disorder and depression), marriages and families, education and the quality of government. The debate on happiness, Bok concludes, 'will be an accomplishment of enduring importance to humankind'."--Paul Stenner, Times Higher Education "Mr. Bok's rich, challenging, remarkable new book is remarkably solid. For it is based not on the empty aphorisms so beloved by lazy and second-rate pseudo-philosophers. There is a surprisingly massive quantity of serious statistical and sociological research that has been done on the subject of happiness in both prosperous and developing societies, and Mr. Bok draws liberally and impressively upon it. His conclusions are remarkable and well worth heeding... This is a remarkable, original, provocative and brilliant book. Anyone who wants to be happy, or to share their happiness with others, should snap it up at once."--Martin Sieff, Washington Times "Bok reviews a wide range of surveys that consistently associate levels of happiness or satisfaction with several demographic and social variables... Bok concludes that the scientific evidence on well-being is now robust enough for politicians to start taking action."--Felicia Huppert, Nature "[Bok asks] whether governments should really try to maker their citizens happier. Answer: yes, not through promoting economic growth, but through environmental policies, healthcare, and strengthening marriage and the family."--Glenda Cooper, Prospect Magazine "Provides insights into the mysteries of happiness."--Phillip Longman, Washington Monthly "Bok, former president of Harvard, outlines the work of 'happiness scholars' and suggests that their findings would be an 'eminently defensible way' of informing public policy, at least as valuable as opinion polls or economic indexes. Among the most significant findings he cites is that an increase in wealth does not correlate with an increase in happiness and that rising inequality has not caused a decrease. From these and other points, Bok argues for many general and specific policy measures that, he believes, would add to the sum of happiness in the United States... Readers will find him in turn provocative and quixotic."--Bob Nardini, Library Journal "[A] sweeping study of behavioural research and public policy... This is a book that leaders of developing nations obsessed with economic growth will find puzzling and troubling, but not as much as market economists will."--Stephen Matchett, Australian "Okay, I hear your protests, your gut telling you that Bok is a naive professor with his head in the clouds. Skeptical myself, I found his book full of surprises. Example: The growing inequality of incomes in the United States has not made Americans more dissatisfied than in previous times. Only one group is upset by this growing disparity--wealthy Americans! See what I mean? Counterintuitive conclusions, like this one, abound."--Mandy Twaddell, Providence Journal "Relatively light and accessible... Although Bok is partisan, his is a good introduction to the subject. He accurately outlines the findings of the research while questioning its shortcomings."--Daniel Ben-Ami, Spiked Review of Books "[This] is a careful, helpful book. It brings together the key findings in the area of happiness research--a relatively new discipline of the social sciences that uses surveys and polls to measure well-being... The Politics of Happiness is not a complete answer... It does however, add the methodology and reasoning of modern social science to the profound insights of ancient moral and political philosophy."--Nitin Pai, Pragati, Indian National Interest Review "Bok explores a number of new studies related to the concept of happiness and then painstakingly asks whether and how government can do much to increase human happiness... The Politics of Happiness raises a number of challenges to our assumptions."--Debbie Bruno, Roll Call "This book is clear and nicely written and provides a fascinating overview of what does--and doesn't--contribute to the wellbeing of people in the Western world."--Miriam Cosic, Australian "Bok's summary of the available research is skillful and to the point."--Tevi Troy, Claremont Review of Books "A book policymakers and people in governance should read. So that there can be more happiness all around."--Vaidehi Nathan, Organiser "This book offers a fresh look at the surprisingly not-so-elusive quality of happiness and why economic policy can make a difference where it counts. Bok has a smooth and convincing narrative style, and he weighs his arguments carefully."--Maureen Mackey, Fiscal Times
You may also be interested in...
×
Download the Waterstones App
Would you like to proceed to the App store to download the Waterstones App?
Reserve online, pay on collection


Thank you for your reservation
Your order is now being processed and we have sent a confirmation email to you at
When will my order be ready to collect?
Following the initial email, you will be contacted by the shop to confirm that your item is available for collection.
Call us on or send us an email at
Unfortunately there has been a problem with your order
Please try again or alternatively you can contact your chosen shop on or send us an email at