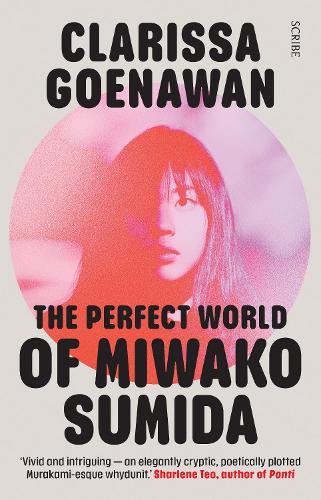 The Perfect World of Miwako Sumida: a novel of modern Japan (Paperback)
Clarissa Goenawan
(author)
Paperback
288

Pages
Published: 08/10/2020
A bewitching novel set in contemporary Japan about the mysterious suicide of a young woman.
Miwako Sumida is dead.
Now those closest to her try to piece together the fragments of her life. Ryusei, who has always loved her, follows Miwako's trail to a remote Japanese village. Chie, Miwako's best friend, was the only person to know her true identity - but is now the time to reveal it? Meanwhile, Fumi, Ryusei's sister, is harbouring her own haunting secret.
Together, they realise that the young woman they thought they knew had more going on behind her seemingly perfect facade than they could ever have dreamed.
Publisher: Scribe Publications
ISBN: 9781913348328
Number of pages: 288
Dimensions: 210 x 135 x 21 mm
---
MEDIA REVIEWS
'The gap between the private pain we suffer and the public image we project is explored with sensitivity and tenderness.'
-- Claire Allfree * Daily Mail *
'Vivid and intriguing - an elegantly cryptic, poetically plotted Murakami-esque whydunit.'
-- Sharlene Teo, award-winning author of
Ponti
'An offbeat, tender exploration of the secrets we keep from others ... Goenawan is clearly a talented and creative storyteller ... She excels at suspense, keeping the reader guessing with left-field plot developments and forays into magic realism that somehow seem in keeping with realities on the ground.'
-- Sarah Gilmartin * The Irish Times *
'Clarissa Goenawan's style is effortless and emotionally charged, and it's particularly heartening to see a trans character depicted in a lead role, written in a real and sympathetic way.'
-- Prudence Wade * Press Association *
'A novel in three voices about the inner turmoil - and beauty - that people keep walled behind flawless surfaces.'
-- Tiffany Tsao, author of
The Oddfits
and
The Majesties
'Dazzling.'
* Foyles Bookstore *
'She has created a Murakami-inspired novel that does away with all of his problems and tells a story far more rounded, pleasing, and sophisticated.'
-- Will Heath * Books & Bao *
'From the first page of Clarissa Goenawan's The Perfect World of Miwako Sumida, we know that the titular Miwako has taken her own life, but we don't know why. This same question plagues Miwako's close friends as they grieve her death and search for answers. In this elegant and haunting novel, Goenawan deftly explores the messiness of grief, the pain of lost chances, and the way a life can collapse under the weight of secrets. Miwako and her friends are under my skin, and I'll be thinking about them for some time.'
-- Kathleen Barber, author of
Truth Be Told
and
Follow Me
'An exquisite tale about the way secrets shape and transform young lives. Behind Goenawan's crisp, spare prose lies a world of emotional complexity.'
-- Mira T. Lee, award-winning author of
Everything Here Is Beautiful
'Written in clear, simple prose, Goenawan's novel presents the intriguing mystery of Miwako Sumida through the eyes of three characters who try to piece together her puzzle while struggling with their own questions of meaning and identity. This story about youth, friendship, grief, and trauma invites us through secret doors, ready to discover more.'
-- Intan Paramaditha, PEN Award-winning author of
Apple and Knife
and
The Wandering
'Miwako is a powerful, memorable character ... The way these characters' lives intersect makes for a complex and satisfying tale, one that's sad at the same time as it's lively and warm.'
-- Rebecca Hussey * Book Riot *
'As three stories interlink, rich plot, description, and dialogue make this fiction seem like reality. While readers may be aware they're not a part of the novel, through Goenawan's enthralling writing, they will nonetheless become immersed in her fictional world.'
-- Budi Darma
'Tender and tragic ... Goenawan's luminous prose captures the deep emotions of her characters as they grapple with questions about family history, gender, and sexuality. The tug of Miwako's strange, troubled spirit will wrench readers from the beginning.'
-- Publishers Weekly
'Goenawan, like any skilled novelist, manages to elegantly reveal both the pain and beauty of unraveling a life after loss. This is only her second novel to date, and she's already been compared to the wizard of world-building, Haruki Murakami.'
* Lambda Literary *
'[Goenawan] raises an age-old question on the fine line where literature ends and life begins ... [she] has her own distinctive voice, as she sensitively explores traumatic sexual experiences through a woman's perspective.'
* The Jakarta Post *
'A compelling protagonist ... Like Japanese brush painting, the author's simple, clear prose captures Miwako's vulnerability and complexity. Also vividly drawn are Fumi and Chie, each having built their own unusual protective personas that are gradually revealed. An eerie and elegant puzzle.'
* Kirkus Reviews *
'Like Goenawan's previous Rainbirds, this is more literary fiction than conventional mystery, featuring exceptionally well-drawn characters facing adversity in a narrative written with an elegance and delicacy.'
-- Michele Leber * Booklist *
'Goenawan does an expert job of getting to the core of this university student with a mysterious past, and on how people grapple with the death by suicide of a loved one.'
* Alma *
'This haunting tale of grief and tragedy by the author of Rainbirds might appeal to new adults who remember John Green's Looking for Alaska. The leisurely narrative uncovers a world of Japanese customs, ghosts, and grief.'
-- Lesa Holstine * Library Journal *
'[A] a complex, interpersonal mystery ... [A] tremendous examination of sadness ... [A] book with heart about the mysteries of the heart.'
-- Benjamin Welton * New York Journal of Books *
'Goenawan's prose is transportive in its directness and evocative in its simplicity. In Miwako, she has succeeded in an intricate character study of a perturbed soul ... An immersive, haunting tale.'
-- Walter Sim * The Strait Times *
'If her debut novel brings Murakami to mind, her second, with its winsome tone, harkens to early Banana Yoshimoto. However, with her blend of mystery, magic and social issues - in this case, sexual abuse, transgender awareness and suicide - Goenawan is developing her own distinct brand.'
-- Suzanne Kamata * The Japan Times *
'A quietly powerful meditation on the destructive power of secrets, as well as the power of truth to heal even beyond death.'
-- Christina Ladd * The Nerd Daily *
'[A] subtly fantastical story, driven by themes of love, loss, and grief. It toes the line between YA and literary fiction, and it does so effortlessly ... [A] three-dimensional story that moves seamlessly from the distant past to the recent past to the present, painting a colourful image of Miwako Sumida that grows in detail as the story gains momentum. Despite not having been written by a Japanese novelist, The Perfect World of Miwako Sumida strongly and elegantly echoes the style and tone of manga like Erased and Orange, and most vividly the novels of Haruki Murakami ... There are mysteries that tease at you and lies you'll be told, all in service of a complex, intense story that ebbs and flows so beautifully. It's a wild ride, and a delightfully satisfying one.'
* Books & Bao *
'This novel is both familiar and unusual. It is written in English by an Indonesian-born Singaporean author, but summons the atmospheres of Japanese fictions (both written and cinematic) ... Clarissa Goenawan is an emerging talent ... Compassionate and compelling.'
-- Alison Huber * Readings *
'Powerful and compelling.'
* Reading, Writing and Riesling *
'Very absorbing and incredibly well written ... Highly recommended and I'll be looking out for more from this author.'
* Theresa Smith Writes *
'A novel that examines a tragedy from three sides ... Ultimately very readable and enjoyable.'
-- Emily Paull * The AU Review *
'What a beautiful, heartbreaking book ... the language is reminiscent of Japanese books The Travelling Cat Chronicles (Hiro Arikawa) and If Cats Disappeared from the World (Genki Kawamura). In these stories, as in Goenawan's, beautiful language and scenes are used as backdrops for a gentle uncovering of what it really means to be human.'
-- Kaylia Payne * Lip Magazine *
'This is a bittersweet tale of abuse and identity, of the potentially destructive nature of secrets and of the value of having people around who can understand and help process painful or traumatic events.'
* Pile by the Bed *
'This is a deep-cut examination of what happens to a life left behind.'
* Keeping Up with the Penguins *
'This is Murakami without the male gaze - a feminist Murakami, perhaps ... An engrossing tale clearly influenced by Japanese women writers such as Risa Wataya and Banana Yoshimoto, The Perfect World of Miwako Sumida is about the crushing weight of secrets and how the long arm of history returns to haunt a person. In this novel, young women straitjacketed by the standards of mainstream society demand: give us a closer look.'
-- Cher Tan * The Saturday Paper *
'Quietly quirky in the manner of Haruki Murakami, including shades of magic realism, The Perfect World of Miwako Sumida focuses on the subtle intricacies of social interactions and sexuality, particularly in Japanese culture at the time ... This is a lingering fable about learning to accept yourself, even in the wake of grief.'
-- Doug Wallen * Big Issue *
'The Perfect World of Miwako Sumida is a vibrant and at time surreal exploration of lost love, death, trauma, and friendship in Japan in the 1980s/90s ... This novel is beautifully created and provides a mature look into suicide and its impacts on those left behind.' FOUR STARS
-- Akina Hansen * Good Reading *
'Captivating and sometimes heartbreaking ... The Perfect World of Miwako Sumida is hard to put down and despite its tragedy is a thoroughly enjoyable read.'
-- Vittoria Bon * Gold Coast Bulletin *
'A novel that lingers in the mind thanks to its poetic delivery, layering of ideas and an engrossing tale, all led by vivid characters.'
* Bad Form Magazine *
Praise for Rainbirds:
' A murder mystery and a family drama in one, this book is as beautiful as it is understated. The author presents us with a fascinatingly structured look into Japanese society and a depiction of mourning and grief that is universally recognisable.'
* San Francisco Chronicle *
Praise for Rainbirds:
'A transnational literary tour-de-force. Readers will be carried along by its creepy charm. '
* The Japan Times *
Praise for Rainbirds:
'Clarissa Goenawan spins a dark, encapsulating story that will certainly reel you in completely.'
* Bustle *
Praise for Rainbirds:
'Mysterious and dark.'
* Daily Beast *
You may also be interested in...
×
Download the Waterstones App
Would you like to proceed to the App store to download the Waterstones App?
Reserve online, pay on collection


Thank you for your reservation
Your order is now being processed and we have sent a confirmation email to you at
When will my order be ready to collect?
Following the initial email, you will be contacted by the shop to confirm that your item is available for collection.
Call us on or send us an email at
Unfortunately there has been a problem with your order
Please try again or alternatively you can contact your chosen shop on or send us an email at