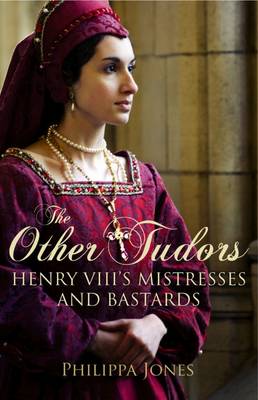 The Other Tudors: Henry VIII's Mistresses and Bastards (Paperback)
Philippa Jones
Paperback
Published: 26/06/2009
Can be ordered from our supplier
Everybody thinks they know the tale of King Henry VIII's wives: divorced, beheaded died; divorced, beheaded, survived. But behind this familiar story, lies a far more complex truth. This book brings together for the first time the 'other women' of King Henry VIII. When he first came to the throne, Henry VIII's mistresses were dalliances, the playthings of a powerful and handsome man. However, when Anne Boleyn disrupted that pattern, ousting Katherine of Aragon to become Henry's wife, a new status quo was established. Suddenly noble families fought to entangle the king with their sisters and daughters; if wives were to be beheaded or divorced so easily, the mistress of the king was in an enviable position. While Henry VIII has frequently been portrayed as a womanizer, author Philippa Jones reveals a new side to his character. Although he was never faithful, Jones sees him as a serial monogamist: he spent his life in search of a perfect woman, a search that continued even as he lay dying when he was considering divorcing Catherine Parr thus leaving him free to marry Katherine d'Eresby. Yet he loved each of his wives and mistresses, he was a romantic who loved being in love, but none of these loves ever fully satisfied him; all were ultimately replaced. "The Other Tudors" examines the extraordinary untold tales of the women who Henry loved but never married, the mistresses who became queens and of his many children, both acknowledged and unacknowledged. Philippa Jones takes us deep into the web of secrets and deception at the Tudor Court and explores another, often unmentioned, side to the King's character.
Publisher: IMM Lifestyle Books
ISBN: 9781847734297
You may also be interested in...
"Beyond the Usual History; A Great Read"
I love reading anything about the Tudors fact and fiction. This book has a great deal of the first with, I am sure, a little dose of the latter. So there are one or two historical slips and a few great leaps of... More
We would love to hear what you think of Waterstones. Why not review Waterstones on Trustpilot?