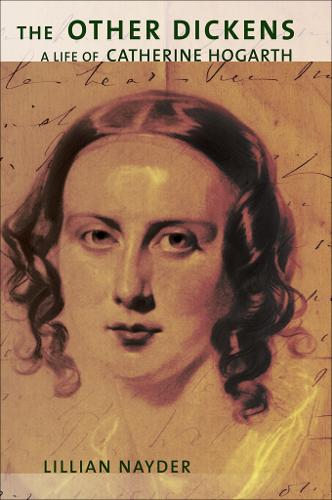 Paperback
376

Pages / Published: 14/02/2012
Catherine Hogarth, who came from a cultured Scots family, married Charles Dickens in 1836, the same year he began serializing his first novel. Together they traveled widely, entertained frequently, and raised ten children. In 1858, the celebrated writer pressured Catherine to leave their home, unjustly alleging that she was mentally disordered-unfit and unloved as wife and mother. Constructing a plotline nearly as powerful as his stories of Scrooge and Little Nell, Dickens created the image of his wife as a depressed and uninteresting figure, using two of her three sisters against her, by measuring her presumed weaknesses against their strengths. This self-serving fiction is still widely accepted.
In the first comprehensive biography of Catherine Dickens, Lillian Nayder debunks this tale in retelling it, wresting away from the famous novelist the power to shape his wife's story. Nayder demonstrates that the Dickenses' marriage was long a happy one; more important, she shows that the figure we know only as "Mrs. Charles Dickens" was also a daughter, sister, and friend, a loving mother and grandmother, a capable household manager, and an intelligent person whose company was valued and sought by a wide circle of women and men.
Making use of the Dickenses' banking records and legal papers as well as their correspondence with friends and family members, Nayder challenges the long-standing view of Catherine Dickens and offers unparalleled insights into the relations among the four Hogarth sisters, reclaiming those cherished by the famous novelist as Catherine's own and illuminating her special bond with her youngest sister, Helen, her staunchest ally during the marital breakdown. Drawing on little-known, unpublished material and forcing Catherine's husband from center stage, The Other Dickens revolutionizes our perception of the Dickens family dynamic, illuminates the legal and emotional ambiguities of Catherine's position as a "single" wife, and deepens our understanding of what it meant to be a woman in the Victorian age.
Publisher: Cornell University Press
ISBN: 9780801477942
Number of pages: 376
Weight: 709 g
Dimensions: 235 x 156 x 20 mm
---
MEDIA REVIEWS
"The Other Dickens breaks new ground in Victorian Studies by making Catherine, Charles Dickens's wife, the center of a work that reconfigures the Dickens story so that it is as much hers as his-indeed more hers than his.... Nayder aims to both correct injustices done to Catherine by Charles and many of his biographers and, more crucially, to revivify Catherine's voice, to write her life from her own perspective.... This carefully documented, engagingly written biography manages to do justice to both."
* Women's Review of Books *
"Catherine's story, meticulously excavated here, its details saved for posterity only because of her connection to a famous man, adds valuable information to cultural and social histories of nineteenth-century women. Through Nayder's diligence in finding and analyzing the surviving materials, Catherine emerges as a quiet but engaged Victorian woman of considerable dignity and the confidence of the genteel social standing that was her birthright as a member of the Hogarth family, a social place far above her husband's when they first were married. Lillian Nayder has surely brought her to light as fully as possible in this fine and engaging study."
* Dickens Quarterly *
"History has not been kind to Catherine Dickens, which is why Lillian Nayder's new biography is such an essential piece of scholarship. Tracing Catherine's life through a wealth of letters, journals, and legal documents, Nayder takes issue with generations of biographers who have unthinkingly followed Dickens's lead in dismissing Catherine as a slow, clumsy, indolent figure.... The Catherine who emerges from Nayder's biography is, by contrast, capable, vibrant, and funny. She is a companion and an equal, a valued critic of her husband's work and an author (of a cookery book) in her own right."
* Australian Book Review *
"Lillian Nayder's sympathetic and resourceful biography pieces together Catherine's story from the records that remain, and seeks to 'wrest away from her husband the power to shape Catherine's biography.'... It is well researched, drawing on the few extant letters to her sisters and friends, the letters of others (especially Dickens), bank records and legal papers, and it tells Catherine's story neatly. Nayder is alert to the nuances of the verbal record, compelling in her reading between the lines of the fragmented voices that remain.... In May 1858, she wrote to Angela Burdett Coutts, 'One day though not now I may be able to let you know you how hardly I have been used.' Some 150 years later, Catherine's unvoiced complaint now has its fullest expression."
* Times Literary Supplement *
"Nayder redresses the notion that Catherine was a weak-willed wife and a neglectful mother, offering readers a complete, individualized portrait of her that spans the course of her life, although much of the book focuses on her married years. Making frequent use of the letters and other papers of both spouses (though not those from Catherine to Charles as he did not preserve them), Nayder illustrates how past biographers and critics have frequently misinterpreted the marriage and sustained a pro-Charles bias. The Catherine that emerges is a stronger, more organized, and more active mother than the figure portrayed before. It is exciting to speculate how this work will shape future considerations of Charles Dickens and his marriage."
* Library Journal *
"Nayder's vigorous biography aims to rubbish long-standing views of Catherine, dislodging her husband from center stage, resisting 'his mesmerising powers, his tendency to seize control of narratives, and his uncanny ability to make biographers speak for him from beyond the grave.'... Her book makes a powerful case that 'we may be closer to the Victorians than we think.' Modern life, Nayder suggests, retains a persistent imperative for women to see themselves as subordinate, encouraging them to submit to narratives as pernicious as those in her book. Catherine may have remained silent about her husband's conduct, but this book restores her voice as a salutary lesson to be heeded by current generations.... The 'other Dickens' of the title turns out to be not just the misunderstood and discarded heroine, but the grubby private face of this most talented of fabricators and storytellers."
* Times Higher Education Supplement *
"Forensic in defense of Catherine and women's history, wary of the ways Dickens's biographers have characterized his wife, and extensively deploying wide original research, Lillian Nayder's justifiably partisan account recaptures Catherine's vital role in the Dickens family. The searching readings of the archive and the summoning of scientific, financial, cultural, and social evidence for the functionality and intimacy of Catherine's marriage and lasting friendships rehabilitate her. Not only that. They also force us to reconsider the dismissive accounts of her as wife and mother promulgated by Dickens and his admirers and to reassess his conception of domestic conjugality."
-- Robert L. Patten, Lynette S. Autrey Professor in Humanities, Rice University
"Lillian Nayder has accomplished what scores of literary critics and biographers have for more than a century held to be impossible: she has given us a highly readable life and times of Catherine Hogarth Dickens in which Catherine's celebrated husband, though far from playing a bit part, has been prevented from stealing the limelight."
-- Eileen Gillooly, Columbia University
"Lillian Nayder set herself the difficult task of re-creating a historical woman whose quiet, polite voice was largely drowned out by the noisier voices around her. Through resourceful uses of meticulous research, her engaging narrative succeeds in making Catherine Hogarth Dickens a sympathetic figure in her own right. Nayder embeds Catherine in her family of origin and especially in her relationships with the three sisters who played major roles in her marriage and in her life after separation from Charles Dickens."
-- Rosemarie Bodenheimer, Boston College, author of
Knowing Dickens
"Lillian Nayder's eagerly awaited biography uses Catherine's voice and the voices of friends, family members, and other contemporaries to free the telling of her story from the distorting effects of its mediation by Dickens and his biographers. Catherine emerges from Nayder's compelling account as a much more complex figure than she has hitherto been shown to be, defined not just by her marriage to Dickens, but by other relationships and as the mistress of a substantial middle-class establishment."
-- Catherine Waters, University of Kent, author of
Dickens and the Politics of the Family
and
Commodity Culture in Dickens's 'Household Words'
You may also be interested in...
Simply reserve online and pay at the counter when you collect. Available in shop from just two hours, subject to availability.
Thank you for your reservation
Your order is now being processed and we have sent a confirmation email to you at
When will my order be ready to collect?
Following the initial email, you will be contacted by the shop to confirm that your item is available for collection.
Call us on or send us an email at
Unfortunately there has been a problem with your order
Please try again or alternatively you can contact your chosen shop on or send us an email at