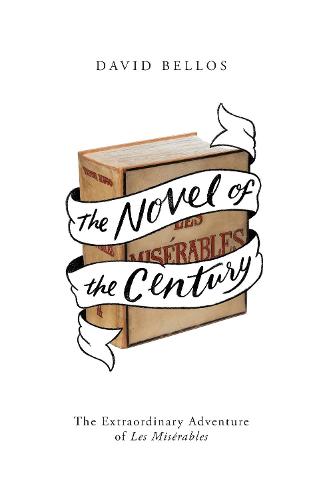 The Novel of the Century: The Extraordinary Adventure of Les Miserables (Hardback)
David Bellos
(author)
Hardback
336

Pages / Published: 26/01/2017
GUARDIAN AND ECONOMIST BOOKS OF THE YEAR 2017 Winner of the American Library in Paris Book Award, 2017 'Never mind those self-help manuals urging that some classic novel may change your life; in this sparkling study of the birth, growth and afterlife of Hugo's evergreen blockbuster, David Bellos argues that Les Miserables already has' Boyd Tonkin, Economist 'Any reader who hasn't yet embarked on Hugo's book might be converted to the idea by this one' Daniel Hahn, Spectator The extraordinary story of how a simple tale of love and revolution, the poor and the downtrodden - Victor Hugo's beloved classic Les Miserables - conquered the world. There has never been a book like it. It is the most widely read and frequently adapted story of all time, on stage and on film. But why is Les Miserables the novel of the century? David Bellos's remarkable new book brings to life the extraordinary story of how Hugo managed to write his epic novel despite a revolution, a coup d'etat and political exile; how he pulled off the deal of the century to get it published, and set it on course to become the novel that epitomizes the grand sweep of history in the nineteenth century. Packed full of information about the background and design of Les Miserables, this biography of a masterpiece nonetheless insists that the moral and social message of Hugo's ever-popular novel is just as important for our century as it was for its own. The Novel of the Century is a book as rich, remarkable and long-lasting as the novel at its heart. Les Miserables is available as a Penguin Classic, in an acclaimed new translation by Christine Donougher, with an introduction by Robert Tombs.
Publisher: Penguin Books Ltd
ISBN: 9781846144707
Number of pages: 336
Weight: 576 g
Dimensions: 241 x 161 x 30 mm
---
MEDIA REVIEWS
This biography of one of the world's most read novels is rich in extraordinary detail ... Bellos traces the life of the 1,500-page novel from conception to publication, mentioning along the way the many film and musical adaptations of Les Miserables that have given it a rich life beyond the printed page -- Ruth Scurr * Guardian *
Genuinely fresh and inspiring ... Bellos's book is a major accomplishment. His warm and engaging study of Victor Hugo's 1862 masterpiece renews faith in the idea, so fundamental to the mysterious attraction of literature, that great books of whatever age continue to be worthwhile objects of attention. In applying a melange of literary criticism, linguistics, political science and history to the study of one of the best-known, if least-understood great books of all time, he illuminates the work in a way that transcends conventional literary criticism.The section on the publication of Les Miserables is one of the most informative accounts of the mechanics of the 19th-century book business that I have ever read -- Michael Lindgren * Washington Post *
Written with clarity and wit; at once erudite and entertaining ... [Bellos] restores Les Mis to its maker and his times * Economist *
Bellos's fine book could be seen as part of the recent critical genre that Joyce Carol Oates baptized the 'bibliomemoir' ... But it is not so much about Bellos's personal engagement with the novel as a study of its genesis, its production, its reception, and notably its language ... The story of the composition of the novel, and of the journey of manuscript, proofs, then corrected proofs between Guernsey and Brussels, is one of the most entertaining and illuminating in Bellos's book ... Best of all is Bellos's command of the French language, including its linguistic underclass, argot ... He is an excellent guide to a kind of nineteenth-century high style that needs to be enjoyed for itself if we are to respond fully to Hugo's epic ambitions -- Peter Brooks * New York Review of Books *
Bellos's near-unmitigated zeal is convincing, and itself part of the pleasure of the book; and he's a knowledgeable, attentive reader, and an engaging storyteller himself, alert to vivid detail ... Any reader who hasn't yet embarked on Hugo's book might be converted to the idea by this one -- Daniel Hahn * The Spectator *
Never mind those self-help manuals urging that some classic novel may change your life; in this sparkling study of the birth, growth and afterlife of Hugo's evergreen blockbuster, David Bellos argues that Les Miserables already has -- Boyd Tonkin * 1843 *
In telling the engrossing story of the book and its author's journey from staunch defender of the government to exile in Guernsey after Napoleon III's 1851 coup d'etat, Bellos ... makes a powerful case for the novel's enduring relevance -- Lucy Watson * Financial Times *
Intriguing ... Impeccably researched and pithily written, Bellos's book provides an important corrective ... The notion posited by Bellos's title that Les Miserables is the novel of the (19th) century is given a thoroughly good airing ... Bellos's book also doubles as a fascinating partial biography of Hugo's life -- Tobias Grey * New York Times Book Review *
The Novel of the Century ... vividly traces the origin and development of Hugo's most famous work, assessing its impact on the novel as a genre -- Henrik Bering * Los Angeles Review of Books *
[A] vivid biography of Hugo, and an engaging introduction to his masterpiece -- Christopher Hart * Sunday Times *
Bellos condenses tranches of research into a gripping tale about Victor Hugo's masterpiece -- Nina Martyris * Paris Review *
Bellos has not written a volume of literary criticism, or at least not a conventional one. Instead he paints in fine lines and great splashes of colour a backdrop to what he calls the novel of the century ... He writes beautifully about the drab palette of everyday life ... [A] genial saunter through the writing, publishing and reading of Les Miserables -- Paul Kildea * Australian Book Review *
It is possible for a book to have adventures as well as recount them. David Bellos' witty, informed but never over-loaded work proves the case thoroughly. Here we learn a great deal about the career of a writer, the turbulent politics of his times, the composition of a great novel, and the life and afterlife of the novel itself. And whether the subject is exile, poverty, suffrage, Hugo's 'split mind' during the 1848 Revolution, or the complications of the word 'miserable' in English and French, the sense of adventure never lapses. The recurring, multi-faceted question posed by Les Miserables, as Bellos says, is not whether good will triumph over evil, but 'how hard it is to be good' -- Michael Wood
In full command of the artistic and moral complexities of Victor Hugo's masterpiece, as well as of the social and political conditions in 19th century France, David Bellos offers the reader a comprehensive view of Hugo's creative genius and of the historical circumstances of the great novel's composition. He does so with brio, humor, and in a distinctly personal voice -- Victor Brombert, author of 'Victor Hugo and the Visionary Novel'
There's no question about it: David Bellos makes the case for the fame of Victor Hugo's Les Miserables(1862). It's the novel of the century and possibly then some ... [A] superb biography of a novel rather than a man -- Charles R. Larson * CounterPunch *
Captivating ... The Novel of the Century perfectly captures all sides of this publishing phenomenon and the man at its center. Bellos fascinates from beginning to end -- Steve Donoghue * Christian Science Monitor *
In this lively and engaging account of the making of Les Miserables, David Bellos captures the brilliance not only of Victor Hugo's novel but also of its conception, execution, and publication. His learned study bristles with insights on topics great and small - from French history, politics, and linguistic registers to the meaning of colors, coinage, dates, and modes of transport in the book to its untranslatable title and its many adaptations worldwide. The story behind the greatest novel of the nineteenth century will enchant both popular and scholarly readers, who will come away with an even deeper understanding of and appreciation for Hugo's prose masterwork -- Kathryn Grossman, Penn State University
Whether you're contemplating a run at Les Miserables or returning to it, Bellos' book is a perfect guide - as well as a compelling story in its own right ... [It] becomes surprisingly suspenseful as Bellos takes us through the months leading up to the novel's publication ... Bellos has struck the ideal balance of top-notch research and readable prose in the chapters that deftly lead us through the world of the novel and its characters ... An engaging and enlightening companion -- Liza Graham * NPR *
David Bellos, whose distinguished career has been dedicated to propagating appreciation of French Fiction in the resistant Anglophone world, makes a grand claim for Les Miserables. It is, against (to take other champions) Tolstoy, Dickens and Melville, the novel of the nineteenth century. He follows the novel's course from first stirrings to most recent adaptation. He proves his case -- John Sutherland, Emeritus Lord Northcliffe Professor of Modern English Literature at University College London
The Novel of the Century is the best, most instructive book about Les Miserables ever written - the shrewdest, the most knowledgeable, the most detailed, the most enthusiastic, and the most enjoyable -- Paul Berman, author of 'Tale Of Two Utopias' and 'Power and the Idealists'
[Bellos] is a crisp stylist capable of seizing the readers' attention and holding it effortlessly ... Anyone who loves [Victor] Hugo, France, and the French language will revel in this delightful book that explains all the intimacies of 19th-century French life * Kirkus Reviews *
In the guise of a book about translation this is a richly original cultural history ... A book for anyone interested in words, language and cultural anthropology ... Bellos's fascination with his subject is itself endlessly fascinating -- Review for 'Is That a Fish in Your Ear?' * Economist *
For anyone with a passing interest in language this work is enthralling ... A wonderful celebration of the sheer diversity of language and the place it occupies in human endeavour ... A whirlwind tour round the highways and byways of translation -- Review for 'Is That a Fish in Your Ear?' * Scotsman *
A dizzyingly inventive book -- Review for 'Is That a Fish in Your Ear?' * New York Times *
Please read David Bellos's brilliant book -- Michael Hoffman, review for 'Is That a Fish in Your Ear?' * Guardian *
You may also be interested in...
Simply reserve online and pay at the counter when you collect. Available in shop from just two hours, subject to availability.
Thank you for your reservation
Your order is now being processed and we have sent a confirmation email to you at
When will my order be ready to collect?
Following the initial email, you will be contacted by the shop to confirm that your item is available for collection.
Call us on or send us an email at
Unfortunately there has been a problem with your order
Please try again or alternatively you can contact your chosen shop on or send us an email at