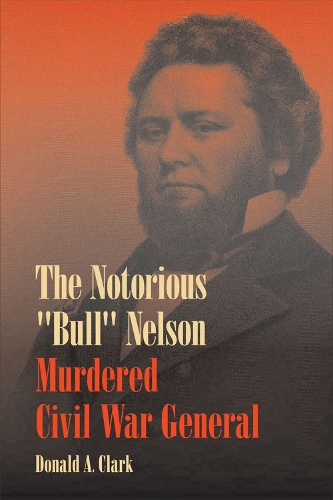 The Notorious ""Bull"" Nelson: Murdered Civil War General (Hardback)
Donald A. Clark
(author)
Hardback
272

Pages / Published: 30/03/2011
A dynamic figure in the pages of history, Major General William "Bull" Nelson played a formative role in the Union's success in Kentucky and the Western theater of the Civil War. Now, Donald A. Clark presents a long-overdue examination of this irascible officer, his numerous accomplishments, and his grim fate. More popularly known for his temper than his intrepid endeavors on behalf of the North, Nelson nevertheless dedicated much of his life to his nation and the preservation of the Union. The child of a privileged family, Nelson was one of the first officers to graduate from the newly formed U.S. Naval Academy. His years in the Navy imbued in him the qualities of bravery, loyalty, and fortitude; however, his term of service also seemed to breed an intolerance of others for which he became infamous, and that ultimately led to his violent downfall. Clark sheds new light upon Nelson's pre-Civil War years as a naval officer, when he became a hardened veteran of battle, fighting at the siege of Veracruz and the capture of Tabasco during the Mexican War in the 1840s. On the basis of Nelson's military experience, in 1861 President Lincoln sent him to Kentucky-which was considering secession-and Nelson rallied loyalists and helped the Union prepare to maintain control of the state during the next several years of war. Nelson went on to prove instrumental in blocking Confederate attempts to subdue Kentucky and the West, serving important roles in the battle of Shiloh, General Henry W. Halleck's advance against Corinth, and Brigadier General Don Carlos Buell's movement toward Chattanooga. But while some viewed his bold maneuvers as the saving of the state, many others, including such notables as Ulysses S. Grant and William Tecumseh Sherman, argued that Nelson's actions merited no praise. Unfortunately for the general, the question of his value to the Union abruptly became moot, as his achievements were shortly overshadowed by ignominious rumors of scandal and abuse. His involvement in the defense of Louisville gave Nelson a chance to redeem himself and restore his military reputation, but the general's famous temper soon robbed him of any potential glory. During September of 1862, in a crime that was never prosecuted, fellow Union general Jefferson C. Davis shot and killed Nelson after an argument. Clark explores this remarkable exception in military law, arguing that while the fact of the murder was indisputable, many considered Davis a hero for having dispatched the so-called tyrant. Although Nelson eventually received many posthumous honors for his indispensable role in the war, justice was never sought for his murder. A comprehensive study of this well-known, yet misunderstood American figure, The Notorious "Bull" Nelson: Murdered Civil War General is an illuminating addition to the history of the Civil War. Through Clark's impeccable research and richly layered narrative, William "Bull" Nelson springs from the pages as large and volatile as he was in life.
Publisher: Southern Illinois University Press
ISBN: 9780809330119
Number of pages: 272
Weight: 540 g
Dimensions: 235 x 156 x 25 mm
---
MEDIA REVIEWS
"'Bull' Nelson was a big man who lived a full life and died a surprising death. Donald A. Clark tells his story well and helps us understand the man and his motivations."
--James C. Klotter, author of
William Goebel: The Politics of Wrath
If Maj. Gen. William Nelson is mentioned at all by Civil War buffs, it is usually only as the answer to the trivia question, "Name the Union general murdered by the other Jefferson Davis."
This is unfortunate because "Bull" Nelson (all six-foot four-inches and 300 pounds of him) deserves to be remembered for more than his unfortunate encounter with Indiana Maj. Gen. Jefferson Columbus Davis.
Born in eastern Kentucky in 1824, Nelson began a career in the U.S. Navy in 1840. Following a long period of active duty, (including the 1847 Siege of Veracruz during the Mexican War, he engaged in escorting and rallying support for Hungarian revolutionary Louis Kossuth.
The majority of this well-written biography quite properly deals with Nelson's invaluable service to the Union during the Civil War. When the war began, Lincoln personally dispatched Nelson to his home state with thousands of weapons to arm Kentucky's Home Guards.
The aggressive naval officer quickly established Camp Dick Robinson, a training camp for the state's Unionists. Named a brigadier general of volunteers in September 1861, Nelson advanced with a force into eastern Kentucky that fall. There he scored a victory at Ivy Mountain and dispersed Confederate units in his wake.
In the spring of 1862, Army of the Ohio division commander Nelson marched his men across Tennessee from Nashville to Pittsburg Landing, where they performed well during the second day of the Battle of Shiloh. Following the Siege of Corinth, Nelson was promoted to major general.
In his last test under fire, Nelson had the unenviable job of leading raw Union forces during the disastrous Battle of Richmond, Ky. He was killed by Jeff Davis only a month later.
Donald Clark faced a daunting challenge in crafting this biography since no sizeable collection of Nelson's papers exists. Nevertheless, he does a very good job pulling together a significant amount of information, including "the words of those who knew him well," to explain this polarizing character.
It is readily apparent from Clark's study that Nelson was both a capable and energetic battlefield commander and, quite often, a less than personable individual when dealing with subordinates.
Described as a "burly brute with the boatswain's voice," Nelson could quite literally "swear like a sailor." His encounters with enlisted men and other officers became part of the Nelson legend.
Clark also thoroughly examines the fatal Davis-Nelson encounter from all angles. What to some might appear to be a clear-cut case of assassination is instead a nuanced event in which both men escalated tensions and contributed to the unfortunate outcome.
Clark's extensive notes conclude a very readable and entertaining study of one of Kentucky's most colorful officers. Unless some hidden cache of personal papers is discovered, it is likely that Donald Clark has produced the definitive account of the life and work of this Union sailor-turned-soldier.
-- (06/01/2011)
"Like a great many Civil War generals, William "Bull" Nelson is most famous for the circumstances of his death. Nelson did not die on the field of battle, but instead was shot and killed on September 29, 1862, by the unfortunately named Union general Jefferson C. Davis. Donald A. Clark's The Notorious "Bull" Nelson examines the victim's life in totality, explaining not only Nelson's death, but also the relative lack of controversy that followed. Along the way, Clark provides a wealth of information regarding Nelson's experience with antebellum military and political affairs, as well as his vital role in keeping Kentucky in the Union. Nelson, in Clark's view, is a complex figure: a martyr to political expediency and a victim of his own volatile temperament.
Nelson was born in Maysville, Kentucky, the third child of Dr. Thomas Nelson. The elder Nelson was well connected within the region, serving in the state legislature and on the Board of Trustees of Transylvania University. There, he came into contact with Captain Alden Partridge, whose ideas for a military academy led to the foundation of Norwich University, where young William enrolled in 1837. After finishing at Norwich in 1840, Nelson joined the navy as a midshipman, where, Clark stresses, he faced an undoubtedly rough life. In 1845, Nelson belonged to the first classes to go through the new Naval Academy founded in Annapolis. He served through the Mexican War, including the 1847 siege of Veracruz.
Following the war, Nelson remained with the navy, sailing through the Mediterranean. In the early 1850s, he served on board the USS Mississippi, picking up the Hungarian radical Louis Kossuth. Later, Nelson would serve as an escort to Kossuth and his family on a tour of the United States. The young officer also spent time in Chile, furthering America's relationship with that newly democratic South Amer- ican government. In 1857, Nelson sailed with the USS Niagara to Liberia, transporting over three hundred slaves taken from the Echo.
Clark's sources in these chapters are sparse, but his use of them demonstrates how to uncover information about less well-known figures in history. Nelson, it appears, wrote little, and Clark constructed his narrative through glancing mentions in newspapers and the letters and journals of other characters. Nelson's presence during the critical transition between the old and new United States navies and his interest in contemporary political unrest in Europe would make him a fascinating study for the various transnational aspects of American politics during the years of growing sectional crisis. Clark hints at these links while discussing Nelson's relationship with Kossuth and the time spent in Chile, but ultimately, the author does not delve much deeper into them as he is more interested in the Civil War. More important for the book's narrative, these years of naval service provided Nelson with strict definitions of duty and obedience, which proved both helpful and troublesome during the Civil War.
Clark also discusses Nelson's role in the disastrous beginning to the Battle of Shiloh. The eventual success of Union forces was overshadowed by their early reversals and the battle's infamously high casualties. Nelson blamed Grant and Buell for the army's lack of preparation, and also took credit for the Union stand on the morning or April 2, claiming to have saved the army. Grant noted that Nelson himself had not actually arrived at the battlefield until after the firing had stopped, while William Sherman erroneously believed Nelson to be the source for the infamous report that Union soldiers had been surprised while sleeping in their beds. Clark writes that, on the whole, Grant's view of the situation comes the closest to being accurate, but even his account was "far from accurate" (p. 106). Though no Union officer came out of Shiloh with his reputation intact, Nelson's inability to deal with the press led to stories circulating about his short temper and profane manner, even though some stories occasionally credited him with a great deal of courage.
This courage would be tested in late August, when Nelson's force confronted Kirby Smith at Richmond. An undermanned Union force attempted to hold the region in an attempt to block Smith's advance into Kentucky while simultaneously maintaining communication with Buell, Nelson's superior officer. Staying near a telegraph prevented Nelson from spending enough time with his men, overseeing their training, and making sure subordinate commanders obeyed his orders. With Nelson away from the field, and his subordinate, Mahlon Manson, refusing to attack when commanded, the Federal army faced disaster. The battle was going poorly when Nelson arrived to rally his men. He received a bullet in the leg for his troll- bles. Clark describes Richmond as the most conclusive defeat for its size in the Civil War," and attributes Nelson's errors to his strong sense of duty (p. 136). Clark also blames Nelson's defeat on the general's attempt to reconcile his own inclinations with Buell's, an impossible task that invited disaster.
Clark's final chapter discusses Davis's rapid release and the dispiriting lack of closure to the case. He highlights the mixed reaction to Nelson's death, especially the negative reactions from Indianapolis and Cincinnati, as well as additional hedged compliments from some northern newspapers. Though Davis should have been court-martialed, his case was instead handled by Jefferson County court, Clark attributes this move to political expediency. Nelson's heavy-handed leadership in Louisville and brusque manner with the press gave him the appearance of a tyrant. With Confederates still fighting in Kentucky and Lincoln about to put the unpopular Emancipation Proclamation into effect, men like Nelson had few defenders, The court eventually dropped the case against Davis in 1864, ending any chance of prosecution.
Throughout the book, Clark lays out Nelson's fatal flaws, foreshadowing the general's untimely end. As Nelson's fate is hardly unknown (indeed it is con-tamed in the book's title), Clark's writing helpfully serves to reemphasize the point that Nelson was a difficult man with whom to deal. On several occasions, the author suggests- opportunities where a more even-tempered figure might have earned sympathy and justice, even if he could not avoid his fate. Clark faults past narratives for succumbing too easily to contemporary complaints of tyranny and dictatorship. Nelson, like all individuals, was a complex person, and his quick profane temper, though instrumental to his death, should not overshadow the generally effective and always loyal way in which he fulfilled his duty." --Keith Altavilla, Texas Christian University
-- (02/01/2011)
"William "Bull" Nelson represents the type of general to whom mission comes first and the humane treatment of subordinates is a minor concern. Despite his well-demonstrated combat abilities, Nelson is better remembered for enforcing harsh discipline by the use of courts-martial, executions, corporal punishment, and public humiliation, including profane tongue-lashings.
Nelson is unique among Civil War generals in that his early career was in the navy. After attending Norwich, he enrolled in the first class at the Naval Academy where, upon graduation, he saw action in the Mexican-American War at Vera Cruz. Norwich had a long tradition of hazing, while the navy tolerated bullying and rough fighting, and Nelson undoubtedly acquired dubious leadership lessons from both institutions that influenced his behavior during the Civil War.
Although he was a Democrat who came from Kentucky, he chose to remain with the Union when war broke out. He visited with Abraham Lincoln, who dispatched him to his native state to arm loyal citizens. Nelson had great success preventing secession, and, by September 1861, he had been detached from naval duty and commissioned a brigadier general.
Nelson served gallantly in many battles, including Shiloh, but his hot temper and lack of sympathy with subordinates ultimately brought about his demise when he relieved Union commander Jefferson Davis, after the latter could not provide the number of troops presumably serving under his command. The aggrieved Davis confronted Nelson at the Galt House in Louisville, pulling a pistol and fatally wounding Nelson. According to army regulations, Davis should have been tried for his actions; even insubordination or striking a fellow officer could bring harsh punishment, much less the crime of murder.
However, Davis would escape punishment. While Salmon Chase urged the president to allow a trial, Governor Oliver Morton of Indiana, who had accompanied Davis to the Galt House, believed that Nelson's firing of Davis was an affront to Indiana and that Nelson got what he deserved. Secretary of War Edwin Stanton and the president decided to take no action, and Davis ultimately returned to duty.
There is a bit of a mystery as to why no historian before Donald A. Clark has attempted a full-scale biography of Nelson, for his story is interesting. Perhaps, since biographers often come to like or admire their subject, his hot-tempered personality repelled those who sought to research his life. Also, although many historians now acknowledge that the war was won in the western theater, there has still been relatively less attention paid to western battles and generals.
Lincoln famously remarked, when asked if God was on the Union's side, that he hoped God was, but he must have Kentucky. "Bull" Nelson, who was so instrumental in keeping Kentucky in the Union, has not been well served either by historians or those who let his murderer go free. Clark has, at last, remedied this oversight, although his attention to battle details may still make his book more attractive to military historians than to those looking for full coverage of Nelson's life and career."--Thomas R. Turner, Bridgewater State University
-- (03/01/2009)
You may also be interested in...
×
Download the Waterstones App
Would you like to proceed to the App store to download the Waterstones App?
Simply reserve online and pay at the counter when you collect. Available in shop from just two hours, subject to availability.
Thank you for your reservation
Your order is now being processed and we have sent a confirmation email to you at
When will my order be ready to collect?
Following the initial email, you will be contacted by the shop to confirm that your item is available for collection.
Call us on or send us an email at
Unfortunately there has been a problem with your order
Please try again or alternatively you can contact your chosen shop on or send us an email at