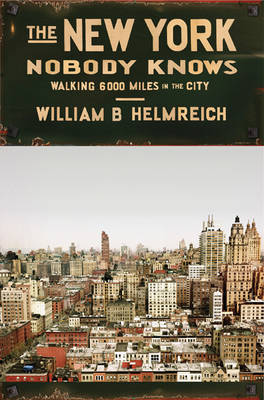 Hardback
480

Pages / Published: 15/11/2013
As a child growing up in Manhattan, William Helmreich played a game with his father called "Last Stop." They would pick a subway line, ride it to its final destination, and explore the neighborhood. Decades later, his love for exploring the city is as strong as ever. Putting his feet to the test, he decided that the only way to truly understand New York was to walk virtually every block of all five boroughs--an astonishing 6,000 miles. His journey took him to every corner of Manhattan, Brooklyn, Queens, the Bronx, and Staten Island. Helmreich spoke with hundreds of New Yorkers from every part of the globe and all walks of life. He finds that to be a New Yorker is to struggle to understand the place and to make a life that is as highly local as it is dynamically cosmopolitan. Truly unforgettable, The New York Nobody Knows will forever change how you view the world's greatest city.
Publisher: Princeton University Press
ISBN: 9780691144054
Number of pages: 480
Weight: 936 g
Dimensions: 235 x 152 x 37 mm
---
MEDIA REVIEWS
Winner of the 2015 GANYC Award for Outstanding Achievement in Book Writing, The Guides Association of New York City Honorable Mention for the 2013 PROSE Award in Sociology & Social Work, Association of American Publishers "The delight is definitely in the details in William B. Helmreich's The New York Nobody Knows: Walking 6,000 Miles in the City. Professor Helmreich, a sociologist at the Graduate Center of the City University of New York, invites readers on a romp through largely unexplored neighborhoods that is as entertaining as it is enlightening."--Sam Roberts, New York Times "Helmreich set himself a formidable task: he walked every block in New York City over a four-year period, producing what he calls an 'ethnographic study' comprised of vignettes based on interviews with hundreds of residents on sidewalks, streets, and even in private homes. The result: a magisterial work that examines how people live in this large, complex, and evolving urban landscape... This is a landmark achievement, for those wanting to dig deeper than The Encyclopedia of New York City, edited by Kenneth T. Jackson. Highly recommended to sociologists, urban demographers, New York historians, and all walking enthusiasts in the city."--Richard Drezen, Library Journal starred review "An excellent introduction to one of the most ethnically diverse and vibrant cities in the world, and a model of urban sociology."--Christian Century "The author exudes great love and admiration for his hometown on every page, and this collection of anecdotes brings New York to life with unprecedented humanity and detail. This book is pure joy; even the most dyed-in-the-wool New Yorker will learn something new about this vibrant city."--Kirkus Reviews (starred review) "To know a man, you have to walk a mile in his shoes. To truly know New York, you may have to walk 6,000. Or, you can just read Helmreich's account of visiting every inch of the city. His journey from the Bronx to Staten Island allowed him to mingle with plenty of fellow flaneurs, like Mayors Bloomberg and Ed Koch."--New York Observer "[The book] recognises the fact that the everyday experience of the city--the people you meet, the odd things that happen--are important... For me, the best bits are Helmreich's detailed descriptions of chance encounters... He gives a powerful depiction of the numbing dullness of some people's jobs, from the security guard in the museum to the man waving a flag outside a garage. These are described with tenderness and not a little wry humour."--Flora Samuel, Times Higher Education "Fascinating."--Michael Potemra, National Review "An uncommon portrait of the city in 2013: a look at its diverse neighborhoods and the urban issues--like immigration, community, use of public space and gentrification--that run through all of them. The book is not a guidebook, but a very accessible sociological study, full of color and anecdote."--Sandee Brawarsky, Jewish Week "By necessity, given the size of the city, Helmreich calls his book no more than a much-needed 'introductory work' to the diversity of New York City. His method is, in some ways, a throw back to a much earlier form of social criticism, when walking was curiously in vogue for the self-styled intellectuals and elites of 19th century Europe. Think of Charles Dickens's night walks through London or the well-dressed flaneurs of Paris. And it's one that anyone can learn from. 'If I accomplish anything besides sociology,' Helmreich says, 'it's to encourage people to walk through what I call the greatest museum in the world.'"--Stephanie Garlock, The Atlantic "The New York Nobody Knows is not a walking tour or a mere list of city highlights. The book is a 450-page sociological examination of New York through the eyes of a keen observer. It is segmented into parts on the city's ethnic composition, gentrification, environs and what the future may hold for America's melting pot. And yes, there's a section on what makes New York fun, too... The New York Nobody Knows is gratifyingly deep with analysis on the city's history and demographics while also reading like a survival guide at times."--Colin Devries, Daily News "[E]xcellent... [T]he voices and stories of the people [Helmreich] encounters are what make this book so memorable... It's refreshing to read a book that celebrates so unreservedly the ethnic diversity of a city and entirely fitting that it should be about a metropolis that has always been defined by its cosmopolitan culture."--PD Smith, The Guardian "It's a story of Helmreich's encounters with hundreds of New Yorkers from every walk of life and from every part of the globe, including Mayors Ed Koch, David Dinkins, Rudy Giuliani and Michael Bloomberg. His observations--all touching on various aspects of the multifarious lives of the estimated 8.3 million people wgi live, work, survive and thrive in the world's greatest metropolitan city--are poignant and insightful, heartfelt and charming."--Amsterdam News "In the genre of 'books tallying mammoth heroic self-imposed feats' comes William B. Helmreich's engaging account of how he logged 6,000 miles on foot through all the boroughs of NYC, accumulating many insights into the eternal, multi-ethnic metropolis."--Barnes and Noble Review "If Walt Whitman contained 'multitudes' within himself, this fine book contains multitudes more--the beating, dynamic heart of New York is here."--City-litcafe "Helmreich's shoe leather was worth it; the book is a thorough study."--Grace Lichtenstein, PopMatters "[E]ngaging ... easily-read and nicely-paced."--Tommy Barker, Irish Examiner "This exploration of New York City is built from the souvenirs of a formidable journey. Sociologist Helmreich presents the city as a richly diverse place whose residents are eager to share insights and opinions. At its best, the volume reflects the author's willingness to listen, to observe, and to be amazed... [T]his is an original study, and one that will inspire others to set out to walk, and talk, their way across the city."--Choice "The New York Nobody Knows really does (socially) traverse the New York nobody knows; while in so doing, invariably opening a menagerie of colourful doors I suspect most people didn't even know existed. Myself wholeheartedly included."--David Marx, davidmarx.co.uk "Helmreich's book is clearly a labor of love for both the city as a collective project and the city of individual human lives and stories."--Michael Minn, Geographical Reviews "The New York Nobody Knows exemplifies the richness that the ethnographic approach affords... It must be read with a flexible mind-set, but once read that way, can be revisited and mined for its rich data. Helmreich added to the knowledge base typically gleaned from categorical analysis, and overcame many of the blind spots usually present in such research. Helmreich's work inspires social scientists to lace-them-up and do it elsewhere."--David B. Broad, Ph.D., International Social Science Review
You may also be interested in...
"The New York Nobody Knows"
A really interesting premise. I've been to New York many times but this offers an entirely new and different perspective. Anyone who loves New York or just big cities, will find this fascinating.
×
Download the Waterstones App
Would you like to proceed to the App store to download the Waterstones App?
Reserve online, pay on collection


Thank you for your reservation
Your order is now being processed and we have sent a confirmation email to you at
When will my order be ready to collect?
Following the initial email, you will be contacted by the shop to confirm that your item is available for collection.
Call us on or send us an email at
Unfortunately there has been a problem with your order
Please try again or alternatively you can contact your chosen shop on or send us an email at