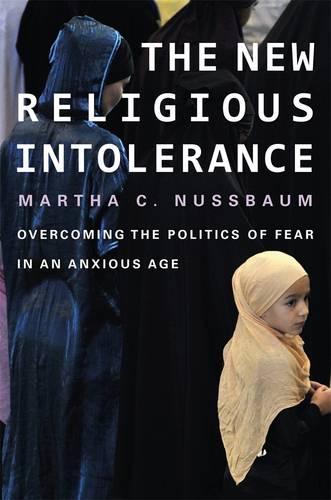 The New Religious Intolerance: Overcoming the Politics of Fear in an Anxious Age (Paperback)
Martha C. Nussbaum
(author)
Paperback
304

Pages / Published: 14/10/2013
What impulse prompted some newspapers to attribute the murder of 77 Norwegians to Islamic extremists, until it became evident that a right-wing Norwegian terrorist was the perpetrator? Why did Switzerland, a country of four minarets, vote to ban those structures? How did a proposed Muslim cultural center in lower Manhattan ignite a fevered political debate across the United States? In The New Religious Intolerance, Martha C. Nussbaum surveys such developments and identifies the fear behind these reactions. Drawing inspiration from philosophy, history, and literature, she suggests a route past this limiting response and toward a more equitable, imaginative, and free society.

Fear, Nussbaum writes, is "more narcissistic than other emotions." Legitimate anxieties become distorted and displaced, driving laws and policies biased against those different from us. Overcoming intolerance requires consistent application of universal principles of respect for conscience. Just as important, it requires greater understanding. Nussbaum challenges us to embrace freedom of religious observance for all, extending to others what we demand for ourselves. She encourages us to expand our capacity for empathetic imagination by cultivating our curiosity, seeking friendship across religious lines, and establishing a consistent ethic of decency and civility. With this greater understanding and respect, Nussbaum argues, we can rise above the politics of fear and toward a more open and inclusive future.
Publisher: Harvard University Press
ISBN: 9780674725911
Number of pages: 304
Weight: 277 g
Dimensions: 210 x 140 x 19 mm
---
MEDIA REVIEWS
Martha Nussbaum eloquently speaks for, and continues, this tradition [of liberality] in her book The New Religious Intolerance. She pleads for the use of our 'inner eyes,' for that 'curious and sympathetic imagination' that is adept at 'recognizing humanity in strange costumes.' Like Trilling, she illustrates this liberal imagination with works of literature-in her case ranging from Lessing's Nathan the Wise all the way to the children's books of Marguerite de Angeli. We can't all be novelists or poets, but some of their imaginative skills are essential if we are to combine the stern, singular legal and political requirements of equal freedom with the baggy, polyphonous reality of social and cultural diversity. -- Timothy Garton Ash * New York Review of Books *
The New Religious Intolerance is a vigorous defense of the religious freedom of minorities in the face of post-9/11 Islamophobia. -- Giles Fraser * The Guardian *
Nussbaum is one of America's leading liberal thinkers. In The New Religious Intolerance, she turns her attention to the rise of antireligious-and specifically anti-Muslim-zealotry since the terrorist attacks of Sept. 11, 2001. -- Damon Linker * New York Times Book Review *
The recent brouhaha over a proposed Muslim cultural center in lower Manhattan provides a case study for philosopher Martha Nussbaum to explore American bias against Muslims-how religious bigotry works, what fuels it, and how it can warp our personal and policy decisions... Lucid and forceful, Nussbaum marshals the masters of moral philosophy-primarily Locke and Kant-as well as a host of literary and historical voices to propose an approach to religious difference that honors both difference and our shared humanity. This is a plainspoken but profound and even challenging book. -- Kate Tuttle * Boston Globe *
Martha Nussbaum continues her critical reflection on the ways in which a democratic society can practice justice and provide well-being for all its members. As we have come to expect, she compellingly combines erudite critical analysis with intense moral passion... Her acute analysis of social fear carries her all the way back to Aristotle, who pondered how people can manufacture fear by imagining that a threat is close at hand... Nussbaum summons us not to abdicate responsibility in the face of programmed hysteria. Important steps can be taken to counter such amorphous anxiety, but those steps require resolve, imagination and engagement. Nussbaum's appeal is not only to government policy makers but also to religious types who have responsibility for nurturing sympathetic imagination and for disciplining the inner eye. -- Walter Brueggemann * Christian Century *
Martha Nussbaum seeks to explain how politics in Western countries, especially in America and Europe, is increasingly shaped by Islamophobia... She shows deep concern over the growing decline of religious tolerance, undue haste to promulgate laws that perpetuate stereotypes about culture and religious practices, and unwarranted political campaigns and referendum generating enormous anxieties and mistrust about Muslims all over the world... This is an extraordinary piece of scholarship that deploys intellectual resources of various disciplines, and addresses perhaps some of the most vital questions of our time regarding citizenship, freedom of religion, multiculturalism, and issues of interfaith relationship. Without doubt, scholars of all major disciplines will find this book indispensable in their understanding of the modern world and the challenges that it faces today. -- Mujibur Rehman * The Hindu *
The value of this book is...in the meticulous way it charts an ethical path through the maze of laws and legal judgments governing the exercise of religion in the West. -- Malise Ruthven * International Affairs *
[Nussbaum] makes an insightful contribution on the widening spread of prejudice in the West. It singles out Western intolerance directed against Muslims. -- Mowahid Hussain Shah * The Nation (Pakistan) *
Martha Nussbaum is a professor of law and ethics. In this short and beautifully argued book, she brings the two disciplines together as she focuses on the wave of Islamophobia that is sweeping across America and Europe... [The New Religious Intolerance] should be required reading for those who have to adjudicate on questions of civic conformity and religious dissent. -- Nicholas Sagovsky * The Tablet *
The New Religious Intolerance: Overcoming the Politics of Fear in an Anxious Age is an excellent book that deserves a wide readership. Nussbaum has provided liberal societies with a road map out of fear into a more inclusive society, and she has put us all-Muslims and non-Muslims-in her debt... Nussbaum writes in accessible, engaging language, and contemporary examples drawn from films such as Fatal Attraction and Invasion of the Body Snatchers ensure that a general readership will feel involved in her scholarly analysis of how fear of Muslims is being deliberately manufactured in our societies. -- Maleiha Malik * Times Higher Education *
Nussbaum guides readers toward an ethical response to the fears that have fed attacks on Muslims and others, and bred toxic religious persecution. Nussbaum asserts a moral calling to provide principles for democratic practice... Nussbaum proves that the role of political philosophy is essential and practical, 'offering insight' to society so that people can think more carefully. Fear is central to religious intolerance, and although natural and necessary to survival, fear is the most base and thoughtless of human emotions. The dynamics of fear lead to hypocrisy and persecution of religious minorities. In times of fear and anxiety, people make rules that are self-serving, ill-informed, and arrogant, applying to others but not oneself. Nussbaum's survey of legal and philosophical developments confronting equal respect for conscience and impartiality seeks the ultimate goal of living an 'examined life.' Nussbaum erects principles that are essential to a good life: inclusiveness, respect for diversity, seeing through the eyes of others, and developing the creative imagination. Timely, powerful, and articulate, this is a book that everyone should read. -- A. R. Brunello * Choice *
Nussbaum, among our most original social thinkers today, enters the debate on anti-Muslim discrimination with a voice of established authority. She invites us to examine disputes about women's use of the burka and the construction of an Islamic-initiated 'multi-faith community center' near New York's Ground Zero. The author's argument for tolerant accommodation falls within the 'Socratic and Christian/Kantian' commitment to live an examined life in relations with religious minorities. In pursuit of this goal, Nussbaum considers the psychology of 'narcissistic' fear, the jurisprudence of religious freedom, and the power of imaginative empathy in fiction. She supports her argument through a demand for consistency, progress, and precedent, using examples that move comfortably from the life of Rhode Island's founder, Roger Williams, through novelist George Eliot's Daniel Deronda, as well as relevant Supreme Court arguments. The parallels she draws between past anti-Semitic and present anti-Islamic sentiment are convincing. The 'new' religious tolerance is less new than we might imagine. This powerful and profound book is useful to anyone seriously concerned with religious pluralism and civil liberty. -- Zachary T. Irwin * Library Journal *
Martha Nussbaum persuasively demonstrates that what we need to tackle the root causes of religious hatred is not only broad minds but also open hearts capable of compassion and imagination. A passionate and encouraging book! -- Heiner Bielefeldt, United Nations Special Rapporteur on Freedom of Religion or Belief
With a palpable sense of moral urgency, Martha Nussbaum explores the pathology of the Islamophobia sweeping the West since 9/11. Her diagnosis amounts to a dire warning that the failure to overcome the fear of religious and cultural difference threatens the constitutional and ethical foundations of liberal democracy. -- Paul Mendes-Flohr, University of Chicago Divinity School
You may also be interested in...
×
Download the Waterstones App
Would you like to proceed to the App store to download the Waterstones App?
Reserve online, pay on collection.
Or,
add to basket
, pay online, collect in as little as 2 hours, subject to availability.
Thank you for your reservation
Your order is now being processed and we have sent a confirmation email to you at
When will my order be ready to collect?
Following the initial email, you will be contacted by the shop to confirm that your item is available for collection.
Call us on or send us an email at
Unfortunately there has been a problem with your order
Please try again or alternatively you can contact your chosen shop on or send us an email at