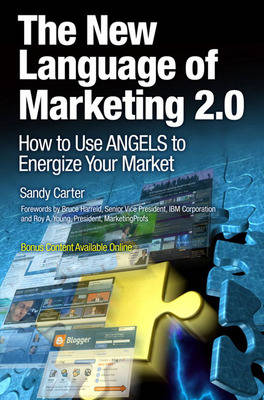 The New Language of Marketing 2.0: How to Use ANGELS to Energize Your Market (Paperback)
Sandy Carter
(author)
Paperback
512

Pages / Published: 20/11/2008
"Marketing has entered a new era of rapid advance. Those unwilling to experiment with new combinations of traditional and internet marketing will be left behind."
-Chris Trimble, Adjunct Associate Professor of Business Administration, Tuck School of Business at Dartmouth and Coauthor, Ten Rules for Strategic Innovators: From Idea to Execution
"It's no secret that business has been changing dramatically over the last decade. To succeed in this rapidly changing environment, businesses must adapt their marketing strategies accordingly-The New Language of Marketing 2.0 provides practical, proven, and prescient tools to do exactly that."
-Dr. Steve Moxey, Research Fellow, High-Tech Marketing, Manchester Business School
"Most U.S. marketers mistakenly think 'going global' is just a matter of translating your promotional materials into different languages and widening your media buys. Packed with real-life examples, this new book amply demonstrates that successful global marketing is actually all about local marketing. Learn how to give a local spin within each regional marketplace for global success."
-Anne Holland, Founder, MarketingSherpa Inc
Use ANGELS and Web 2.0 Marketing to Drive Powerful, Quantifiable Results
For every marketer, strategist, executive, and entrepreneur
Today, marketers have an array of radically new Web 2.0-based techniques at their disposal: viral marketing, social networking, virtual worlds, widgets, Web communities, blogs, podcasts, and next-generation search, to name just a few. Now, leading IBM marketing innovator Sandy Carter introduces ANGELS, a start-to-finish framework for choosing the right Web 2.0 marketing tools-and using them to maximize revenue and profitability.
Carter demonstrates winning Web 2.0 marketing at work through 54 brand-new case studies: organizations ranging from Staples to Harley Davidson, Coca-Cola to Mentos, Nortel to IBM itself. You'll discover powerful new ways to market brands and products in both B2B and B2C markets...integrate Web 2.0, experiential, and conventional marketing...maximize synergies between global and local marketing...gain more value from influencers, and more.
Includes information, case studies, and working examples for next generation marketing strategies such as:
* Social networks with virtual environments, including Second Life
* Online communities including Facebook
* Viral Marketing and eNurturing
* Serious Gaming
* Widgets
* Wikis
* Blogging, including Twitter
* RSS
* Podcasting
* Videocasting
Whether you're a marketing professional, Web specialist, strategist, executive, or entrepreneur, this book will help you drive immense, quantifiable value from Web 2.0 technologies-now, and for years to come.
Sandy Carter's breakthrough ANGELS approach, a step-by-step framework for success:
Analyze and ensure strong market understanding
Nail the relevant strategy and story
Go to Market Plan
Energize the channel and community
Leads and revenue
Scream!!! Don't forget the Technology!
BONUS Content Available Online:
Additional chapters, case studies, examples, and resources are available on the book companion site, ibmpressbooks.com/angels.
==================================
Table of Contents
Introduction
A: Analyze Here, There, and Everywhere
Chapter 1: Listening and Analyzing in the Global World
Chapter 2: Segmentation in Action: The Nortel Case
Chapter 3: Globalization: Lenovo, Google, Unilever, and IBM
N: Nail the Strategy
Chapter 4: Fish Where the Fish Are and Use the Right Bait
Chapter 5: Relevance and Roles: Forrester Research
Chapter 6: Lightly Branded: EepyBird, The Coca-Cola Company, and Mentos
Chapter 7: Corporate Social Responsibility: IBM's Project Green and Marks & Spencer
G: Go-to-Market
Chapter 8: Break Through the Noise
Chapter 9: Influencer Value: The IBM Case Study
E: Energize the Ecosystem and Market
Chapter 10: The New Vessels
Chapter 11: Energize the Channel with Communities: OMG, Adobe and Rubicon Consulting, and Harley-Davidson
Chapter 12: Virtual Environments: The Coca-Cola Company and IBM
Chapter 13: Widgets: The Use of Widgets at IBM
Chapter 14: Blogs: Midwest Airlines and IBM
Chapter 15: Serious Gaming: IBM's Innov8
L: Leads and Revenue
Chapter 16: Show Me the Money: A Discussion with Google, the Marketing Leadership Council, and MarketingNPV
Chapter 17: Innovation, Engagement, and Business Results: adidas Group, ConAgra Foods, and Tellabs
Chapter 18: Marketing Dashboards: IBM Cognos
S: Scream Through Technology
Chapter 19: Screaming World Changes
Chapter 20: Technology Matters: IBM, Staples, Dell, and MyVirtualModel
Putting It All Together
Chapter 21: End-to-End Example: IBM WebSphere and the SOA Agenda, Prolifics, and Ascendant Technology
Chapter 22: The Top 10 Don'ts and the Marketing Organization of the Future
The following materials can be found on the companion Web site at ibmpressbooks com/angels:
Online 1: Relationship and Word of Mouth: Rackspace
Online 2: Personal Branding
Online 3: National Environmental Policy Act
Publisher: Pearson Education (US)
ISBN: 9780137142491
Number of pages: 512
Weight: 630 g
Dimensions: 229 x 154 x 26 mm
---
MEDIA REVIEWS
"If you are trying to grow revenue at your company, The New Language of Marketing 2.0 will be invaluable. The book provides methods and successful practices to develop new leads as well as increase opportunities to excel with existing customers.''
-Lauren Flaherty, CMO, Nortel
"The New Language of Marketing 2.0 has captured the essence of the next generation of marketing. The use of experience and personalization in technology to provide a competitive edge to marketing is groundbreaking. The book provides a myriad of case studies and examples to illustrate application of the best practices they advocate."
-Irving Wladawsky-Berger, Visiting Professor, Engineering Systems Division, MIT, and Adjunct Professor, Tanaka Business School, Imperial College
"The future of marketing is The New Language of Marketing 2.0. IBM charts the course for setting the right strategies, finding the best leads, and securing business for years to come."
-Ray Hammond, author, The World in 2030
"Once in a while a book comes along that captures the essence of what is going on now and where the market is headed. This book does exactly that for marketing, and makes the ideas `real' with a great variety of case studies."
-Dan Baum, CEO, DBC PR+New Media
"Innovation and technology drive today's competitive advantage. Using both in marketing techniques can help you turn your marketing from a whisper to a scream. Using the case study method, Sandy's book shows you how!"
-Lynda M. Applegate, Henry R. Byers Professor of Business Administration, Harvard Business School
"Many books tell marketers what to do, but this one shows them. With the changes now sweeping marketing, global marketers should not ignore the real-life examples and rich case studies in this resource."
-Mike Moran, coauthor,Search Engine Marketing, Inc., and author, Do It Wrong Quickly: How the Web Changes the Old Marketing Rules
"B2B marketers learning from B2C marketers and vice versa is a critical best practice. With more than 50 case studies, this book embodies the mandate to explore, learn, and grow from best practices around the world. This is a must read for marketers and business owners alike."
-Karen Vogel, Founder and President, The Women's Congress
"To succeed in this rapidly changing environment, businesses must adapt their marketing strategies accordingly. The New Language of Marketing 2.0 provides practical, proven, and prescient tools to do exactly that."
-Dr. Steve Moxey, Research Fellow, High-Tech Marketing, Manchester Business School
"I loved the customer examples. They gave me a number of ideas of how a company might expand its marketing portfolio by better leveraging the new social media world."
-Ron Williams, Professor, Kenan-Flagler Business School, University of North Carolina at Chapel Hill
"This is a great collection of cutting edge marketing and insightful case studies. It offers the latest thinking in the field of marketing, showing you how to take advantage of the new world of Web 2.0 thinking."
-Nigel Dessau, Chief Marketing Officer, AMD
"If you are trying to shift the focus of your business to better serve and retain your customers, part of that must be the new Web 2.0 marketing strategies and learn how to be part of the conversation. The New Language of Marketing 2.0 will help you find a way to combine your vision for the future with creative approaches."
-Mike Lackey, President, AIT Global and Special Advisor to the Executive Director for the United Nations Global Alliance for ICT and Development
"The New Language of Marketing 2.0 makes sense of new media vessels such as virtual worlds, blogging, wikis, social networking communities, and gaming and clearly describes how these new vessels can work for us."
-Jennifer McClure, Executive Director, Society for New Communications Research
"The goalposts may not have moved-business goals remain fairly constant-but the field of play is completely different. The New Language of Marketing 2.0 is your playbook to outmaneuver, outscore, and consistently beat your competition."
-Betty Spence, Ph.D., President, NAFE
"IBM's marketing of SOA is a best practice. IBM's ability to focus on how customers can get started and providing education and guidance is tremendous. There is a lot to learn from the IBM team in B2B marketing."
-Judith Hurwitz, President and CEO, Hurwitz and Associates, and coauthor, Service Oriented Architecture For Dummies
"The landscape has changed, and new techniques leveraging Web 2.0 have changed the dialogue in the marketplace. Those who learn these global and dynamic dialogues fastest will drive growth. The New Language of Marketing 2.0 teaches you how with more than 25 case studies.''
-Don Tapscott, coauthor, Wikinomics: How Mass Collaboration Changes Everything
"Today's business environment is completely different: interaction, communication, and information exchange have expanded to include virtual worlds, wikis, blogging, gaming, and online communities. The New Language of Marketing 2.0 will provide insight into how to adapt your marketing strategies to engage your customers where they really are, and where they are going to be tomorrow."
-Carolyn Leighton, Founder/Chairwoman, WITI (Women in Technology International)
"This book doesn't just `tell' how to achieve success in the new Marketing 2.0 world: it shows how. Sandy has done breakthrough work with her team, and is sharing best practices. Not only does this book guide the reader to the next level of business development, it provides case studies that begin to bring the future of marketing into focus."
-Rod Baptie, Managing Director, Baptie and Co., Ltd.
You may also be interested in...
Simply reserve online and pay at the counter when you collect. Available in shop from just two hours, subject to availability.
Thank you for your reservation
Your order is now being processed and we have sent a confirmation email to you at
When will my order be ready to collect?
Following the initial email, you will be contacted by the shop to confirm that your item is available for collection.
Call us on or send us an email at
Unfortunately there has been a problem with your order
Please try again or alternatively you can contact your chosen shop on or send us an email at