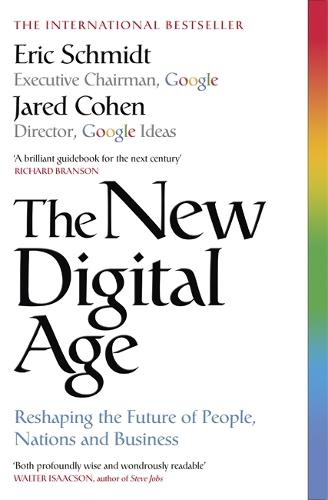 The New Digital Age: Reshaping the Future of People, Nations and Business (Paperback)
Eric Schmidt

(author)

,

Jared Cohen

(author)
Paperback
368

Pages
Published: 30/01/2014
'This is the most important - and fascinating - book yet written about how the digital age will affect our world' Walter Isaacson, author of Steve Jobs

From two leading thinkers, the widely anticipated book that describes a new, hugely connected world of the future, full of challenges and benefits which are ours to meet and harness. The New Digital Age is the product of an unparalleled collaboration: full of the brilliant insights of one of Silicon Valley's great innovators - what Bill Gates was to Microsoft and Steve Jobs was to Apple, Schmidt (along with Larry Page and Sergey Brin) was to Google - and the Director of Google Ideas, Jared Cohen, formerly an advisor to both Secretaries of State Condoleezza Rice and Hillary Clinton.

Never before has the future been so vividly and transparently imagined. From technologies that will change lives (information systems that greatly increase productivity, safety and our quality of life, thought-controlled motion technology that can revolutionise medical procedures, and near-perfect translation technology that allows us to have more diversified interactions) to our most important future considerations (curating our online identity and fighting those who would do harm with it) to the widespread political change that will transform the globe (through transformations in conflict, increasingly active and global citizenries, a new wave of cyber-terrorism and states operating simultaneously in the physical and virtual realms) to the ever present threats to our privacy and security, Schmidt and Cohen outline in great detail and scope all the promise and peril awaiting us in the coming decades.

A breakthrough book - pragmatic, inspirational and totally fascinating. Whether a government, a business or an individual, we must understand technology if we want to understand the future.

'A brilliant guidebook for the next century . . . Schmidt and Cohen offer a dazzling glimpse into how the new digital revolution is changing our lives' Richard Branson
Publisher: John Murray Press
ISBN: 9781848546226
Number of pages: 368
Weight: 250 g
Dimensions: 196 x 132 x 24 mm
---
MEDIA REVIEWS
This is a book that defines both the nature of the new world which the internet is creating; and its challenges. It describes a technological revolution in the making. How we navigate it is a challenge for countries, communities and citizens. There are no two people better equipped to explain what it means than Eric Schmidt and Jared Cohen' 'At last, a brilliant guide book for the next century - what the future holds for entrepreneurs, revolutionaries, politicians and ordinary citizens alike. Schmidt and Cohen offer a dazzling glimpse into how the new digital revolution is changing our lives. This book is the most insightful exploration of our future world that I have ever read, and once I started reading I was simply unable to put it down' 'Every day, technological innovations are giving people around the world new opportunities to shape their own destinies. In this fascinating book, Eric Schmidt and Jared Cohen draw upon their unique experiences to show us a future of rising incomes, growing participation, and a genuine sense of community - if we make the right choices today' 'Eric Schmidt and Jared Cohen's thoughtful, well-researched work elucidates the staggering impact of technology on our daily lives, as well as what surprising and incredible developments the future may hold. Readers might be left with more questions than answers, but that's the idea - we are at our best when we ask "What's next?"' 'Eric Schmidt and Jared Cohen have produced a searching meditation on technology and world order. Even those who disagree with some of their conclusions will learn much from this thought-provoking volume' 'The New Digital Age is must reading for anyone who wants to truly understand the depths of the digital revolution. Combining the skills of a social scientist and a computer scientist, Cohen and Schmidt blend the technical and the human, the scientific and the political, in ways I rarely saw while in government. They challenge the reader's imagination on almost every page. Indeed, what will be the impact of virtual and physical worlds coexisting, the first generation of humans to have an indelible record, or more frequent revolutions without resolution as the digital age nurtures more celebrities than leaders. And these questions are just the beginning. Read on' 'This is the book I have been waiting for: a concise and persuasive description of technology's impact on war, peace, freedom and diplomacy. The New Digital Age is a guide to the future written by two experts who possess a profound understanding of humanity's altered prospects in a wireless world. There are insights on every page and surprising conclusions (and questions) in every chapter. For experts and casual readers alike, Eric Schmidt and Jared Cohen have produced an indispensable book' 'This is the most important - and fascinating - book yet written about how the digital age will affect our world. With vivid examples and brilliant analysis, it shows how the internet and other communications technologies will empower individuals and transform the way nations and businesses operate. How will different societies make tradeoffs involving privacy, freedom, control, security, and the relationship between the physical and virtual worlds? This realistic but deeply optimistic book provides the guideposts. It's both profoundly wise and wondrously readable' 'The New Digital Age: Reshaping the Future of People, Nations and Business offers an intriguing fusion of ideas and insights about how the virtual world is intersecting with the "Westphalian order". It seeks a balance between the discontinuities of technologists' "revolutions" and the traditionalism of internationalists' study of states, power, and behaviour. The authors explain that technology is not a panacea, yet the uses of technology can make a world of difference. This book should launch a valuable debate about the practical implications of this new connectivity for citizens and policy makers, societies and governments' 'Few people in the world are doing more to imagine - and build - The New Digital Age than Eric Schmidt and Jared Cohen. With this book, they are looking into their crystal ball and inviting the world to peek in' 'We have long needed an incisive study of how the ever evolving world of technology leaves almost no aspect of life unchanged. We have it in The New Digital Age. Eric Schmidt and Jared Cohen offer a rigorous approach to decoding what the future holds in a story that is as well written and entertaining as it is important' 'Starting with a simple, powerful and terrifying observation - that "the internet is among the few things humans have built that they don't truly understand" - this fascinating book takes you on a wonderfully stimulating and important journey. It will make you rethink your concepts of the digital age, the way the world works, what lies ahead, and what all this means for you, your family and your community. You don't need to know much about technology to benefit from this incredibly insightful book. Using their repeatedly-tested talents and their highly successful experiences, Eric Schmidt and Jared Cohen brilliantly detail for us how the digital age is rapidly altering the balance of power between citizens and governments, between the physical and virtual worlds, and between good and bad. Whether we like or not, technology is fundamentally changing the manner in which we all interact and depend on each other - and in an accelerating manner whose scale and scope remain obscure for too many of us. This brilliant book is a must read for all those seeking to understand, and navigate well a fundamental structural shift that will play a critical role in determining the wellbeing of current and future generations' Serious and informative . . . this is an important book, partly as an account of what may happen, but mainly as a picture of the present mind-set of Silicon Valley Schmidt and Cohen are right to point to the disruptive effects of pervasive new communications medium such as the internet either to liberate or to destabilise, depending on which side of the fence you are on The New Digital Age is the most ambitious attempt to date to sketch the contours of the world that will emerge as a result of the penetration of electronic networking into every corner of the globe and every part of people's lives . . . the thoroughness is - to use a sophomore cliché - awesome The writers are at their most persuasive when talking about the link between people and technology: their faith in human ingenuity leads to an optimistic vision . . . a clear and thorough thesis suggesting that the world we are forging with the web is a better one than we have at the moment The New Digital Age is a considered work Though Schmidt chairs Google and Cohen runs its think tank, they avoid corporate propaganda in this far-reaching survey Makes sense of the infinite and terrifying possibilities of tomorrow Google's Eric Schmidt and Jared Cohen tease apart the potential influence of technology on politics, security and daily life in The New Digital Age A perceptive insight into where Silicon Valley is taking us all A serious, informative and important book
You may also be interested in...
"A Brief Summary and Review"
*A full executive summary of this book will be available on or before Tuesday, May 21, 2013.

Many of us living in the developed world have come to rely very heavily on digital technology (including the internet and... More
"On the spot"
Read this when it came out and now looking back i can say that 90%+ things in this book turned out to be true. This is not some fortune reading but a book written by those who have the power to dictate the route or... More
×
Download the Waterstones App
Would you like to proceed to the App store to download the Waterstones App?
Reserve online, pay on collection


Thank you for your reservation
Your order is now being processed and we have sent a confirmation email to you at
When will my order be ready to collect?
Following the initial email, you will be contacted by the shop to confirm that your item is available for collection.
Call us on or send us an email at
Unfortunately there has been a problem with your order
Please try again or alternatively you can contact your chosen shop on or send us an email at