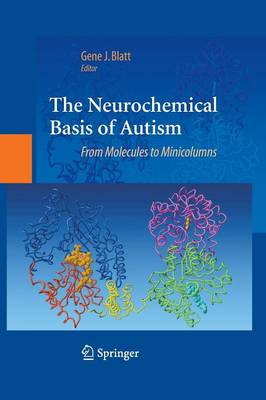 The Neurochemical Basis of Autism: From Molecules to Minicolumns (Paperback)
Gene J. Blatt
(editor)
Paperback
295

Pages / Published: 13/12/2014
Withtherecentlyperceivedincreaseinincidenceofautismandtherealizationthat "autism"mayactuallybe"autisms"withsubsetsofaffectedindividuals,researchers have been pursuing the possibility that there may be multiple etiologies for the disorder.Althoughmostautismstudieshavefocusedongeneticsandadvancedn- roimaging,thereisapaucityofresearchaimedatdeterminingtheneurochemical basisofautism.Identifyingcoreneuralsubstratesorkeybiomarkersisessentialto understandingthemechanisticbasisthatmayinpartunderlie"autisms."Alterations inmolecules,proteins,receptors,andsynapticelementsaresomeofthecontrib- ingsubstratesthatcouldresultinaltereddevelopmentalprocesses,changedsynaptic function,andaberrationsinconnectivity.Itisnowapparentthatmultiplebrainareas are affected in autism, and neuropathological defects have been described within corticalandsubcorticalnetworks.Althoughrecentprogresshasbeenmadeinid- tifyingsomeofthegenesthatmayunderliethedisorder,muchattentionhasalso beengiventoepigeneticand/orenvironmentalfactorsthatmaycontributetosubsets ofautisticindividuals. The contributors to this book were hand selected because of their expertise in their respective ?elds. Individually each chapter presents a unique perspective into the clinical, developmental, neurochemical, and/or physical chemical basis of autism. The contributing authors summarize current research ?ndings in their respective areas and also present novel ideas and propose hypotheses and p- sible mechanisms that may be operative during development and the potential consequencesofhavingdefectsinspeci?cmolecules,receptors,orgenes. Thesubtitle"FromMoleculestoMinicolumns"wasinsertedbecauseofmuch recent attention given to alterations in the basic organization of mini- or mic- columns of neurons in cerebral cortical areas in autism. These especially include prefrontalcorticalareasthatundergoanovergrowthduringearlypostnataldevel- mentinmanyindividualswithautism.Tothisend,theworldrenownedDr.Alan Peters,theneuroanatomistthatoriginallydescribedmini-ormicro-columnaror- nizationinthecerebralcortex,wasrecruitedtowriteachapterinthisbookgiving hisexpertperspectiveontheissueinautism. The book begins with highly respected clinician, Dr. Margaret L. Bauman, DirectoroftheLADDERSclinicintheBostonarea,withaclinicalandmedicalp- spectiveofautismdiscussingetiologies,clinicalpresentation,earlyidenti?cation, vii viii Preface advancementsinmedicalcare,andassociateddisorders. Inthechapter"TheMale Prevalence in Autism Spectrum Disorders: Hypotheses on its Neurobiological Basis",ItalianresearchersDrs.FlavioKellerandLilianaRutapresentneuroch- ical hypotheses as the basis for the predominance of male prevalence in autism discussing the possible roles of estrogen, testosterone, oxytocin, and vasopressin in the organization of brain circuits and hemispheric specialization. Psychiatrist Dr. Ricardo Vella relates neuropathologies in autism, in the limbic and cereb- lar regions, to speci?c behaviors and presents a developmental perspective and hypotheses regarding emotional and attachment behaviors in autistic individuals.
Publisher: Springer-Verlag New York Inc.
ISBN: 9781489981974
Number of pages: 295
Weight: 480 g
Dimensions: 235 x 155 x 17 mm
Edition: 2010 ed.
---
MEDIA REVIEWS
From the reviews: "In this much needed book aimed at researchers, scientists and clinicians, Blatt (anatomy and neurobiology, Boston U) assembles 15 chapters that focus on the neurochemical basis of autism a little studied topic. ... Lay abstracts and summaries at the end are aimed at parents, siblings and caregivers." (SciTech Book News, June, 2010)
You may also be interested in...
Simply reserve online and pay at the counter when you collect. Available in shop from just two hours, subject to availability.
Thank you for your reservation
Your order is now being processed and we have sent a confirmation email to you at
When will my order be ready to collect?
Following the initial email, you will be contacted by the shop to confirm that your item is available for collection.
Call us on or send us an email at
Unfortunately there has been a problem with your order
Please try again or alternatively you can contact your chosen shop on or send us an email at