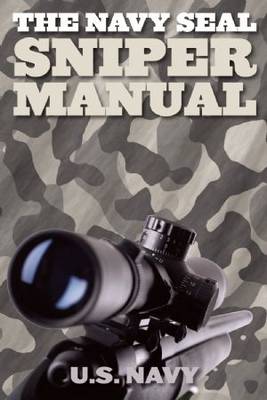 The Navy SEAL Sniper Manual: U.S. Navy SEAL Training School (Paperback)
United States Navy
Paperback
Published: 20/01/2011
This is the original U.S. Navy manual containing the complete programme used to train ultra-elite Navy SEAL snipers. This is the official step-by-step manual issued to America's most elite sniper unit, loaded with dozens of illustrations, range charts, and graphs. For half a century, Navy SEAL snipers have earned a reputation as the planet's deadliest warriors: inserting silently into hostile territory, dispatching entire squadrons of enemy soldiers, and extracting without detection. "The Navy SEAL Sniper Manual" is the bible these elite marksmen study and master long before taking on their first confidential mission. Upon earning their Trident, new SEALs head off to a final grueling training programme to become lethal scout snipers. This detailed guide leads them through the intense training and covers everything from crafting effective camouflage, taking a hidden position, and estimating distance to planning a mission, hitting a moving target, and taking down an aircraft. Whether they are targeting pirates on rolling seas or zeroing in on terrorist strongholds in the mountains of Afghanistan, America's combat commanders trust SEAL sniper teams to get the job done. With clear, step-by-step instructions and helpful illustrations and charts, the sniper manual shows the amateur marksman how to hone his shooting skills the way elite warriors have done for decades.
Publisher: Ulysses Press
ISBN: 9781569758670
You may also be interested in...
We would love to hear what you think of Waterstones. Why not review Waterstones on Trustpilot?