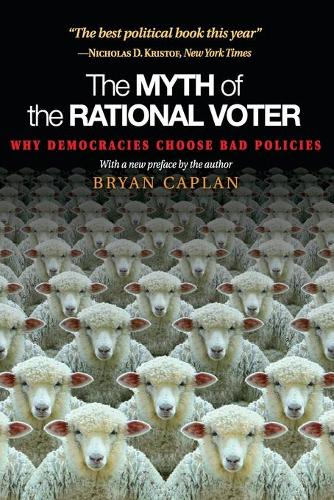 The Myth of the Rational Voter: Why Democracies Choose Bad Policies - New Edition (Paperback)
Bryan Caplan
(author)
Paperback
296

Pages
Published: 19/09/2008
The greatest obstacle to sound economic policy is not entrenched special interests or rampant lobbying, but the popular misconceptions, irrational beliefs, and personal biases held by ordinary voters. This is economist Bryan Caplan's sobering assessment in this provocative and eye-opening book. Caplan argues that voters continually elect politicians who either share their biases or else pretend to, resulting in bad policies winning again and again by popular demand. Boldly calling into question our most basic assumptions about American politics, Caplan contends that democracy fails precisely because it does what voters want. Through an analysis of Americans' voting behavior and opinions on a range of economic issues, he makes the convincing case that noneconomists suffer from four prevailing biases: they underestimate the wisdom of the market mechanism, distrust foreigners, undervalue the benefits of conserving labor, and pessimistically believe the economy is going from bad to worse. Caplan lays out several bold ways to make democratic government work better--for example, urging economic educators to focus on correcting popular misconceptions and recommending that democracies do less and let markets take up the slack. The Myth of the Rational Voter takes an unflinching look at how people who vote under the influence of false beliefs ultimately end up with government that delivers lousy results. With the upcoming presidential election season drawing nearer, this thought-provoking book is sure to spark a long-overdue reappraisal of our elective system.
Publisher: Princeton University Press
ISBN: 9780691138732
Number of pages: 296
Weight: 425 g
Dimensions: 235 x 156 x 18 mm
Edition: Revised edition
---
MEDIA REVIEWS
"The best political book this year."--Nicholas D. Kristof, New York Times "Caplan thinks that democracy as it is now practiced cannot be salvaged, and his position is based on a simple observation: 'Democracy is a commons, not a market.'"--Louis Menand, The New Yorker "One of the two or three best books on public choice in the last twenty years."--Tyler Cowen, Marginal Revolution "Like a few recent best sellers--Freakonomics, The Tipping Point, The Wisdom of Crowds--The Myth of the Rational Voter unwraps economic theories and applies them to everyday life. Mr. Caplan's thesis, though, lacks any semblance of a compliment: The 'unwisdom of crowds' is closer to his point. He believes that the American public is biased against sensible, empirically proved economic policies about which nearly all economists agree. Voters, he says, are not just ignorant in the sense of having insufficient information. They actually hold wrong-headed and damaging beliefs about how the economy works."--Daniel Casse, The Wall Street Journal "[P]rovocative."--Elsa Dixler, New York Times Book Review "The Myth of the Rational Voter usefully extends the discussion [about democracy] by linking it with 'public choice' theory... Public choice theory faces a dilemma. A rational and self-interested person has no incentive to study political issues, as the chances of his or her determining the outcome are negligible. This has become known as 'rational ignorance'. Caplan maintains that the reality is much worse. He shows that voters are not just ignorant but systematically biased in favor of mistaken views."--Samuel Brittan, Financial Times "Caplan is right to detect a stubborn irrationality in ordinary voters and he correctly points out to his rational choice colleagues that their models are hopelessly unrealistic."--Martin Leet, Australian Review of Public Affairs "Caplan argues convincingly that irrational behaviour is pervasive among many of us today... Caplan's point, however, is that most voters are irrational. And that is worse than being ignorant... Their irrationality comes with a host of misconceptions that drive policy choices."--Fazil Mihlar, The Vancouver Sun "This engaging and provocative volume describes why democracy gives us far less than its promise. Countering existing theories of rationally ignorant voters, Caplan argues persuasively that voters are irrational, registering systematically biased beliefs--and consequently votes--against markets and other sound economy policy metrics... [T]his is a compelling book, offering readers a well-written and well-argued competing theory for why democracy fails and why we should limit what is done through the political process."--M. Steckbeck, Choice "[Caplan] argues that voters' own irrational biases, rather than flaws in the democratic process, compel voters to support policies that are not in their interest. While one may quibble with his specifics, the overall argument is convincing and applicable across a variety of fields...Forces the reader to take a second look at our nation's unshakable faith in the wisdom of the electorate."--Pio Szamel, Harvard Political Review "A brilliant and disturbing analysis of decision making by electorates that--[Caplan] documents--are perversely ignorant and woefully misinformed."--Neil Reynolds, The Globe and Mail "Scintillating... Outstanding."--Gene Epstein, Barron's Magazine "Kudos to Caplan for not wanting to leave well enough alone, but he could have given democracy more credit for diffusing--to the relatively benign act of voting--irrational and reactionary human behaviour that has in the past led to violence and war. In the meantime, it certainly would not hurt for more people to learn about the law of supply and demand."--Adam Fleisher, International Affairs "Caplan's book is a major accomplishment, which breaks new ground in our understanding of democratic politics and opens up a new research territory for further exploration."--Gene Callahan, Independent Review "[Persons] who do not grasp the lessons in Bryan's book cannot understand politics as well as persons who do grasp those lessons. Buy a copy. Read it. Ponder it. Learn."--Don Bourdreaux, Cafe Hayek
You may also be interested in...
×
Download the Waterstones App
Would you like to proceed to the App store to download the Waterstones App?
Reserve online, pay on collection


Thank you for your reservation
Your order is now being processed and we have sent a confirmation email to you at
When will my order be ready to collect?
Following the initial email, you will be contacted by the shop to confirm that your item is available for collection.
Call us on or send us an email at
Unfortunately there has been a problem with your order
Please try again or alternatively you can contact your chosen shop on or send us an email at