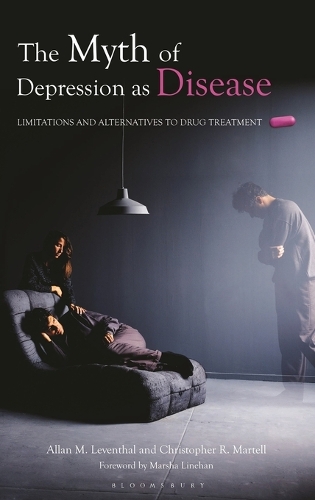 Hardback
200

Pages / Published: 30/12/2005
Depression is commonly thought of as a biological disorder best treated with antidepressant medications. Pharmaceutical companies and many experts promote this view as established in scientific fact. Here, Leventhal and Martell argue that there is scant actual scientific evidence for this view, and that the issue is open to considerable question. They maintain that there is very little known-they call the evidence woefully weak-regarding the role of biology in depression. Marketing by drug producers has not only led the public to accept dubious claims and over-value antidepressants, but has also led medical doctors to prescribe them excessively. Leventhal and Martell argue that the effectiveness of psychological therapy has strong scientific support in the treatment of anxiety and depression, and it is safer and results in less frequent relapse. This book will help consumers decide which treatment is best for them. It includes a list of questions to ask before accepting a prescription for antidepressant medication. Readers will find this book helpful in understanding the controversy surrounding the widespread prescription and use of antidepressants. It traces the history and science behind the pharmaceutical treatment of depression, and it presents, in accessible language, information that will empower readers to make the best choices possible regarding the treatment of their own or their loved ones' feelings of depression and anxiety. The audience for this book includes those who are depressed and considering professional help, those concerned about health care and the services offered in the mental health field, and doctors or mental health professionals who may wish to reconsider the basis for treatments they are recommending to patients. Students and scholars in psychology, clinical psychology, public health, social work, and psychiatry will also find this of interest.
Publisher: ABC-CLIO
ISBN: 9780275989767
Number of pages: 200
Weight: 458 g
Dimensions: 238 x 162 x 21 mm
---
MEDIA REVIEWS
"Is there a biological foundation to depression? The pharmaceutical industry's direct-to-consumer advertising would have one believe that not only is depression a biological phenomenon, but that the specific medications they are advertising can remedy the disorder. Just take a pill and the sun begins to shine! However, this slim volume by Leventhal and Martell indicates that the answer may not be so straightforward. In the tradition of Thomas Szasz (The Myth of Mental Illness, rev. ed., 1974), the authors take a very controversial position by questioning the biological basis for depression. They regard the scientific research supporting the biological view as weak. This view, however, is quite profitable for drug companies. After questioning the scientific validity of the biological research and calling into question the motives of the pharmaceutical industry, the authors proclaim an alternative treatment for depression--behavior therapy. This is not surprising, given their training and background. Perhaps most important is the authors' daring to put forward an argument that counters big pharma and the biotech industry. They raise questions about the extent of market influence on scientific theory and research. This clearly written volume contains several instructive appendixes. Recommended. Lower-level undergraduates and up." - Choice
"The title of Allan Leventhal and Christopher Martell's book might give readers the impression they are simply trying to challenge the current dominance of the medical model of depression. While that most certainly is one of Leventhal and Martell's top priorities, the issues that they take on are far broader, ranging from the undue and inappropriate influences that the pharmaceutical industry can exert on clinical research, limitations in government agencies' oversight of the pharmaceutical industry, and bias in the education of customers and health providers about mental health treatment options and their effectiveness. The authors' style is an interesting mix of scholarship and investigative reporting....I strongly recommend this book to clinicians and to individuals who are experiencing symptoms of depression and who want to have a broader understanding of mental disorders and treatment options." - The Behavior Therapist
"Leventhal and Martell take a contrarian position in their contention that pharmaceutical companies and mental health professionals have, with little scientific proof, promoted the notion that depression is a biological disorder best treated with antidepressant medications. The authors argue that marketing by drug producers has encouraged the public to accept dubious claims about antidepressants and has led doctors to prescribe them excessively. Leventhal and Martell conclude that psychological therapy is a more effective and safer treatment for anxiety and depression." - SciTech Book News
"[T]wo prominent and prestigious clinical psychologists, dissociate themselves from the nation's mainstream mental health establishment, and in harsh, no-holds-barred rhetoric, accuse the medical and psychiatric professions of scandalous, irresponsible, and duplicitious collusion with the drug industry to promote a biological disease model of despression, anxiety, and related disorders requiring costly unnecessary medication validated by dubious research studies. This book should be required reading for all potential prescribers of antidepressants and also for all potential consumers of antidepressants." - The Journal of Nervous and Mental Disease
"[A] brief, tightly reasoned argument about the limitations of the medical model applied to the explanation and treatment of depression....This seems to be a crucial time for mental health care, one in which critical evaluation of our assumptions and models is much overdue, and psychologists have an obligation as scientist practitioners to shape understanding of depression. This volume is a good reminder of the value of our science." - PsycCRITQUES
"Any college-level health collection, especially those strong in mental health concerns, must have The Myth of Depression as Disease: Limitations and Alternatives to Drug Treatment: it goes where few books so clearly have gone before, arguing that there's little actual scientific evidence for treating depression as a biological disorder to be treated with drugs. Indeed, the authors say, there is very little known about the role of biology in depression; but marketing by pharmaceutical companies has perpetuated the myth of chemical imbalance and treatments to benefit their bottom lines. Therapy is under-explored in contrast, and should be one of many alternatives to drug therapies: that's the hard-hitting contention of The Myth of Depression as Disease, which should earn much classroom discussion as well." - California Bookwatch
You may also be interested in...
Simply reserve online and pay at the counter when you collect. Available in shop from just two hours, subject to availability.
Thank you for your reservation
Your order is now being processed and we have sent a confirmation email to you at
When will my order be ready to collect?
Following the initial email, you will be contacted by the shop to confirm that your item is available for collection.
Call us on or send us an email at
Unfortunately there has been a problem with your order
Please try again or alternatively you can contact your chosen shop on or send us an email at