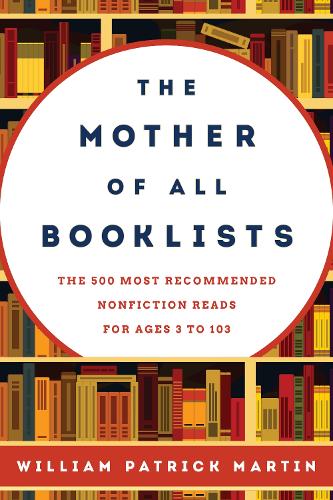 The Mother of All Booklists: The 500 Most Recommended Nonfiction Reads for Ages 3 to 103 (Hardback)
William Patrick Martin
(author)
Hardback
368

Pages / Published: 24/12/2014
The Mother of All Booklists: The 500 Most Recommended Nonfiction Reads for Ages 3 to 103 is written for parents, grandparents, and teachers unfamiliar with the bewildering array of award and recommended reading lists. This book is a long overdue composite of all the major booklists. It brings together over 100 of the most influential book awards and reading lists from leading magazines, newspapers, reference books, schools, libraries, parenting organizations, and professional groups from across the country. The Mother of All Booklists is to reading books what the website Rotten Tomatoes is to watching movies-the ultimate, one-stop, synthesizing resource for finding out what is best. Mother is not the opinion of one book critic, but the aggregate opinion of an army of critics. Organized into five age group lists each with one hundred books-preschoolers (ages 3-5), early readers (ages 5-9), middle readers (ages 9-13), young adults (ages 13-17), and adults (ages 18+)-The Mother of All Booklists amalgamates the knowledge of the best English-language booklists in the United States, including a few from Canada and Great Britain. Each of the 500 books is annotated, describing the contents of the book and suggesting why the book is unique and important. Each includes a picture of the book cover.
Publisher: Rowman & Littlefield
ISBN: 9781442238619
Number of pages: 368
Weight: 676 g
Dimensions: 236 x 164 x 31 mm
---
MEDIA REVIEWS
Nonfiction, especially children's, is a buzzword at the moment, thanks to the Common Core State Standards. And for a few years now, more authors and publishers have been answering the call and writing exceptional informational books. In an effort to separate the wheat from the chaff in a very crowded genre, bookstore owner and former education professor Martin has compiled this hefty guide to the 500 most recommended nonfiction books for ages 3 to 103. What makes the list stand out is that it culls from more than 100 other authorities (annual awards as well as recommendations from noteworthy sources including librarians, teachers, magazines, and more), providing a vast number of diverse points of view. Covers are shown and titles are annotated and there is a great multicultural representation. The book is divided into appropriate sections (e.g., preschoolers, early readers, young adults, etc.). . . .VERDICT Appropriate as an additional purchase for a parent-teacher collection. * Library Journal *
Building on the current focus on nonfiction in schools, former education professor and bookstore owner Martin creates The Mother of All Booklists by offering citations and annotations for 500 of the most recommended nonfiction books. This unique booklist is particularly valuable because it does not rely on one person's view or even group opinion; the author created his rankings by compiling information from 155 awards and reading lists. For each of five age categories, sections comprise the top 100 most-cited works from all the sources. The brief annotations are conversational in tone, give a comprehensive overview of the work, and often end with a comment on the types of readers who would most likely connect to it. Topping off the useful information that this text offers, a 'Special Interests' section groups the titles into broad subject categories (e.g., 'Adventure,' 'Biography,' 'Nature'), and another features biographical sketches of 25 selected nonfiction authors. Other booklists abound, but the approach the author uses to collect data and his organizational scheme make this one stand out. Ideal for librarians doing readers' advisory or collection development and appealing to general audiences too, Martin's booklist will prove to be a staple for identifying good books. Summing Up: Highly recommended. General readers, teachers, and librarians. * CHOICE *
William Patrick Martin, former education professor at Temple and Monmouth Universities and unabashed book lover, has put together an attractive, informative, well-organized and readable collection that includes thumbnail covers and descriptions of the best available books of nonfiction written in English. . . .The Mother of All Booklists is a great resource, whether for cross-referencing, investigating, age/subject-appropriate narratives, or simply a pleasurable, random stroll through its interesting and entertaining pages. * Book/Mark Quarterly Review *
The Mother of All Booklists is amazing. A valuable resource and a good read in itself! -- Judy Allen, author of Awaiting Developments, winner of the Whitbread Children's Novel Award and the Friends of the Earth Award
A brilliant, heartfelt, beautifully written and well-chosen compilation of some of the best books for children, teens, and adults. A fabulous resource for teachers, librarians and parents. -- Dianna H. Aston, author of A Rock Is Lively, a Boston Globe's Best Children's Book of the Year
A treasure trove for lovers of non-fiction! -- Don Brown, award-winning author of He Has Shot the President!: April 14, 1865: The Day John Wilkes Booth Killed President Lincoln
Martin's The Mother of All Booklists provides a terrific resource for teachers, students, librarians, and anyone who loves books. Its focus on nonfiction not only caters to professionals looking for Common Core materials, but helps validate the interests of the huge number of readers who have always preferred factual books. Most of all, it's just a great read, and will send people scurrying to the library. -- Sneed B. Collard, author of Animal Dads, The Prairie Builders, and Sneed B. Collard III's Most Fun Book Ever About Lizards
This is a resource I'll keep nearby, not just to guide my own reading, but as a secret reference to use when people ask me to recommend good books for them to read. Martin's thorough and smart review of recent nonfiction will make me look smart when I'm asked to talk about books worth reading. This book is a must-have for school and public libraries. Patrons and librarians will wear out this resource in their search for great nonfiction books. Teachers at all levels will also find great value in it. Considering how much information this book contains, it's surprisingly easy to navigate, and the author has anticipated readers' needs by, for example, rearranging the master lists into smaller, subject-defined categories. I also appreciated the short biographies of 25 contemporary authors and the extensive bibliographies at the end of the volume. The annotations are engagingly written, and the range of books included impressive. If this book can't help someone find a nonfiction book they want to read, I don't know what will. -- Chris Crowe, professor of English at Brigham Young University and author of Death Coming Up the Hill
Now that my children are teenagers, I seem to have forgotten how to select books for kids of any other age. Fortunately, I'm among readers who can "listen to mother" to reliably make choices, and not just for children, but for readers of all ages. The mother in this case is Bill Martin, author of A Lifetime of Fiction: The 500 Most Recommended Reads for Ages 2 to 102 and its nonfiction sequel, The Mother of All Booklists: The 500 Most Recommended Nonfiction Reads for Ages 3 to 103. Bill took on the overwhelming task of delving into the opinions of a legion of book reviewers, and researching multi-year book lists across the board so that his selections represent the combined points of view of critics rather than the opinion of just one or a few. His exceptionally easy-to-use guide enables parents, teachers, and interested readers to quickly select books based on readers' ages, in five categories, from preschool through adult. Each category contains 100 titles and descriptions. Thank you, Bill, for creating such a valuable resource. Your book will no doubt be one of the most dog-eared in every school and public library. -- Jennifer Keats Curtis, award-winning author of Kali's Story: An Orphaned Polar Bear Rescue
A wide ranging and wonderfully varied celebration of nonfiction, proving that this genre provides a rich a nourishing diet to grow the minds of young readers. I wish we had this in the UK! -- Nicola Davies, zoologist, children's author, one of the original presenters of the BBC wildlife program "The Really Wild Show"
This is the most comprehensive and well-organized non-fiction booklist I've ever seen. An absolute must-have resource for readers and educators. -- Matt de la Pena, author of the critically-acclaimed young adult novel, The Living
What a useful resource William Martin's The Mother of All Booklists will be! This guide reflects the best of today's nonfiction for all ages. -- Kay Frydenborg, author of Wild Horse Scientists
For those of us who know we're living in the Golden Age of Nonfiction, The Mother of All Booklists is a godsend. Bill Martin has done the heavy lifting for parents, teachers, and devoted readers, providing us with a one-stop source for acclaimed modern nonfiction organized by age, genre, and interest category. Mother testifies to the brilliance, beauty, and sometimes-unbelievability of the Truth found in great nonfiction. -- Gary Golio, author and illustrator of Spirit Seeker, selected as one of the New York Public Library's 100 Titles for Reading & Sharing
The Mother of All Booklists is the mother of all nonfiction best book guides. It belongs in every home, school, community, and university library. -- Greg Grandin, professor of history at New York University and prize-winning author of The Empire of Necessity: Slavery, Freedom, and Deception in the New World
The Mother of All Booklists is a well-organized composite of major award and booklists, a great timesaver for accessing the best nonfiction books for any age group. This guide will efficiently help educators, parents, and readers meet Common Core standards. -- Christy Hale, author and illustrator of Dreaming Up: A Celebration of Building, a Bank Street College of Education Best Children's Book
How do you find the best nonfiction books for yourself or a child in your life? This well-researched, well-written, comprehensive "mother list" is the perfect place to start. An invaluable resource! -- Deborah Heiligman, author of Charles and Emma: The Darwins' Leap of Faith, winner of the first YALSA excellence in nonfiction award
Think of The Mother of All Booklists as a treasure chest filled with ideas for great reads. William Martin profiles a huge variety of wonderful books sure to inform, entertain, and inspire readers of all ages. -- Barbara Kerley, award-winning author of The Dinosaurs of Waterhouse Hawkins and A Home For Mr. Emerson
You may also be interested in...
Simply reserve online and pay at the counter when you collect. Available in shop from just two hours, subject to availability.
Thank you for your reservation
Your order is now being processed and we have sent a confirmation email to you at
When will my order be ready to collect?
Following the initial email, you will be contacted by the shop to confirm that your item is available for collection.
Call us on or send us an email at
Unfortunately there has been a problem with your order
Please try again or alternatively you can contact your chosen shop on or send us an email at