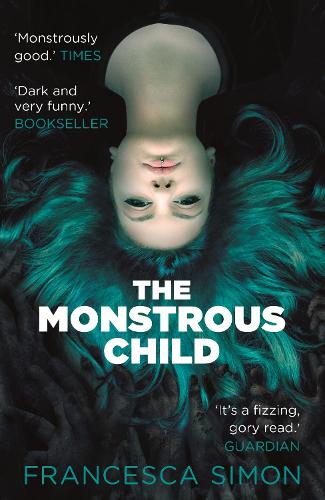 Paperback
304

Pages / Published: 01/12/2016
Shortlisted for the Costa Children's Book Award 2016

Shortlisted for the Bookseller YA Book Prize 2017
I wasn't always lying rotting on a stinking bed in the Underworld… I didn't start off hating everything.
I liked flowers
I liked trees
I liked mountains
I liked glaciers
It was just mortals I couldn't stand. And the gods. And my family.
They say, Hell hath no fury…
Meet Hel, an ordinary teenager - and goddess of the Underworld. She's just got one question: why is life so unfair?
Hel tries to make the best of it, creating gleaming halls in her dark kingdom and welcoming the dead who she is forced to host for eternity. Until eternity itself is threatened.
A stunning, operatic and epic drama like no other Francesca Simon has taken a story of dysfunctional family relations and made it eternal mingling the grim with the glorious in her own inimitable style.
Francesca Simon will be familiar to any parent who has encountered her creation for younger children, the wonderfully wicked Horrid Henry. As well as keeping the younger Waterstones' readers in fits of delighted giggles she has branched out into writing for older children and now her daring first foray into teenage fiction.
'The Monstrous Child follows on from Simon's assured recent books The Sleeping Army and The Lost Gods. This new book is a first-person tale of how this daughter of a female giant and a God – beautiful on top, decaying from the waist down – came to be mired in the land of the dead. It's a fizzing, gory read.' - The Guardian
Publisher: Faber & Faber
ISBN: 9780571330270
Number of pages: 304
Weight: 241 g
Dimensions: 198 x 129 x 18 mm
Edition: Main
---
MEDIA REVIEWS
"Mum's a giantess, Dad's a trickster god, and her brothers are fated to play major roles in ending the world; trapped in her fetid underworld, Hel (aka Goddess of the Dead) has had enough eternity, thanks, and she's about to tell you why.Jotunheim, land of the giants, leaves plenty to be desired. Snow, sleet, and howling winds scour the mountains. It's no Asgard. A seemingly ordinary girl on top, Hel's legs are in a permanent state of decay--blotched with gangrene, wrapped in bandages. Her father, Loki, rarely visits the family cave. But then the children are kidnapped and brought to golden Asgard, as Odin hopes to render her ill-fated brothers harmless, at least for now. At first overlooked, narrator Hel develops a huge crush on Baldr, a beautiful, kindly--and married--god, before Odin hurls her to Niflheim to rule over the dead. This permanent teen doesn't take her fate lying down--at first. Failing to escape, she occupies herself constructing a palace for the dead and dreams of Baldr, fated to die eventually and come to her. But as years pass, she grows bitter and vengeful, and she doesn't hesitate to tell readers: "I have no friends. I don't want any friends. I'm fine by myself. I am cradled by hate and fury; I need no one." Hel's persuasive, compelling, brutally grim, and very funny voice drives the narrative. Seen from below, the Twilight of the Gods is neither tragic nor noble--it's long overdue." (Fantasy. 12-16)
--Kirkus Reviews
"In this British import from the author of the Horrid Henry series, a young Norse goddess with an accursed affliction (she was born with the legs of a rotting corpse) is banished from Asgard to Niflheim, the underworld, to reign over the dead. Hel, the daughter of Loki and the giantess Angrboda, at first does her best by building an enormous hall and welcoming the dead, but she is consumed with thoughts of revenge against Odin and longing for Baldr, the lone god who was kind to her. Teenage Hel tells her story directly to the reader in first person, with equal amounts bitter sarcasm, miserable whining, and cold rage. While Hel's anachronistic tone is modern, fast-paced, and funny, it grows tiresome, as there isn't much else to the story: this is more of a stylish monologue than a retelling. Readers may enjoy Hel's flippant insolence, aimed at adults, while others may find the quirky presentation of Norse mythology a good companion to Rick Riordan's Magnus Chase and the Gods of Asgard series. "
--Booklist
"The darkly funny testament of an accidental teenage goddess of the dead. The Horrid Henry author's first foray into YA follows 14-year-old Hel, an eternal teenager who also happens to be the queen of the underworld. Her legs are in a permanent state of decay. Hel's parents put her in charge of all who enter, and she grows increasingly bitter, as she has nothing to occupy her mind aside from the dreams of a lost love, Baldr. All Hel wants is to be able to tell her story. This title is perfect for "Percy Jackson" lovers who are looking for their next read. Those who enjoy the young adult work of Neil Gaiman but are not old enough for his American Gods would also appreciate this book. As Simon includes many allusions to Norse mythology throughout, this could be incorporated in similar units of study in a language arts curriculum. Small illustrations at the beginning of each chapter will help readers keep the pages turning. VERDICT An excellent choice for young adult fans of all things mythology."
--School Library Journal
"Hel, Norse goddess of the Underworld, tells her story, on her terms, in THE MONSTROUS CHILD. Born in a cave with a snake and a wolf for brothers, Hel is the daughter of a giantess and of Loki, the god of mischief--it's no wonder that Hel is unusual too. While her torso is normal, her legs are those of a corpse. Her mother proves to be hateful, and her brothers are terrifying. Her absentee father appears and disappears for much of her life. She has never known affection; Baldr, a god, surprises her with that. But it cannot last. She is already jaded and cynical by the time that she comes to live among other gods, before she is cast down into the Underworld--a place she later names after herself. Hel's voice is definite and strong. She's a sarcastic and bitter lead, and unapologetic. Why should she be, when she was born half dead and sent to live with only the dead for companions? Hel often seems to be a victim of her circumstances--of her parentage, her rotting and painful form, and a lack of love. But she is also derisive of nearly everyone and sometimes seems suited to her awful fate. Most of the book takes place in the Underworld, where those who have not died in battle go to spend eternity. Not much happens in the land of the dead; Hel keeps it interesting, and her scenes hold attention. Hel's story is unique; her toughness carries the story, and her inner monologue is absorbing."
--Foreword Reviews
"Hel, the protagonist of this deliciously fun YA debut from Simon (the Horrid Henry series), is the daughter of trickster god Loki and Angrboda the giantess. Hel was born a monster: while her top half is normal, she has the legs of a corpse. The Fates have foretold that Hel's brothers, Fenrir the wolf and Jormungand the snake, will kill Odin and Thor during Ragnarok, so the deities abduct the siblings and bring them to Asgard. Hel falls in love with the god Baldr, but her happiness is short-lived: Odin incapacitates Hel's kin, then ban-ishes her to Niflheim to rule the dead. By recasting the Norse queen of hell as a snarky, disaffected teenager, Simon makes the ancient relatable and adds humor to an otherwise grim and gruesome tale: "Let's pause and take a closer look at just some of Dad's children," Hel offers. "Eight legs (Sleipnir). Four legs (Fenrir). No legs (Jormungand). Corpse legs (yours truly)." Though the book is light on plot and narrative drive, it oozes style, and Simon's evocative descriptions transport readers to the strange and brutal world of Norse myth." Ages 12-up. (June)
Publishers Weekly
You may also be interested in...
×
Download the Waterstones App
Would you like to proceed to the App store to download the Waterstones App?
Simply reserve online and pay at the counter when you collect. Available in shop from just two hours, subject to availability.
Thank you for your reservation
Your order is now being processed and we have sent a confirmation email to you at
When will my order be ready to collect?
Following the initial email, you will be contacted by the shop to confirm that your item is available for collection.
Call us on or send us an email at
Unfortunately there has been a problem with your order
Please try again or alternatively you can contact your chosen shop on or send us an email at