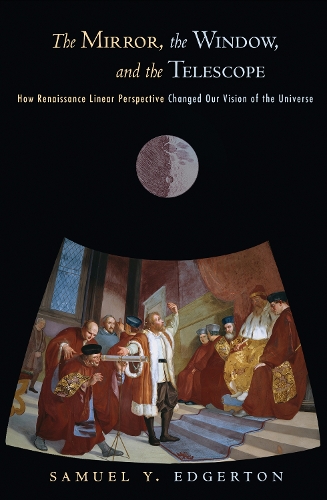 The Mirror, the Window, and the Telescope: How Renaissance Linear Perspective Changed Our Vision of the Universe (Paperback)
Samuel Y. Edgerton
(author)
Paperback
224

Pages / Published: 29/01/2009
In The Mirror, the Window, and the Telescope, Samuel Y. Edgerton brings fresh insight to a subject of perennial interest to the history of art and science in the West: the birth of linear perspective. Edgerton retells the fascinating story of how perspective emerged in early fifteenth-century Florence, growing out of an artistic and religious context in which devout Christians longed for divine presence in their daily lives. And yet, ironically, its discovery would have a profound effect not only on the history of art but on the history of science and technology, ultimately undermining the very medieval Christian cosmic view that gave rise to it in the first place.
Among Edgerton's cast of characters is Filippo Brunelleschi, who first demonstrated how a familiar object could be painted in a picture exactly as it appeared in a mirror reflection. Brunelleschi communicated the principles of this new perspective to his artist friends Donatello, Masaccio, Masolino, and Fra Angelico. But it was the humanist scholar Leon Battista Alberti who codified Brunelleschi's perspective rules into a simple formula that even mathematically disadvantaged artists could understand.
By looking through a window the geometric beauties of this world were revealed without the theological implications of a mirror reflection. Alberti's treatise, "On Painting," spread the new concept throughout Italy and transalpine Europe, even influencing later scientists including Galileo Galilei. In fact, it was Galileo's telescope, called at the time a "perspective tube," that revealed the earth to be not a mirror reflection of the heavens, as Brunelleschi had advocated, but just the other way around. Building on the knowledge he has accumulated over his distinguished career, Edgerton has written the definitive, up-to-date work on linear perspective, showing how this simple artistic tool did indeed change our present vision of the universe.
Publisher: Cornell University Press
ISBN: 9780801474804
Number of pages: 224
Weight: 510 g
Dimensions: 229 x 152 x 14 mm
---
MEDIA REVIEWS
"Edgerton's very readable book provides a clear history of linear perspective, with a detailed reconstruction of the Brunelleschi experiment set against the religious background of fifteenth-century Florence. It considers the spiritual and moral implications of geometric optics, and shows how artists as well as religious leaders used the new knowledge and adapted it to their traditional assumptions about visualized nature."-Christopher Stace, Times Literary Supplement, 10 July 2009
"The power of Edgerton's central thesis in this very brief book rests in its clarity and elegance. He focuses on two dates 1425 and 1435 and two men Brunelleschi and Alberti, arguing that their differences reveal the transformation of linear perspective from an artistic practice rooted in medieval religious ideas to a secularized method for picturing the world. . . . His explanation of both Brunelleschi's and Alberti's methods is compelling and he does a remarkable job of capturing the excitement and anxieties that this new style of painting generated among artists like (surprisingly) Fra Angelico, Masaccio and Raphael Sanzio. There is no doubt, as well, that this innovation excites Edgerton himself, and the passion of a seasoned teacher seeps through and invigorates much of this book."-Dallas G. Denery II, H-German, H-Net Reviews, October 2009
"Ever since I was a student, Samuel Y. Edgerton's work on perspective has been the best embodiment of an integrated approach to perspective, blending historical and geometric concerns into one narrative. Edgerton knows perspective very well, and he makes perspective drawings himself. At the same time this is not the sort of mathematically inclined writing that reduces perspective to a series of geometric tricks. This book is full of careful scholarship, and Edgerton does not forget the Christian contexts of Renaissance perspective. He also resists the 'new wave of art criticism' that sees perspective as a minor technical invention, soaked in an abandoned ideology of naturalism. Edgerton celebrates perspective as a 'positive idea': he cares about what perspective has accomplished in Western culture, from mapping and exploration to the latest achievements of digital astronomy. This book is a concise summary of his work, and a reliable and up-to-date introduction to the subject. Read this first, and the rest of the literature will make sense: read the other literature first, and perspective may remain in a fog of intimidating mathematics and metaphorics."-James Elkins, School of the Art Institute of Chicago
"At a time when the intersection between art and science is of rising interest to practitioners in both camps, Edgerton shows how deeply these two fields have been interconnected. As he so beautifully demonstrates, perspectival representation of the fourteenth through sixteenth centuries laid the groundwork for the reimagining of space that would eventually be taken up by the physicists of the seventeenth. Anyone who is interested in the dialogue between art and science will find this an astonishing story."-Margaret Wertheim, author of The Pearly Gates of Cyberspace: A History of Space from Dante to the Internet
You may also be interested in...
Simply reserve online and pay at the counter when you collect. Available in shop from just two hours, subject to availability.
Thank you for your reservation
Your order is now being processed and we have sent a confirmation email to you at
When will my order be ready to collect?
Following the initial email, you will be contacted by the shop to confirm that your item is available for collection.
Call us on or send us an email at
Unfortunately there has been a problem with your order
Please try again or alternatively you can contact your chosen shop on or send us an email at