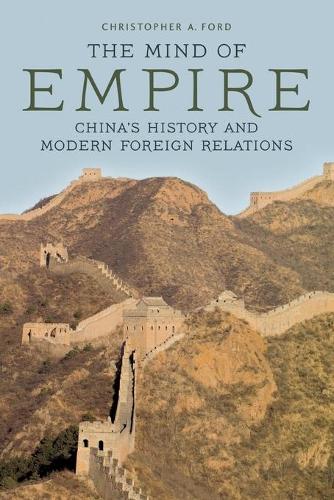 The Mind of Empire: China's History and Modern Foreign Relations - Asia in the New Millennium (Paperback)
Christopher A. Ford
(author)
Paperback
394

Pages / Published: 11/06/2015
In the last century, no other nation has grown and transformed itself with such zeal as China. With a booming economy, a formidable military, and a rapidly expanding population, China is emerging as a twenty-first-century global superpower. China's prosperity has increased dramatically in the last two decades, propelling the nation to a prominent position in the international community. Yet China's ancient history still informs and shapes its understanding of itself in relation to the world. As a highly developed and modern nation, China is something of a paradox.

Though China is an international leader in modern business and technology, its past remains a source of guiding principles for the nation's foreign policy. In The Mind of Empire: China's History and Modern Foreign Relations, Christopher A. Ford demonstrates how China's historical awareness shapes its objectives and how the resulting national consciousness continues to influence the country's policymaking. Despite its increasing prominence among modern, developed nations, China continues to seek guidance from a past characterized by Confucian notions of hierarchical political order and a ""moral geography"" that places China at the center of the civilized world.

The Mind of Empire describes how these attitudes have clashed with traditional Western ideals of sovereignty and international law. Ford speculates about how China's legacy may continue to shape its foreign relations and offers a warning about the potential global consequences. He examines major themes in China's conception of domestic and global political order, describes key historical precedents, and outlines the remarkable continuity of China's Sinocentric stance. Expertly synthesizing historical, philosophical, religious, and cultural analysis into a cohesive study of the Chinese worldview, Ford offers revealing insights into modern China.

The Mind of Empire tracks China's astonishing development within the framework of a national ideology that is intrinsically linked to the distant past. Ford's perspective is both pertinent and prescient at a time when China is expanding into new areas of power, both economically and militarily. As China's power and influence continue to grow, its reliance on ancient philosophies and political systems will shape its approach to foreign policy in idiosyncratic and, perhaps, highly problematic ways.
Publisher: The University Press of Kentucky
ISBN: 9780813165431
Number of pages: 394
Weight: 612 g
Dimensions: 229 x 152 x 17 mm
---
MEDIA REVIEWS
"With impressive zeal [Ford] works his way through the canon of Chinese political philosophy, digesting not only Confucius and his heirs but also the Legalists (who shared the Great Sage's belief in the primacy of the state while ruthlessly discarding his insistence on virtue), the highly influential 'manuals of war and statecraft' known as the bingjia, and even a few Taoists for good measure...China may not be on a road to Jeffersonian democracy, but the Party has a great deal of adapting ahead of it if it intends to maintain control. China is changing the world, but it is changing itself even more, and we should expect plenty of surprises along the way." -- The New York Review of Books
"Christopher Ford tells us in The Mind of the Empire how chairman Mao gradually transformed himself in the minds of the people of Communist China from a great revolutionary hero into a false god and political messiah." -- The Christian News
"Considers how history and Confucian notions of order and hierarchy shape China's foreign relations." -- The Chronicle Review
"Christopher Ford tells us in The Mind of Empire how Chairman Mao gradually transformed himself in the minds of the people of Communist China from a great revolutionary hero into a false god and political messiah." -- Christian News
"Seeks to explicate what [Ford] sees as key differences in the Chinese and Western normative understandings of international order; how they have shaped China's relations with the rest of the world, particularly Western Europe and the United States; and implications for the future." -- Book News Inc.
"Writing primarily for Western policy-makers and the interested general audience, Ford seeks to explicate what he sees as key differences in the Chinese and Western normative understandings of international order." -- Book News Inc.
"Ford's reading of Confucius is both shrewd and instructive, with implications for contemporary policymakers. China may currently be governed by a hybrid of entrepreneurial capitalism and rigid central control--the world's largest fascist state, strictly speaking--but its ruling principles and aspirations remain grounded in Confucian thought... The Mind of Empire is an ideal guidebook for contending with the People's Republic: a scholarly analysis of Chinese history written with considerable authority and flair, and a sobering account of what dealing with Chinese power and ambition means to us--and, especially, to them." -- The Weekly Standard
"A much-needed and an erudite contextualization... [this book] will benefit immensely those interested in the history and strategic culture of China's foreign policy." -- The China Quarterly
"Not since John King Fairbank's 1968 edited volume The Chinese World Order, has there been a single volume published that so effectively encapsulates centuries of China's traditional worldviews (plural) and its practices of statecraft. Ford's study is fluidly and engagingly written, making dense history and philosophy both accessible to non-historians and relevant to current concerns...the book should become standard reading for all courses on Chinese foreign policy." -- David Shambaugh, Journal of Chinese Political Science
"Christopher A. Ford's China Looks at the West is an important study establishing a foundation for understanding China's approach to the United States, which is the most important international relationship early in the twenty-first century.
[...] The book's wide-ranging chapters examine in considerable depth a variety of topics of importance to anyone seeking to understand the contemporary thinking of Chinese leaders dealing with the United States.
In sum, the book provides a well-written discussion of several important arguments involving China's approach to the United States that will be of interest to general readers and specialists. It provides a great amount of food for thought along with well-argued assessments [...]" -- H-Net Reviews
You may also be interested in...
Simply reserve online and pay at the counter when you collect. Available in shop from just two hours, subject to availability.
Thank you for your reservation
Your order is now being processed and we have sent a confirmation email to you at
When will my order be ready to collect?
Following the initial email, you will be contacted by the shop to confirm that your item is available for collection.
Call us on or send us an email at
Unfortunately there has been a problem with your order
Please try again or alternatively you can contact your chosen shop on or send us an email at