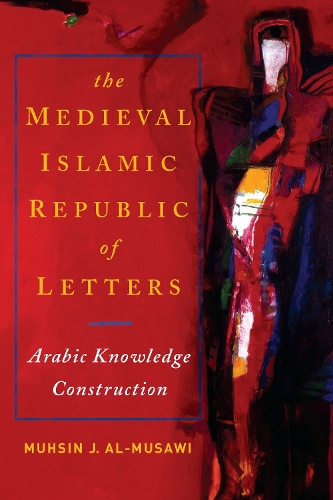 The Medieval Islamic Republic of Letters: Arabic Knowledge Construction (Paperback)
Muhsin J. Al-Musawi
(author)
Paperback
456

Pages / Published: 30/04/2015
In The Medieval Islamic Republic of Letters: Arabic Knowledge Construction, Muhsin J. al-Musawi offers a groundbreaking study of literary heritage in the medieval and premodern Islamic period. Al-Musawi challenges the paradigm that considers the period from the fall of Baghdad in 1258 to the collapse of the Ottoman Empire in 1919 as an ""Age of Decay"" followed by an ""Awakening"" (al-nahdah). His sweeping synthesis debunks this view by carefully documenting a ""republic of letters"" in the Islamic Near East and South Asia that was vibrant and dynamic, one varying considerably from the generally accepted image of a centuries-long period of intellectual and literary stagnation.

Al-Musawi argues that the massive cultural production of the period was not a random enterprise: instead, it arose due to an emerging and growing body of readers across Islamic lands who needed compendiums, lexicons, and commentaries to engage with scholars and writers. Scholars, too, developed their own networks to respond to each other and to their readers. Rather than addressing only the elite, this culture industry supported a common readership that enlarged the creative space and audience for prose and poetry in standard and colloquial Arabic. Works by craftsmen, artisans, and women appeared side by side with those by distinguished scholars and poets.

Through careful exploration of these networks, The Medieval Islamic Republic of Letters makes use of relevant theoretical frameworks to situate this culture in the ongoing discussion of non-Islamic and European efforts. Thorough, theoretically rigorous, and nuanced, al-Musawi's book is an original contribution to a range of fields in Arabic and Islamic cultural history of the twelfth to eighteenth centuries.
Publisher: University of Notre Dame Press
ISBN: 9780268020446
Number of pages: 456
Weight: 635 g
Dimensions: 229 x 152 x 25 mm
---
MEDIA REVIEWS
"This significant and timely monograph challenges the old paradigms of the 'Age of Decay' and the 'Awakening' critique through a new theoretical lens. The innovative theoretical framework, inspired by various schools of literary/cultural studies and postcolonial discourse, is informed by Muhsin al-Musawi's close readings of the original--mostly Arabic; some Persian and Turkish--texts and his contextualization centered around 'the learned network' in Cairo and Damascus and its impact on the production of knowledge at the time, all the way to modernity.
The Medieval Islamic Republic of Letters
is an important work for specialists and will appeal to those interested in Islamic humanism, comparative literature, and cultural studies." --
Li Guo, University of Notre Dame
"Muhsin al-Musawi's work systematizes a huge body of primary literary texts and current scholarship under a compelling and original thesis.
The Medieval Islamic Republic of Letters
will be the starting point for a new generation of scholarship on this six-hundred-year 'republic of letters' that stretched from India to North Africa." --
Suzanne P. Stetkevych, Sultan Qaboos bin Said Professor of Arabic and Islamic Studies, Georgetown University
"Muhsin al-Musawi, who has already written a number of smaller studies on the premodern period of Arabic creativity, now crowns his achievements with a lengthy study that should finally put to rest the Orientalist-inspired notion of a 'period of decadence' in the Arab-Islamic cultural heritage. Pointing out the differing aesthetic criteria with which previous generations of Western scholars have had such difficulty with engaging and comprehending, al-Musawi makes telling use of an enormous range of texts in order to analyze and prioritize cultural and literary trends over several medieval centuries and to demonstrate the ways in which successive generations of creative writers and those who commented on their output created a cultural milieu of considerable sophistication." --
Roger Allen, Sascha Jane Patterson Harvie Professor Emeritus of Social Thought and Comparative Ethics, University of Pennsylvania
"The innovation of this study lies not in the choice of its topic--for many have addressed it--but in its robust examination of medieval themes and intellectual ventures, as it were, in conversation with modern and contemporary theories. The book is also pioneering and timely in transcending traditional single-author scholarship on classical and medieval Arabic, while avoiding both atomization and the traditional line-by-line analysis of the Arabic literary tradition. . . . The end result is the best study I have read of medieval Islamic belles lettres and the most cogent critique of 'the ages of decline' and Eurocentrism theses in a single blow." --
Journal of the Society for Contemporary Thought and the Islamicate World
"With this work, Muhsin J. al-Musawi . . . has produced perhaps the ultimate expression of his long interest in medieval and pre-modern Islamic culture--a ground-breaking comprehensive and rigorous study of that period's Arabic literary heritage and 'cultural capital, ' in which he unearths a dynamic and diverse 'Republic of Letters' . . . . This is a tremendously important work of scholarship that will enthrall many readers around the world, within and outside academia." --
Magazine of Modern Arab Literature
"In
The Medieval Islamic Republic of Letters
, Muhsin al-Musawi draws on his expertise in the complex eras and literary traditions responsible for producing
A Thousand and One Nights
in order to interrogate the cultural production of Medieval Islam and demonstrate once and for all how such times have dismissively and erroneously been labeled 'the Ages of Decline.' In a patient and in-depth examination of a vast collection of primary and secondary sources, coupled with a thorough and insightful critique of Arabic and European schools of literary thought, and most notably poststructuralist theory, al-Musawi masterfully re-envisions the modalities of literary production that both formed and informed the cultural heritage of Medieval Islam." --
al-Hayat Newspaper
"Muhsin al-Musawi's
The Medieval Islamic Republic of Letters
is above all, a response to contemporary theories of modernity and modernism in all their various amnesias toward world literary history. . . . The end result is the best study I have read of medieval Islamic belles lettres and the most cogent critique of "the ages of decline" and Eurocentrism theses in a single blow." --
SCTIW Review
"The author's blend of literary and historical sources is compelling and strong. I wholeheartedly recommend this book to specialists, graduate students, and even advanced undergraduates interested in medieval Arabic literature, comparative literature, or world literatures." --
Journal of Arabic Literature
"The author well argues . . . that a proper appreciation of [Islamic] heritage, and incorporation of those parts of it that are still very much alive among the masses, would establish the intellectual as part of his or her society, rather than leaving him or her on its ineffective margins." --Common Knowledge
"Brilliantly building off of and challenging Pascale Casanova's World Republic of Letters, Al-Musawi develops an alternative, manageable system through which to see the cultural products of the medieval Arab world in concert with one another. . . The research and immense scope of knowledge demonstrated in this text is invaluable for historians of Arab polities and literature alike."--Comitatus
"[It] is truly refreshing to see that a scholar of Arabic literature takes the literary production of Anatolia, Iran, and Central Asia seriously, and even takes the Timurid period into account. The Medieval Islamic republic of Letters is an extremely rich book that certainly paves the path for further research in Islamic literary and intellectual history." --Renaissance Quarterly
You may also be interested in...
Simply reserve online and pay at the counter when you collect. Available in shop from just two hours, subject to availability.
Thank you for your reservation
Your order is now being processed and we have sent a confirmation email to you at
When will my order be ready to collect?
Following the initial email, you will be contacted by the shop to confirm that your item is available for collection.
Call us on or send us an email at
Unfortunately there has been a problem with your order
Please try again or alternatively you can contact your chosen shop on or send us an email at