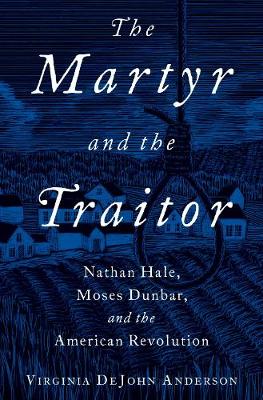 The Martyr and the Traitor: Nathan Hale, Moses Dunbar, and the American Revolution (Paperback)
Virginia DeJohn Anderson
(author)
Paperback
288

Pages / Published: 01/10/2019
In September 1776, two men from Connecticut each embarked on a dangerous mission. One of the men, a soldier disguised as a schoolmaster, made his way to British-controlled Manhattan and began furtively making notes and sketches to bring back to the beleaguered Continental Army general, George Washington. The other man traveled to New York to accept a captain's commission in a loyalist regiment before returning home to recruit others to join British forces. Neither man completed his mission. Both met their deaths at the end of a hangman's rope, one executed as a spy for the American cause and the other as a traitor to it. Neither Nathan Hale nor Moses Dunbar deliberately set out to be a revolutionary or a loyalist, yet both suffered the same fate. They died when there was every indication that Britain would win the American Revolution. Had that been the outcome, Dunbar, convicted of treason and since forgotten, might well be celebrated as a martyr. And Hale, caught spying on the British, would likely be remembered as a traitor, rather than a Revolutionary hero. In The Martyr and the Traitor, Virginia DeJohn Anderson offers an intertwined narrative of men from very similar backgrounds and reveals how their relationships within their families and communities became politicized as the imperial crisis with Britain erupted. She explores how these men forged their loyalties in perilous times and believed the causes for which they died to be honorable. Through their experiences, The Martyr and the Traitor illuminates the impact of the Revolution on ordinary lives and how the stories of patriots and loyalists were remembered and forgotten after independence.
Publisher: Oxford University Press Inc
ISBN: 9780190055622
Number of pages: 288
Dimensions: 235 x 156 mm
---
MEDIA REVIEWS
Groundbreaking and relevant....Anderson's work is a microhistory of two individuals with a highly engaging biographical narrative that shows how social networks, circumstances, and localized concerns influenced loyalties and decisions....Highly engaging, eloquent, and convincing, the narrative at once further complicates and yet clarifies how the Revolution played out on a localized scale....Anderson presents sophisticated scholarship in an inviting manner and really opens up the world of Hale and Dunbar to the reader along with the crucial reminder that American independence was not a foregone conclusion and how easily things could have been different....A page turner. * Kelly Mielke, Journal of the American Revolution *
Anderson's well-researched and well-written dual biography deserves public acclaim....The Martyr and the Traitor would be an excellent addition to any early American history class. * Timothy C. Hemmis, H-War *
By examining the short lives and dramatic executions of two passionate young men on opposing sides, Virginia DeJohn Anderson illuminates the painful political decisions demanded by a complex revolution and the swirling fortunes of war. With careful research and in deft prose, Anderson brilliantly recovers the human drama and life-and-death stakes of the civil war that we call the American Revolution." - Alan Taylor, author of American Revolutions: A Continental History, 1750-1804
The Martyr and The Traitor exemplifies Virginia Anderson's scholarly finesse and literary skill. The opening is simply stunning. It is not just the rich narration that gives the book power, but the elegance of its argument. Anderson reminds us that while it is easy to kill a man, it is impossible to control the lessons people might draw from such an act." - Laurel Thatcher Ulrich, author of A Midwife's Tale
A compelling story of revolutionary America unfolds in these pages, one that captures the lives of young men and women who came of age during these years of crisis by charting the fates of a famous rebel spy and a committed loyalist." - Christine Leigh Heyrman, author of American Apostles: When Evangelicals Entered the World of Islam
In this engrossing dual biography of two young Connecticut men executed for treason by opposing sides in the revolutionary war, one the famous Nathan Hale and the other the obscure Moses Dunbar, Virginia Anderson brilliantly introduces modern readers to issues of loyalty and honor in the late eighteenth century. Which of her subjects, one might ask, was the martyr and which the traitor? Her narrative casts important new light on unfamiliar political uncertainties in revolutionary New England." - Mary Beth Norton, author of In the Devil's Snare: The Salem Witchcraft Crisis of 1692
Both Nathan Hale and Moses Dunbar were Connecticut Yankees. Both were hanged as spies. Following them to the gallows, Virginia Anderson gives us a powerful tale about the American Revolution's bitter, tragic conflicts." - Edward Countryman, Southern Methodist University
No less than others, the American Revolution was not just a matter of declarations and high-mindedness, but a bitter internal conflict that tore apart individuals, families and their communities. Anderson's fine work exposes to view these often hidden realities." - Publishers Weekly
The author asks readers to question their education concerning the Revolutionary War and its black-and-white rendering of patriots as good and loyalists as evil. In the process, Anderson successfully documents not only the injustices done to colonists by the British, but also the mistreatment of loyalists by the Whigs, a subject that is often overlooked... This book will be of great importance to readers interested in the legacy and memory of American conflicts." - Library Journal
This is a tale of two men, two causes and two tragedies: two Connecticut farm boys who yearned for something better, two young men caught up in the fearsome tumult of revolution, two steadfast soldiers who refused to repent before they hanged. One is well-known: Nathan Hale, the American spy who regretted that he had but one life to lose for his country. The other is Moses Dunbar, a lowly Anglican Loyalist whom most of his countrymen wanted to forget... a moving coming-of-age (and end-of-life) story as well as a military history and a spy thriller. * Caitlin Fitz, The Wall Street Journal *
This dual biography of a famous patriot and a virtually unknown loyalist demonstrates the perplexing choices many Americans faced during the Revolution...Its real value (there is little available information on the men themselves) is the author's meticulous untangling of the social, educational, cultural, economic, and religious threads that eventually led people with similar backgrounds to choose opposite sides in the conflict. This engaging, lucid micro-study reminds readers that when history is written by the winners, much gets left out....Recommended. * Choice *
Beautifully illustrates the twists of fortune and tangle of associations that helped seal Americans' divisions during their first civil war....Capturing the Revolution's messiness, Anderson's intimate, finely grained portraits dramatically showcase the ambiguity and contingency of events....A model study of the War for Independence's toll on ordinary individuals and the bitterly politicized communities they negotiated, The Martyr and the Traitor demands the attention of every historian of Revolutionary America."-Ken Miller, American Historical Review
Moving and important....Anderson places the lives of Hale and Dunbar in a comparative biographical framework, adding a new interpretative lens to show how the dissemination of patriot and loyalist ideologies exacerbated preexisting tensions in local relationships during the era of the American Revolution. The book demonstrates that, at a time when the notion of independence was not coherently or universally understood, those relationships were not destined to produce merely one allegiance."-Gideon Mailer, William and Mary Quarterly
Simply reserve online and pay at the counter when you collect. Available in shop from just two hours, subject to availability.
Thank you for your reservation
Your order is now being processed and we have sent a confirmation email to you at
When will my order be ready to collect?
Following the initial email, you will be contacted by the shop to confirm that your item is available for collection.
Call us on or send us an email at
Unfortunately there has been a problem with your order
Please try again or alternatively you can contact your chosen shop on or send us an email at