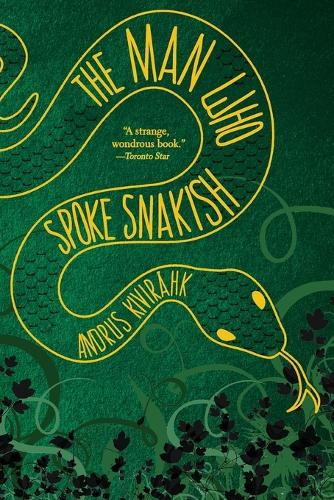 Paperback
400

Pages / Published: 19/11/2015
A bestseller in the author's native country of Estonia, where the book is so well known that a popular board game has been created based on it,
The Man Who Spoke Snakish
is the imaginative and moving story of a boy who is tasked with preserving ancient traditions in the face of modernity.
Set in a fantastical version of medieval Estonia, The Man Who Spoke Snakish follows a young boy, Leemet, who lives with his hunter-gatherer family in the forest and is the last speaker of the ancient tongue of snakish, a language that allows its speakers to command all animals. But the forest is gradually emptying as more and more people leave to settle in villages, where they break their backs tilling the land to grow wheat for their "bread" (which Leemet has been told tastes horrible) and where they pray to a god very different from the spirits worshipped in the forest's sacred grove. With lothario bears who wordlessly seduce women, a giant louse with a penchant for swimming, a legendary flying frog, and a young charismatic viper named Ints, The Man Who Spoke Snakish is a totally inventive novel for readers of David Mitchell, Sj n, and Terry Pratchett.
Publisher: Grove Press / Atlantic Monthly Press
ISBN: 9780802124128
Number of pages: 400
Weight: 499 g
Dimensions: 203 x 137 x 33 mm
---
MEDIA REVIEWS
Praise for The Man Who Spoke Snakish
One of Entertainment Weekly's Top Picks in New Paperbacks
"This fantastical Bildungsroman has the feel of a classic. It's a yarn in every sense of the word--a bit Tin Drum, a little Where the Wild Things Are, and with a cast of talking snakes, bears, lice, and primates, more than a little Watership Down . . . The novel shines . . . Readers who are charmed by the world Kivir hk creates here, by the imaginative breadth and offbeat characters, will be satisfied just inhabiting this world for 450 pages. Credit is due, too, to the translator and editor, who have made the English feel consistently natural, readable, authentic."--New York Journal of Books
"This translated Estonian treasure follows the adventures of a boy who is the last remaining speaker of Snakish, an ancient language by which he can command any animal."--Entertainment Weekly
"This delightful Estonian novel coils and springs with a mix of dark humour, satire and allegorical observation . . . [an] intriguing story . . . a thought-provoking tale . . . The author's skill for social criticism and his literary talents are evident in Snakish, and he clearly has a gift for creating suspenseful, provocative stories . . . The Man Who Spoke Snakish is wonderful--don't let it slither away."--Winnipeg Free Press
"Epic, fantastical . . . Most astonishing is the inventive imagery, from lice crossbred large enough to be ridden by people to a legless flying savior who swoops across the cold sea to bludgeon knights and monks . . . Kivir hk's well-plotted story of language, loss, and fanaticism speaks powerfully to our world's ever present conflicts."--Kirkus Reviews
"Lots of fun here, with seductive bears, flying frogs, and a viper named Ints, but Kivir hk is also concerned with the dangers of war, colonization (particularly Christianity's breakdown of traditional belief), and idealizing the past. A big bestseller in Europe, with that ever-popular medieval/fantastical setting."--Library Journal
"This allegorical story spins an element of wistful longing for anyone who has struggled between the old and the new, its lessons as relevant today as ever."--Booklist
"The Man Who Spoke Snakish interrogates not only the literary logic of the allegorical mode but also the relationship we have--as individuals and as readers--to the dueling lures of tradition and change . . . a kind of bucolic Bildungsroman . . . Kivir hk provides a compelling and creaturely backdrop for the warring facets of Leemet's coming-of-age, characters who embody aspects of the distant past, the painful present, and the dangerous future . . . I felt compelled to continue reading in the certain knowledge that I'd soon stumble upon a scene of great power and beauty or an elegantly aphoristic turn of phrase. Though presumably set hundreds of years before our own time, Leemet's struggle remains something of a microcosm of our own."--Words Without Borders
"The Man Who Spoke Snakish has the feeling of a folktale . . . This isn't to say that it's a work of light fantasy, however--like Margo Lanagan's 2008 Tender Morsels, there's an undercurrent of violence that keeps the more mirthful aspects at a distance."--Literary Hub
"This novel slithers along like the snakes it so admires, agile and often unexpectedly compelling . . . its irreverence for convention flows charmingly from its conversational prose . . . Readable and engaging, it's easy to see how this novel could become the delight of a nation."--Full Stop
"[A] tumultuous Tolkien-like epic set in early medieval Estonia, where forces of modernity and tradition clash in a primeval struggle for the Baltic nation's soul--and it's future . . . At its essence, this book is a Bildungsroman, a coming of age saga about a young man reconciling with a world experiencing seismic change . . . A strange, wondrous book."--Toronto Star
"Kivir hk's writing, delicate and forthright, childlike and sarcastic all at the same time, pokes fun at all forms of grandiosity, and is given depth by his staggering imagination, his great appetite, and his always reck less attitude. How to describe the book? Imagine it is the end of the world, and Tolkien, Beckett, Mark Twain, and Miyazaki (with Icelandic sagas and Asterix comic books stuffed under their arms) have got together in a cabin to drink and tell stories around the last bonfire the world will ever see."--Le Magazine Litt raire
"The first great talent of this young Estonian author is to make us laugh about complex subjects . . . everything is of a remarkable clarity and immediacy, as if we had learned to speak snakish without realizing it. . . . The sense of humor and the imagery resembles a graphic novel or animated film. . . . Probably one of the best contemporary novels about what it means to be alone. . . . Marvelous in all senses of the word."--Le Monde
"Somewhere near the realms of fantasy and science fiction there exists a much more thrilling and allegorical form of writing, bending the rules of the genre to suit itself: Atwood's admonitory novels, Vonnegut's attempts to reach outside the bounds of reality and time, Bradbury's philosophical allegory encased within a science-fiction story, and so on. The Man Who Spoke Snakish is an allegory about fading eras and vanishing worlds, and laced with a good dose of black humor to boot."--J rgen Rooste, Estonian cultural critic
"The irreverent and funny Estonian writer Andrus Kivir hk has written an incredible novel, a mystifying treasure of a book. It will give you a raging desire to visit his home country. Is it a pseudo-fairytale in which animals and humans do not just talk to each other, but build great friendships and even romances--or a liturgical lampoon rewritten by a naturalist undergoing a crisis of faith? We can't say for sure. The only course of action is to follow in the steps of Leemet, the hero of this adventure story, a young man who has mastered the language of snakes."--Psychologies Magazine
"Kivir hk has taken care to remove from his text every specific chronological or geographical reference, which gives his book the character of a fable, something timeless. In a way that is totally fascinating, he throws a light on the Estonian world for the reader who is ignorant of that country's particular historical context. The Man Who Spoke Snakish is a great novel, one of those important books that speaks to your soul in its own language and which marks a milestone on your personal reading history and in the development of your opinions."--Blog des Bouquins
"A novel in which there is no downtime and which is great fun to read . . . a tragic and deeply political work, but one in which shards of laughter await on every page . . . It is good, it is beautiful, you will read it in one sitting, it radiates intelligence, it's a novel that since 2007 has been a smash hit in Estonia and has even been elevated to the ranks of the classics by a whole generation there. It is a true literary miracle thanks to which you may find yourself looking up at the sky in the hope of seeing the apocalyptic flight of the mythical Frog of the North."--L'Ivre de Lire
"This novel is totally unusual; it has the same strangeness as La Locura de Dios by Juan Miguel Aguilera or Cold Skin by Albert Sanchez Pi ol. The author talks about Estonia (his country) in the 13th century, when "iron men" invaded the country on a crusade. It jumps between philosophical fable, political pamphlet, and Nordic saga, by way of some epic outbursts of violence."--Decitre.fr
You may also be interested in...
×
Download the Waterstones App
Would you like to proceed to the App store to download the Waterstones App?
Simply reserve online and pay at the counter when you collect. Available in shop from just two hours, subject to availability.
Thank you for your reservation
Your order is now being processed and we have sent a confirmation email to you at
When will my order be ready to collect?
Following the initial email, you will be contacted by the shop to confirm that your item is available for collection.
Call us on or send us an email at
Unfortunately there has been a problem with your order
Please try again or alternatively you can contact your chosen shop on or send us an email at