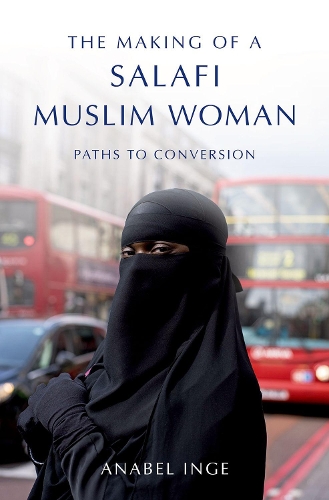 The Making of a Salafi Muslim Woman: Paths to Conversion (Paperback)
Anabel Inge
(author)
Paperback
322

Pages / Published: 10/05/2018
The spread of Salafism-often referred to as "Wahhabism"-in the West has intrigued and alarmed observers since the attacks of 9/11. Many see it as a fundamentalist interpretation of Islam that condones the subjugation of women and fuels Jihadist extremism. This view depicts Salafi women as the hapless victims of a fanatical version of Islam. Yet in Britain, growing numbers of educated women-often converts or from less conservative Muslim backgrounds-are actively choosing to embrace Salafism's literalist beliefs and strict regulations, including heavy veiling, wifely obedience, and seclusion from non-related men. How do these young women reconcile such difficult demands with their desire for university education, fulfilling careers, and suitable husbands? How do their beliefs affect their love lives and other relationships? And why do they become Salafi in the first place? Anabel Inge has gained unprecedented access to Salafi women's groups in the United Kingdom to provide the first in-depth account of their lives. Drawing on more than two years of ethnographic fieldwork in London, she examines why Salafism is attracting so many young Somalis, Afro-Caribbean converts, and others. But she also reveals the personal dilemmas they confront. This ground-breaking, lucid, and richly detailed book will be of vital interest to scholars, policy-makers, journalists, and general readers.
Publisher: Oxford University Press Inc
ISBN: 9780190889203
Number of pages: 322
Weight: 466 g
Dimensions: 234 x 157 x 19 mm
---
MEDIA REVIEWS
This is an ethnography of the very best kind. Inge is both systematically rigorous and sensitively empathic. We learn to see these women as women, facing the challenges of life in a contemporary western society that is not infrequently hostile-especially to women who are assumed to be either aggressively extremist or browbeaten victims of Islamophobia. These women are neither. Obviously enough, this is a book that should be read by anyone concerned about new religions and/or contemporary Islam. It could also be read with benefit by feminists and by those with an interest in qualitative methodology. But for anyone, it is a damn good read. * Eileen Barker, Nova Religio *
If you want to understand British Islam, you need to read it. * Damian Thompson & Christina Odone, The Spectator *
This is an under-researched subject and so any credible information is very welcome. * Yasmin Alibhai-Brown, the i-newspaper *
[A] rich portrait... Inge found that nearly all of the Salafi women she followed in her research decided to wear the face veil against the wishes - sometimes despite the threats of family members, who saw it as too extreme, too Arab, too rebellious. Officials often argue that Muslim women are too submissive to challenge extremist views even within their own families. But women who wear a garment that annoys their families, that provokes regular verbal abuse and leads to their being pelted with food in public are something other than submissive. * Azadeh Moaveni, London Review of Books *
A uniquely remarkable book nestled in the most cherished humanist tradition of the social sciences. Anabel Inge has written a book that is bound to inform and challenge people's stereotypes about the lives of Salafi women in London. From conversion to religious study circles and match-making, the author navigates a difficult terrain with a penetrating anthropological gaze and careful attention to subtle details. The book is a joy to read. * Madawi Al-Rasheed, author of Muted Modernists: The Struggle over Divine Politics in Saudi Arabia *
When is Islamic extremism not extremism? In this wonderfully lucid and scholarly ethnographic study of young Salafi women in London ... Anabel Inge probes what has become a dominant question in British twenty-first-century public policy ... closely observed, nuanced anthropological research over more than two years ... The Making of a Salafi Muslim Woman is in many ways a remarkable, innovative book which deserves a wide readership. It opens up a window on African Muslims, particularly Somalis, who both resemble and differ from the majority of British Muslims. * Pnina Werbner, Journal of the Royal Anthropological Institute *
The first sustained empirical research into this hard-to-reach community. It therefore provides rich everyday granularity rarely seen in this area - perhaps not since Saba Mahmood's The Politics of Piety in 2014 ... Inge reveals a dynamic and complex picture of Salafism in the UK, which challenges essentialist 'letter-box' views of the community ... [The book] also reads well, making it accessible to experts and novices alike. * Katherine E. Brown, Irish Theological Quarterly *
Dr. Inge's new book is welcome reading...This is a brave and important study. * The Catholic Herald *
Extremely well-written, thoughtful, well-researched... What this book highlighted, and what I thought was so important about it, is that it focused on the lived experiences of Salafi women... which are very, very different from those of Salafi men. Whether in terms of the culture of the community, or how Islam is taught and internalized, to the challenges of finding a spouse and contending with things not working out, to struggling with both family tensions and challenges in the academic world /work force... what women go through is so, so different, and so often ignored and underappreciated... I highly recommend it. * The Salafi Feminist (blogger) *
This very accessible and timely book is the outcome of sensitively conducted ethnographic fieldwork among Salafi women in London. The research that underpins it reflects a high degree of professionalism, thoroughness, and meticulous attention to detail. I am delighted to commend this important book to anyone wanting to understand the complexity and paradoxes that shape the lives of Muslim women as they explore their personal and religious goals. * Sophie Gilliat-Ray, Professor of Religious Studies and Director of the Islam-UK Centre, Cardiff University *
Salafi Islam is often viewed through the lenses of global religious extremism, terrorism, and security. Anabel Inge's The Making of a Salafi Muslim Woman fills a lacuna in scholarship on apolitical, non-violent Salafi Islam in Europe and its attraction among British women converts in the United Kingdom. * John L. Esposito, Professor of Religion and International Affairs, and of Islamic Studies, Georgetown University; author of The Future of Islam *
Anabel Inge gained unprecedented access to Salafi mosques and circles in London, where she conducted fieldwork for more than 2 years. Her book represents the first sustained, in-depth exploration of everyday Salafism... [T]his book is an outstanding addition to the literature on Islam in the United Kingdom and represents a truly unique ethnographic piece of fieldwork within a hard-to-reach community. * Stefano Bonino, Political Studies Review *
The Making of a Salafi Muslim Woman is a meticulously researched and well-presented book. The author manages to paint a nuanced picture of a complex community which is often portrayed in highly biased and stereotyped ways... The unprecedented access the author gained allowed her to acquire detailed and comprehensive insider knowledge of Salafism in particular and Islam in general. [She] remains respectful of the women she studies but critical and independent in her analysis, which is remarkable considering the amount of publications on Muslim women which are characterised by a patronising, othering and essentialist tone. Inge succeeds in staying clear of this pitfall of research on Muslim women. * Jennifer Philippa Eggert, Fieldwork in Religion *
[A] rich and sensitive description of how women navigate strict Salafi teachings in a non-Muslim society... One of the central contributions of the book is to clearly explain Salafism to non-Muslim audiences... Her comprehensive findings[are] quite unprecedented in the literature on Salafism... beautifully written scholarship. By providing a thorough inquiry into the fastest-growing Muslim faction in Britain, The Making of a Salafi Muslim Woman is a must-read for anyone interested in Muslim minorities in the West, Salafism, religious conversion, and women in conservative religious groups. * Juliette Galonnier, Sociology of Islam *
A pioneering and fascinating study of Salafism which draws on intensive ethnographic research to explode many myths about Islam, gender, and conversion in Britain. * John Eade, Professor of Sociology and Anthropology, University of Roehampton *
[a] thorough, detailed approach and nuanced, yet very accessible, clear writing style, the book is a long-awaited must-read for students, journalists, policy makers and academics engaged with the topic of Salafism, gender and conversion, and for those who want to know how to conduct research in a controversial field. * Martijn de Koning, Journal of Muslims in Europe *
[T]he first detailed, academic study of Salafi women in Europe ... it should be obligatory reading for anyone seeking to understand the role of Salafism in the West... [A] model example of how to do ethnographic research in a secluded religious community, and will definitely be regarded a standard work on Salafi women in Europe for years to come. * Anne Stenersen, Politics, Religion & Ideology *
Anabel Inge gained privileged and intimate access to a small group that in many ways symbolise the debate surrounding assimilation, laicite and multiculturalism British Salafi women... In restrained, measured and accessible prose published in her book The Making of a Salafi Muslim Woman, Inge debunks many of the easy assumptions that have dominated the public discourse... Her book is useful reading for Western policy-makers everywhere. * Sarah Stewart, The Middle East in London *
Inge's research shows that assuming the niqab is necessarily, or even usually, a sign of the wearer's oppression or of her brainwashing is a misconception. * Simon Perfect, Theos *
[R]eally illuminating ... a very interesting, well-structured and informative book that adds new knowledge on a variety of research fields: conversion, Islam, Salafism, Muslim women and ethnography... [I]t offers many new insights not only on the difficulties faced during fieldwork but also on the suggested ways of confronting them. * Alexandros Sakellariou, Nordic Journal of Migration Research *
[An] eloquent description... of the seismic shift and personal liberation that can come with consciously becoming or making oneself part of a new community... [Inge] argues that the anti-extremist measures taken by the government that subjects those who do not follow 'fundamental British values' to increased scrutiny, have denied Salafis a voice... Her work is a valuable addition to our understanding of conservative religious practice. * Josie Richardson, Religion, State & Society *
The work is extremely pertinent in a scenario in which narratives of 'brainwashing' are employed... By negating the cliches pertaining to the radicalization and anonymity of Muslim women, Inge's book has created a key intervention within the academic framework involving Islam and gender studies by critically analyzing the personal, religious, and political realms of women's engagement with Salafi Islam. * Simi K. Salim, Reading Religion *
The style of the book is captivating... Anabel Inge shows the complexity of the experiences of converted women, who turn out to be individuals and not oppressed... There is no doubt that this work enriches the research, while offering an original perspective in a field where men have always been the main characters. * trans., Alessandra Bonci, Comptes Rendus *
Salafi women are encouraged to marry as soon as possible, ideally without the couple actually spending any time alone before they are married. Inge documents the process of finding a husband in detail, including giving an example of the profile and reference questionnaire one woman produced, which is fascinating reading. * Tom Wilson, Reviews in Religion & Theology *
[A] measured, sensitive and quietly observed, but deeply penetrating, analysis... Inge outlines the difficulties and contradictions arising from attempting to adopt a prescriptive, puritanical approach to Islam, which curtails and constricts the lives of women often to suffocating effect. * Ruqaiyah Hibell, The Muslim World Book Review *
[A] well-researched book that breaks down stereotypes and gets behind media portrayals of conservative Muslim practices written in an accessible style... readable and engaging... The book provides a number of informative snapshots into the conversion and daily lives of women embracing Salafism. That [Inge] openly pursued this research at a time when many, mainly the media, did undercover exposes means we have an informed work that I would suggest is a must read for those seeking to work with and among refugees, migrants and Diaspora Muslim peoples. I recommend this book for all those who wish to hear Muslim women's voices and understand the multiple ways in which they explore and express faith. It fills a significant gap in research and writing. * C. Hine, When Women Speak *
Anabel Inge deftly explores the phenomenon of women converting to strict Islamic groups in Great Britain. The author's in-depth treatment of how modern women adapt rigorous Islamic practices that are essentially apolitical moves the reader off the well-trod path of Islamic women, head covering, and extremism. Through formal interviews with 36 Salafi women, Inge finds a unique pattern of what she calls "delayed conversion," wherein these women embrace Islam after a long period of uncertainty, experimentation, and experience of generally poor relations with adherents-which goes against the theory that affective bonds draw people to unconventional religions. * Religion Watch *
Well-researched ... This ground-breaking, lucid, and richly detailed book ... sheds light on a spot of Salafism that other books dealing with the topic did not address. * Zeina M. Barakat, Reviews in Religion & Theology *
The Making of a Salafi Muslim Woman is an important ethnographic study... [It] offers insightful information about the Salafis' strict faith and puritanical way of life whereby strict adherence to Islamic rules is to be followed... [The book] is an eye-opener about a movement that has been generally misrepresented. * Arab Studies Quarterly *
'This research is important for the academic literature on the subject, because instead of relying on secondary data, Inge was able to contact people who have found Salafism appealing and could unearth how Salafi teachings have an impact on the lives of the self-identifying Salafi women and men in the West. * Busra Sarac, RUSI Journal *
This book provides a detailed look into the process of conversion for young, British, Salafi Muslim women... [Dr Inge] convincingly shows that the women are exercising agency in converting to a Salafi way of life... [and] highlights how Salafism appeals to these well-educated young women and assuages their feelings of uncertainty about religion, education, employment and marriage-feelings common to many at this stage in life... The inclusion of a few examples of resistance to certain Salafi teachings is further evidence of agency and analytical rigour... Inge emphasizes that the Salafi sisterhood is not good at offering emotional support, provides evidence of cliques and backbiting, and mentions the threat of 'Salafi burnout' * Catherine Holtmann, Review of Religious Research *
Inge provides an extensive overview of the realities of ordinary Salafi women's lives in the United Kingdom... [E]xisting Salafi research has mostly focused on men, security issues, internal politics and doctrine... Inge's in-depth analysis [of] women's ideas and experiences is a strength of the book. Another area her work contributes to is the examination of Salafism's ethnic dimensions... [T]he book's timely publication advances debates around Salafism... * Sinem Yilmaz, Religion and Gender *
You may also be interested in...
×
Download the Waterstones App
Would you like to proceed to the App store to download the Waterstones App?
Reserve online, pay on collection.
Please note that owing to current COVID-19 restrictions, many of our shops are closed. Find out more by
clicking here
.
Thank you for your reservation
Your order is now being processed and we have sent a confirmation email to you at
When will my order be ready to collect?
Following the initial email, you will be contacted by the shop to confirm that your item is available for collection.
Call us on or send us an email at
Unfortunately there has been a problem with your order
Please try again or alternatively you can contact your chosen shop on or send us an email at