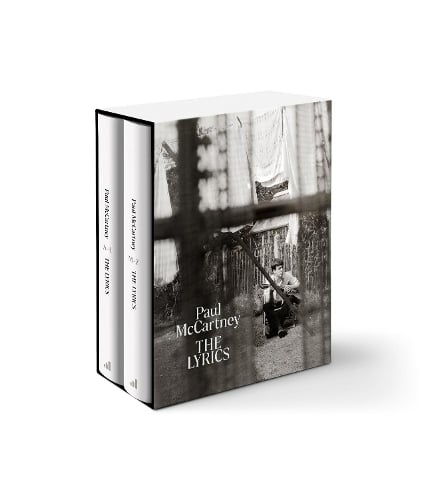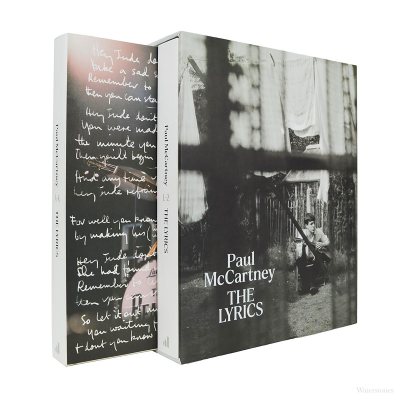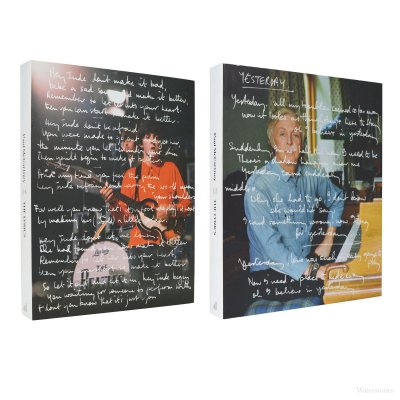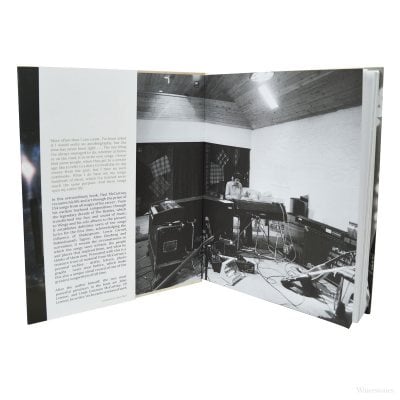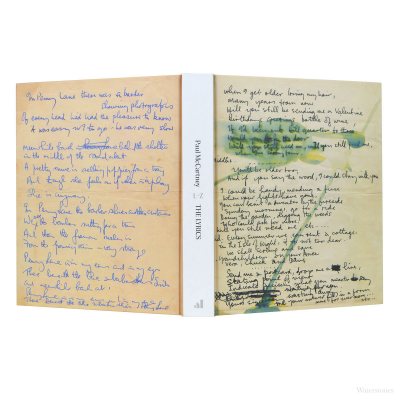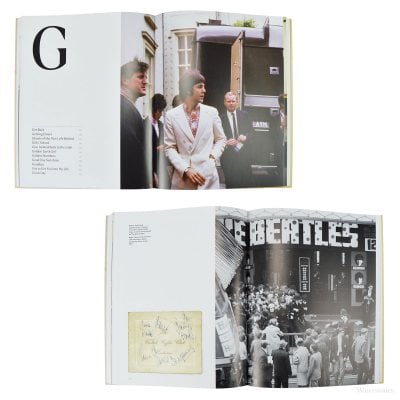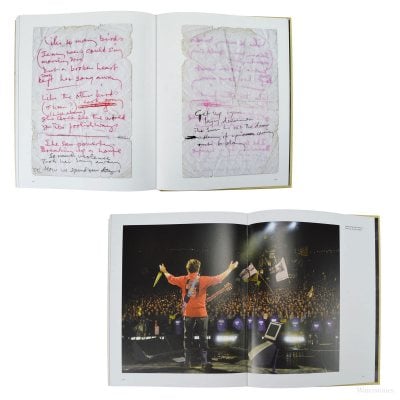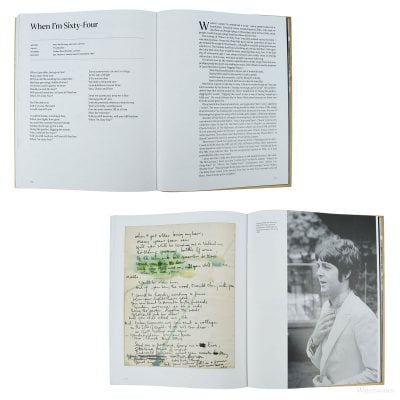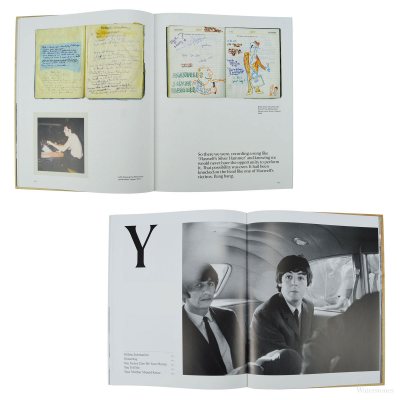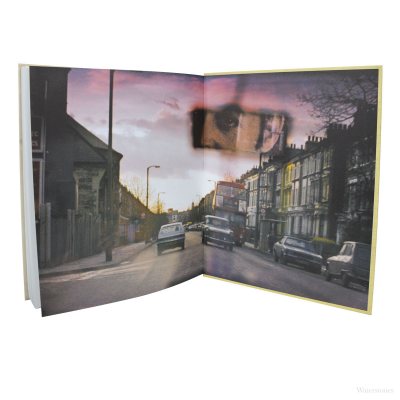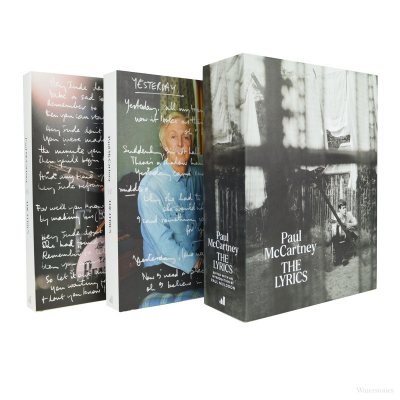 Hardback
912

Pages
Published: 02/11/2021
In this stunning, intimate self-portrait from one of the greatest songwriters of all time, Paul McCartney traces his life from boyhood to the present day through the lyrics to 154 iconic songs, together with captivating commentary and never-before-seen photographs, drafts and letters.
Winner of the Waterstones Book of the Year 2021
Winner of The British Book Awards 2022 Non-Fiction Lifestyle Book of the Year
'More often than I can count, I've been asked if I would write an autobiography, but the time has never been right. The one thing I've always managed to do, whether at home or on the road, is to write new songs. I know that some people, when they get to a certain age, like to go to a diary to recall day-to-day events from the past, but I have no such notebooks. What I do have are my songs, hundreds of them, which I've learned serve much the same purpose. And these songs span my entire life.'
Championed by our booksellers from the moment of its publication, The Lyrics represents the defining literary statement from Britain's greatest living songwriter. Through 154 career-spanning songs – from his iconic work in The Beatles and Wings to the restless creativity of his solo output - Paul McCartney unveils his unique songwriting process through endlessly fascinating background notes and considered critical evaluation. Written in collaboration with acclaimed poet Paul Muldoon, this mighty volume contains the lyrics to songs which have soundtracked millions of lives across the globe and stand as some of the touchstone cultural achievements of the past 75 years.
But The Lyrics is more than an addictively insightful window into the craft and inspiration of a rock legend. Boasting a huge number of never-before-seen images from McCartney's personal archive, it is also a supreme testament to book design and production; a sumptuous slipcased work housing two deluxe volumes that represent a true visual feast. The ultimate adornment to any self-respecting booklover's shelves, The Lyrics is a once-in-a-generation masterpiece to treasure forever.
Publisher: Penguin Books Ltd
ISBN: 9780241519332
Number of pages: 912
Weight: 3910 g
Dimensions: 269 x 214 x 71 mm
---
MEDIA REVIEWS
'The Lyrics is a triumph. It is hugely readable, devoid of rock cliche, and full of fresh stories and opinions that even devoted fans won't have encountered before. The pictures of McCartney and of handwritten lyrics, many of them never previously published, are worth the entry ticket on their own and the quality of the boxed product makes it a tactile pleasure and fun to possess. All that, and its highly original organisation, means you never get bogged down in a period of his life you don't find interesting... The Lyrics is McCartney at his best.' - Daniel Finkelstein, The Times
'I know it all... or so I thought until I read Paul McCartney's magical treasure trove of a book... Touching... bountiful.' - Craig Brown, Mail on Sunday
'His composing methodology is revealed as a kind of innocent and endless curiosity... this mighty tome is billed as the closest thing to an autobiography McCartney will ever write. It comprises 154 songs, with hundreds of fascinating photos and handwritten lyrics from McCartney's collection, and an informal, thoughtful text assembled from conversations conducted with acclaimed Irish poet Paul Muldoon... McCartney is a playful and brilliant wordsmith... His book of lyrics is charming.' - Neil McCormick, Daily Telegraph
'Reading The Lyrics is like standing in a master chef's kitchen as he prepares a dish, adding a dash of this and a spoonful of that and talking to us so winningly... there's nothing like listening to Macca (as McCartney was known in his Liverpool days) talk about the rise of a band composed largely of working-class teens who changed the world forever... charming.' - David Kirby, Washington Post
'With a gravity, reverence and sense of occasion that hasn't been seen since the Levites rolled out the Ark of the Covenant, the complete lyrics of Paul McCartney are published at last... This vast, absorbing book is studded with McCartneyisms that make you rub your eyes.' - John Walsh, Sunday Times
'Describing it as a book doesn't quite capture the object. It is two books, two separate volumes, in a gorgeous box. It weighs 8kg on my bathroom scales. It's a big thing of great beauty, and going back and forth through it is a hugely satisfying experience... no matter where you start, or continue, McCartney seems to be waiting, ready to continue his warm, vivid, erudite stroll through his life and lyrics... the life - McCartney's - seems more believable when examined in these glimpses. There is a modesty hiding in the book's bulk, and raw, gentle honesty... There are 154 sets of lyrics in this book, and it's almost impossible to read most of them without hearing the melodies and trumpet bits. But it is well worth trying. Read, not heard, Lady Madonna is a different experience. I read it and thought of Zola's best novels.' - Roddy Doyle, Irish Times
'He provides a fascinating new insight into his life at the time they were written, and the lives of his fellow Beatles... This, then, is a book for dipping into and sampling at leisure. It allows us to see some of the most familiar songs ever written in new and surprising ways... [it] will not only thrill Beatles obsessives but fascinate anyone who has ever sung along to a Lennon and McCartney tune. Which must, surely, include half the world or more.' - Christopher Stevens, Daily Mail
'A feast for the eyes. Dyed-in-the-wool Beatles fans will be bowled over by the sheer profundity of unpublished photographs, previously unseen lyrics sheets, journal entries, paintings, and the like. Indeed, The Lyrics easily represents the finest collection of illustrations associated with McCartney's life and work. And it's beautifully rendered, to boot. Drop-dead gorgeous as books go.' - Kenneth Womack, Salon
'The two things it reveals - an unrelenting work ethic and the picture-painting imperative of the storyteller - are the twin pillars of his life's work, as revealed here in random reflections on 154 selected songs spanning 64 years... it's this up-front abdication of control, of responsibility and ultimately of authorial meaning that makes McCartney's story, and his open-handed attitude to a monumental body of work, so engaging.' - Michael Dwyer, Sydney Morning Herald
'Nothing comes close to Paul McCartney's breezeblock of a title... Combine this monumental lyrics collection with Peter Jackson's Get Back and many Beatles fans won't come out again until the clocks go forward. Paul McCartney says this is as close as he will get to an autobiography and no wonder - his life is in every line of these songs. Each alphabetical entry (a smart arrangement that opens up a trove of lesser known McCartney lore) is not only accompanied by a wealth of wonderful photographs and memorabilia (the lyrics to Carry That Weight on Apple notepaper!), but also McCartney's own recollections and analysis. "Mostly, we were writing to the world," McCartney says about I Want to Hold Your Hand. The Lyrics makes it a pure joy to reach out for these songs once again.' - Victoria Segal, Sunday Times
'To read over the words to these 154 songs is to be impressed not merely with McCartney's productivity but with the fertility of his imagination and the potency of his offhand, unfussy style... giddy playfulness and unguarded experimentation. They're a joy to read because they exude the joy their maker took in their making.' - David Hajdu, The New York Times
'The text is accompanied by beautifully reproduced illustrations, including personal snapshots, formal portraits and memorabilia. The result is a hybrid of collected lyrics, memoir and picture book, a composite form resembling the all-round character of McCartney's musicality... The Lyrics is a rewarding portrait of an exceptional songwriter.' - Ludovic Hunter-Tilney, Financial Times
'From All My Loving to Your Mother Should Know, the former Beatle illuminates a life spent puzzling how to get from the beginning of a song to its end.' - David Hepworth, Observer
'Paul McCartney's storied career has been a long and winding road paved with songwriting gold. Thankfully, these fab volumes do it justice.' - The Sun
'Engrossing... reading it is like watching genius - which McCartney undoubtedly was and fitfully remains - in the process of creation, summoning something out of nothing.' - David Honigmann, Spectator
Unboxing The Lyrics by Paul McCartney
You may also be interested in...
×
Download the Waterstones App
Would you like to proceed to the App store to download the Waterstones App?
Reserve online, pay on collection


Thank you for your reservation
Your order is now being processed and we have sent a confirmation email to you at
When will my order be ready to collect?
Following the initial email, you will be contacted by the shop to confirm that your item is available for collection.
Call us on or send us an email at
Unfortunately there has been a problem with your order
Please try again or alternatively you can contact your chosen shop on or send us an email at