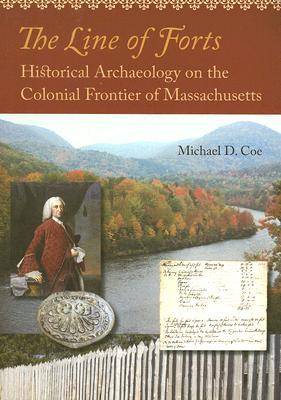 The Line of Forts: Historical Archaeology on the Colonial Frontier of Massachusetts (Paperback)
Michael D. Coe
Paperback
Published: 30/06/2006
Can be ordered from our supplier
During the mid-eighteenth century, colonists constructed a line of forts along the northwest boundary of Massachusetts as a defense against the French and their Indian allies. Many of these "forts" were simply reinforced houses. Of the three major forts in the line, one, Fort Massachusetts, is now buried beneath a parking lot in North Adams. Of the two remaining forts, Fort Shirley in the town of Heath was excavated by Michael D. Coe of Yale University; the other, Fort Pelham in Rowe, was excavated by Daniel Ingersoll of the University of Massachusetts. To the casual observer, the sites might not seem significant--but as Coe argues, two circumstances make these forts more important to the study of eighteenth-century life in the American colonies than their modest size would indicate. First, their period of occupation was extremely short: they were built in 1744, abandoned in 1754, and never used again. Thus, they give a unique snapshot of the material culture of the time. Second, the Line of Forts is abundantly documented. The Williams family of western Massachusetts (chief among the"River Gods," the group of elite families who people Coe's story) controlled most of the colony from the Connecticut River valley west to the New York line. The Williamses were the forts' leading officers and ran their commissaries. This powerful family left voluminous documents that provide a unique window into daily life on the Massachusetts frontier and help interpret what was found in the remains of the forts. From Williams family archives and artifacts from Fort Shirley and Fort Pelham, Coe weaves a rich drama. His tale comprises the final standoff between New England's English settlers and Native Americans, the ideological conflict between Calvinistic Protestantism and Roman Catholicism, the occasional frictions between colonial militia and the British regular army, and the larger struggle between England and France for North America.
Publisher: University Press of New England
ISBN: 9781584655428
You may also be interested in...
We would love to hear what you think of Waterstones. Why not review Waterstones on Trustpilot?