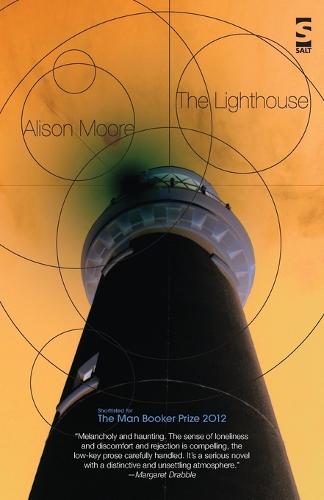 Paperback
192

Pages / Published: 15/08/2012
Winner of the 2013 McKitterick Prize
Shortlisted for the 2013 East Midlands Book Award
Shortlisted for the Man Booker Prize 2012
Shortlisted for New Writer of the Year in the 2012 Specsavers National Book Awards
Observer Book of the Year 2012
The Lighthouse begins on a North Sea ferry, on whose blustery outer deck stands Futh, a middle-aged, recently separated man heading to Germany for a restorative walking holiday.
Spending his first night in Hellhaus at a small, family-run hotel, he finds the landlady hospitable but is troubled by an encounter with an inexplicably hostile barman.
In the morning, Futh puts the episode behind him and sets out on his week-long circular walk along the Rhine. As he travels, he contemplates his childhood; a complicated friendship with the son of a lonely neighbour; his parents' broken marriage and his own. But the story he keeps coming back to, the person and the event affecting all others, is his mother and her abandonment of him as a boy, which left him with a void to fill, a substitute to find.
He recalls his first trip to Germany with his newly single father. He is mindful of something he neglected to do there, an omission which threatens to have devastating repercussions for him this time around.
At the end of the week, Futh, sunburnt and blistered, comes to the end of his circular walk, returning to what he sees as the sanctuary of the Hellhaus hotel, unaware of the events which have been unfolding there in his absence.
Publisher: Salt Publishing
ISBN: 9781907773174
Number of pages: 192
Weight: 288 g
Dimensions: 198 x 129 x 13 mm
---
MEDIA REVIEWS
A haunting and accomplished novel.
-- Katy Guest * The Independent on Sunday *
It is this accumulation of the quotidian, in prose as tight as Magnus Mills's, which lends Moore's book its standout nature, and brings the novel to its ambiguous, thrilling end.
-- Philip Womack * The Telegraph *
No surprise that this quietly startling novel won column inches when it landed on the Man Booker Prize longlist. After all, it's a slender debut released by a tiny independent publisher. Don't mistake The Lighthouse for an underdog, though. For starters, it's far too assured ... Though sparely told, the novel's simple-seeming narrative has the density of far longer work. People and places are intricately evoked with a forensic feel for mood. It's title becomes a recurring motif, from the Morse code torch flashes of Futh's boyhood to the lighthouse-shaped silver perfume case that he carries in his pocket, history filling the void left by its missing vial of scent. Warnings are emitted, too - by Futh's anxious aunt and an intense man he meets on the ferry. It all stokes a sense of ominousness that makes the denouement not a bit less shocking.
-- Hephzibah Anderson * The Daily Mail *
The writing is sublime. Spare, sometimes straightforward and sometimes quite opaque. But regardless of the overall transparency, the immediate images of the room or the street or the clifftop are crystal clear, conjured from very few but very well chosen words. The people, too, feel real. They have complex emotions and don't always do logical or sensible things, but they always convince. As they move around one another in still, empty spaces they create a dramatic tension that the reader can almost touch. We wish their lives could be better.
* Amazon.com *
This is powerful writing likely to shine in your memory for a long time.
-- Emily Cleaver * LITRO Magazine *
Evocative and beautifully written in a spare and simple prose, this is a haunting, sombre and somewhat unsettling story that pulls you in quietly, yet powerfully; I downloaded this onto my Kindle early this morning and read it from the beginning to the rather surprising end in one sitting. We know it is on the longlist for the Booker Prize; it deserves to make it onto the shortlist and I, for one, very much hope it does.
* Amazon.co.uk *
The Lighthouse is a stunning book. Read it. Then read it again.
-- Zoe King * Amazon.co.uk *
Alison Moore's writing is exquisite, the prose simple and powerful, but it's the use of imagery which really marks it out as something special.
-- Sue Magee * The Bookbag *
In The Lighthouse Alison Moore has created an unsettling, seemingly becalmed but oddly sensual, and entirely excellent novel.
-- Alan Bowden * Words of Mercury *
Alison Moore's debut novel has all the assurance of a veteran, a strong contender for the prize, its sense of despair will either be its making or its undoing: 9/10.
-- Roz Davison * Don't Read That Read This *
Ultimately, what drew me into this bleak tale of sorrow and abandonment was the quality of the writing - so taut and economical it even looked different on the page somehow - and so effective in creating a mounting sense of menace and unease. It never flinches.
-- Isabel Costello * On the literary sofa *
This is an incredibly powerful, sad story. A beautiful, if austere book. And an amazingly talented writer. If it is a first novel, I guess it will not be the last because this is the kind of writing that is here to stay...
-- Josephine Huys * Amazon.co.uk *
Moore's writing has a superb sense of the weight of memory.
-- Kate Saunders * The Times *
The Lighthouse is a spare, slim novel that explores grief and loss, the patterns in the way we are hurt and hurt others, and the childlike helplessness we feel as we suffer rejection and abandonment. It explores the central question about leaving and being left: even when it feels inevitable, why does it hurt so much, and why is this particular kind of numbness so repellent to others? The brutal ending continues to shock after several re-readings.
-- Jenn Ashworth * The Guardian *
The Lighthouse looks simple but isn't, refusing to unscramble what seems a bleak moral about the hazards of reproduction, in the widest sense. Small wonder that it stood up to the crash-testing of a prize jury's reading and rereading. One of the year's 12 best novels? I can believe it.
-- Anthony Cummins * The Observer *
The writing in The Lighthouse is spare and deceptively simple - there is in fact nothing simple about it - it is the kind of pared down writing that hides a multitude of complexities and leaves behind it an array of images and in this case scents. Upon closing this terribly bittersweet novel, the reader is assaulted by the memory of violets, camphor and cigarette smoke. There are several returning images and motifs in the novel, such as lighthouses, bathrooms, scents and abandonment which are beautifully explored.
* Heavenali.wordpress.com *
This is a book that might have vanished had it not been picked up by the Booker judges. It deserves to be read, and reread. No laughs, no levity, just a beautiful, sad, overripe tale that lingers in the mind.
-- Isabel Berwick * Financial Times *
What must have gone some way to earning The Lighthouse a place on the longlist, though, is the admirable simplicity of Moore's prose. Like Futh, its without flourishes, yet beneath its outward straightforwardness lies a hauntingly complex exploration of the recurring patterns that life inevitably follows, often as a consequence of one's past.
-- Francesca Angelini * The Sunday Times *
The Lighthouse, Alison Moore's melancholic debut, would eventually have found admiring readers through the great network of word of mouth. That it has been shortlisted, deservedly, for the Man Booker Prize will quicken the process. This is a beautiful short novel sustained by muted urgency, nuance and the exactness with which Moore conveys the paralysing levels of depression that Futh battles. In order to deal with the present he attempts to make sense of his past, which refuses to fade away. His thoughts throb with humiliating episodes from his boyhood, cut short when his bored, dissatisfied mother left, leaving his father to voice his anger at his only audience, the bewildered boy.
-- Eileen Battersby * The Irish Times *
A debut novel from a high-achieving independent publisher, The Lighthouse has surprised some observers with its place on the Man Booker Prize shortlist. Disquieting, deceptive, crafted with a sly and measured expertise, Alison Moore's story could certainly deliver a masterclass in slow-burn storytelling to those splashier literary celebs who take more pains over a pyrotechnic paragraph than a watertight plot.
-- Boyd Tonkin * The Independent *
The originality, structure and neat prose of this first novel justify its shortlisting, but it doesn't do much to lift the soul.
-- Kate Green * Country Life *
I am almost reluctant to share anything about Alison Moore's The Lighthouse at this stage, because I don't want to spoil it in any way for others. The Lighthouse is a short novel of only 182 pages, but is - dare I say it - perfectly formed. This is a tense, suspenseful work, the plot ticking like a time bomb.
-- Megan Dunn * The Listener New Zealand *
"The Lighthouse," Alison Moore's debut novel, is sufficiently strange to win. The third-person narrator is distanced from, but never judges, the weird protagonist Futh, a middle-aged, not particularly attractive, recently separated man going on a walking tour in Germany. He is visiting some places he went to with his newly single father, after his mother abandoned them when he was 12. The people he meets along the way are even less prepossessing than he, but the narrator's tone of voice somehow contrives to make the reader continue to turn the pages.
-- Paul Levy * Wall Street Journal *
A man who is newly-separated from his wife but middle-aged, embarks on a walking trip in Germany. At one of the B n B's that he is staying at the landlady is also contemplating her life and marriage. You could be so easily fooled into thinking that this book is mundane and just captures the hum-drum of their every-day lives, but the author, without writing what happens, is telling you really what is going on! You also have to make up your mind as to what outcomes there are at the end. I can't tell you how brilliantly stunning this book is and I think it's a credit to Booker that this has come from a small publishing company, yet packs one hell of a punch.
* RBKC Libraries blog *
The menacing atmosphere Moore builds up is masterful, in that Futh only partly perceives it, through his own preoccupations. A pair of silky knickers he finds under his bed only makes him think squeamishly that the dust on them is `strangers' dead skin'. Rarely is dullness so dangerous.
-- Laura Marsh * Literary Review *
Highly recommended.
-- Harriet Harman
The English writer Alison Moore's first novel, "The Lighthouse" (Biblioasis, 203 pages, $14.95), turns away from social trends to burrow into the psyche of a man known only by the slippery surname Futh. Futh puts the agon in protagonist. Having separated from his wife of nearly 15 years, he looks to recuperate by going on a solitary walking tour through Germany, but his thoughts turn incessantly back to old humiliations: his tyrannical father's abuses, his wife's infidelity, even his own hapless attempts at epiphany... Ms. Moore has written a short, bleak, atmospheric book full of such strange symbols that, in the murk of Futh's confusion, suddenly come aglow with meaning.
-- Sam Sacks * Wall Street Journal *
There's no actual violence in "The Lighthouse," but its taut sentences vibrate with tension. The imagery is vivid and - no doubt deliberately - often heavy-handed. Futh's hotel room is "painted a deep pink - the color of rare meat, the color of his sunburned arm." Venus flytraps and dead moths signal entrapment. Lighthouses flash endless warnings. Moore constructs a precise and perfectly paced psychological drama in which all our senses are on constant alert. There are many clues to what might happen but not how. This elegant novel leaves a haunting scent of camphor in the air.
-- Susan Wyndham * New York Times *
Shortlisted for the Man Booker Prize, Alison Moore's The Lighthouse is both a thriller and an elegiac look at memory in the vein of W.G. Sebald's The Rings of Saturn. Following a newly divorced man as he goes on a walking tour of Germany, Moore's novel builds in tension as it plumbs what it means to be loved, and how the small traumas of youth can last throughout one's life... Moore's triumph is that she manages to thread the needle, creating a haunting, elegiac book that is very hard to put down. Readers will most likely finish The Lighthouse quickly; its images will remain with them long after.
-- Noah Cruickshank * Shelf Awareness *
You may also be interested in...
Simply reserve online and pay at the counter when you collect. Available in shop from just two hours, subject to availability.
Thank you for your reservation
Your order is now being processed and we have sent a confirmation email to you at
When will my order be ready to collect?
Following the initial email, you will be contacted by the shop to confirm that your item is available for collection.
Call us on or send us an email at
Unfortunately there has been a problem with your order
Please try again or alternatively you can contact your chosen shop on or send us an email at