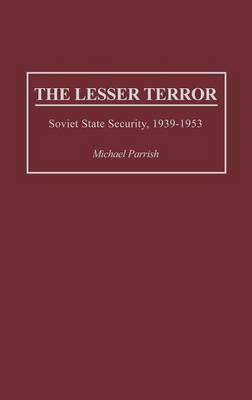 The Lesser Terror: Soviet State Security, 1939-53 (Hardback)
Michael Parrish
Hardback
Published: 16/05/1996
Can be ordered from our supplier
This is the first major study based on Soviet documents and revelations of the Soviet state security during the period 1939-1953-a period about which relatively little is known. The book documents the role of Stalin and the major players in massive crimes carried out during this period against the Soviet people. It also provides the first detailed biography of V. S. Abakumov, Minister of State Security, 1946-1951. Based on Glasnost revelations and recently released archival material, this study covers the operations of Soviet state security from Beriia's appointment in 1938 until Stalin's death. The book pays particular attention to the career of V. S. Abakumov, head of SMERSH counterintelligence during the war and minister in charge of the MGB (the predecessor of the KGB) from 1946 until his removal and arrest in July 1951. The author argues that terror remained the central feature of Stalin's rule even after the Great Terror and he provides examples of how he micromanaged the repressions. The book catalogs the major crimes committed by the security organs and the leading perpetrators and provides evidence that the crimes were similar to those for which the Nazi leaders were punished after the war. Subjects covered include Katyn and its aftermath, the arrest and execution of senior military officers, the killing of political prisoners near Orel in September 1941, and the deportations of various nationalities during the war. The post-war period saw the Aviator and Leningrad affairs as well as the anti-cosmopolitan campaign whose target was mainly Jewish intellectuals. Later chapters cover Abakumov's downfall, the hatching of the Mingrelian and Doctors plots and the events that followed Stalin's death. Finally, there are chapters on the fate of those who ran Stalin's machinery of terror in the last 13 years of his rule. These and other topics will be of concern to all students and scholars of Soviet history and those interested in secret police and intelligence operations.
Publisher: ABC-CLIO
ISBN: 9780275951139
You may also be interested in...
We would love to hear what you think of Waterstones. Why not review Waterstones on Trustpilot?