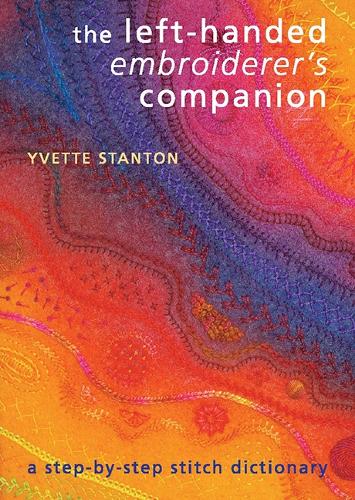 The Left-Handed Embroiderer's Companion: A Step-by-Step Stitch Dictionary (Paperback)
Yvette Stanton
(author)
Paperback
160

Pages / Published: 08/01/2010
Are you frustrated by right-handed embroidery instructions and having to mentally flip them, use a mirror, or substitute right for left and vice versa? Be frustrated no more! Written by a left-hander, this stitch dictionary shows you the LEFT way to do embroidery. Written in Yvette Stanton's clear, step-by-step style, this book will be your constant embroidery companion as it shows how to do over 170 stitches comfortably and sensibly, for you as a left-hander. Surface stitches and counted thread stitches are carefully explained, with many helpful diagrams and photos. Right-handed teachers will appreciate the right-handed diagrams showing the difference between what they and their left-handed students do.
Publisher: Vetty Creations
ISBN: 9780975767733
Number of pages: 160
Weight: 486 g
Dimensions: 275 x 195 x 10 mm
---
MEDIA REVIEWS
Jun/Jul 10
Are you frustrated by right-handed embroidery instructions, by having to mentally flip them over, use a mirror or substitute the right for left in all instructions? Here is the very solution to the problem as written by a left-handed teacher. The text gives clear step-by-step instructions and illustrates how to do over 170 stitches comfortably and sensibly for the left handed stitcher, using the method which has obviously been tried and tested by a proficient left-handed embroiderer.
* Fabrications *
July/Aug 10
"I've packaged myself up in a bok so that all left-handed stitchers can have their own left-handed teacher." Thus embroidery instructor Yvette Stanton introduces fellow lefties to her consummate guide to mastering 75 embroidery stitches in 170 variations. Not simply a set of directions for flipping stitch diagrams from left to right, the Companion includes guidance on how to hold the needle comfortably, turn the fabric to its best advantage, choose needles and thread, and much more. Full-color photographs, clear and concise text, and step-by-step color illustrations make stitch instructions easy to follow. This classroom-in-a-book is bound to be the embroidery reference that left-handed embroiderers will want to keep close at hand - the left-hand!
* Piecework *
Jan 10
Ok, all you left-handed stitchers out there! Here's the book you've been waiting for - and guess what? If you're a right-handed stitcher, you'll be interested in this review, too!
When Yvette Stanton set out to create a left-handed stitch dictionary this past year, I never expected anything less than another excellent book. But you know what? She's outdone herself on this. I think this is her best book yet. Yvette's other embroidery books are very topic-specific, Mountmellick, Ukrainian Drawn Thread and Hardanger. All of them are thorough and excellent instructional books in their specific categories. But the Left-Handed Embroiderer's Companion is in a different category, and this is why I think it catapults to the top of the list. It is a book for everyone! Yvette's stitch dictionary, while written for left-handed stitchers, is so thorough. So totally instructional. So clear. So.... Everything you want a stitch dictionary to be! Her diagrams feature step-by-step movements of each stitch she covers. Under each diagram, she meticulously and clearly explains the step of the stitch. On each stitch page, she includes colorful photo examples of the stitch worked on fabric or felt (some gorgeous felt photos in here!) in various threads. Many embroidery stitches have variations - and many embroidery stitches have many variations. Yvette covers variations on stitches that have them, so that you can experiment all kinds of ways of using the stitch.
The book features 74 stitches, and that does not include their variations! It is an amazing stitch dictionary that I know left-handers especially will appreciate because they've waited a long time for a book written for them with this kind of quality content. But it is not limited to left-handed stitchers. As a right-handed stitcher, I am certain this is going to be one of my "go to" reference books for stitches. Furthermore, as a teacher, I know it will be invaluable in the classroom and at workshops for instructing lefties!
* needlenthread.com *
June 10
As a left-hander myself, I was very interested to see if this book would improve the constant struggle with learning and implementing new stitches that is present in a world of right-handed instructions. It is a colourful and comprehensive stitch dictionary of 170 stitches, with step-by-step instructions, full descriptions and photographs of the finished stitches (so that you can see how they are supposed to look, and other stitches they go well with). I had a go at a few stitches, armed with stitch books that I have used up until now when needing to tackle a new stitch. I used both to compare the instructions.
I was very impressed with the clarity of instruction and the detail given. I found it very easy to create new stitches and was impressed at how well they turned out (especially compared to my attempts following my other books). The book is far superior to my existing 'stitch bibles' (which are admittedly from the 1960s) because it contains many more stitches, the visuals are clearer, and you are able to see each step of the way without necessarily having to read the instructions (not always easy mid-stitch). The number of stitches contained in this book also exceeds the selection of either of my older books, so as it stands, it's a great reference book on many levels. And as it's targeted at left-handers, that's an added bonus.
* Workshop On The Web *
June 10
The trouble with most embroidery books is that all the diagrams are for right-handed people. Here at last is a book filled with diagrams for over 170 different stitches that left-handers can use without the aid of a mirror.
It's a simple enough idea, but how useful. I am amazed that I have not seen another book like this before, but I haven't. All the diagrams are in color too, which avoids the problem a lot of black and white diagrams have which show threads...often they look like a bowl of spaghetti or mazes in a puzzle book. Every stitch has several captioned diagrams which also avoids the problem of having to guess what happens between one part of the stitch and the other. There is certainly an impressive list of stitches, many of which I have not previously encountered myself and which had me wishing for a companion volume for right-handers. Each stitch also has a small photograph of a piece of embroidery showing the relevant stitch which is useful, plus a few hints of what the stitch is used for. Variations are shown too, with diagrams on how to achieve this alternative look, as well as a page of instructions for starting and finishing work and tying knots. What you won't find are any patterns which is perhaps a pity, but there are many other books which have these. If you or somebody you know is left-handed and keen on embroidery then this is the book for them.
* Myshelf.com *
Mar 10
I wish I was left-handed, no really I do. This book; 'The left handed embroiderer's companion' by Yvette Stanton is a BRILLIANT stitch dictionary. The illustrations are crystal clear and interspersed with peeks of contemporary embroidery illustrating the stitches. The nicest bit is that although the book is all laid out for the much neglected left hander the book is inclusive with a note and illustration with each section to tell how a right hander would work the stitch. How magnanimous, no really I am pathetically grateful that I can keep this book in my collection and go bonkers trying out the hundreds of different stitches. I reckon this book is a must for every teacher of stitching and every left handed sewer and ......yes actually anyone who owns a needle and thread and might one day feel like picking them up. If I am ever on Dessert Island disks I am taking this book! At GBP19.99 it might seem steep for a soft back but believe me, I reckon this is worth its weight in gold.
* Jennyflowerblue.blogspot.com *
May 10
Yvette Stanton is a renowned embroidery teacher and author, plus she is also left-handed. Realising the deficit in diagrams explaining stitches for left-handers, Yvette has created this comprehensive stitch dictionary. Each of the stitches is explained step-by-step with clear diagrams and explanations. The range of stitches is astounding with over 170 included in the book. At the end of each there is a diagram and note comparing how right-handers would work the stitch. An excellent reference for embroiderers and invaluable to anyone who teaches embroidery classes.
* NEW STITCHES *
Winter 10
At last, an embroidery stitch book for left-handed stitchers. Having struggled for a long time reversing, flipping etc., and producing my own version of the more complicated twisted stitches, this book is really inspiring. It contains clear step-by-step instructions for over seventy stitches, including some canvas stitches, with variations of the stitch under the same heading. This book is already on my shelf and one that I would definitely recommend to any left-handed stitcher. It would also be a useful teaching aid to tutors when they have a left-handed stitcher in the class.
* West Country Embroiderers *
June/July 10
This is the book that all left-handed embroiderers have been waiting for. Containing step-by-step stitch instructions, it has been written specially by a left-hander for left-handers. It explains, clearly and simply together with diagrams, how to stitch over 170 different stitches, including some unusual stitches such as nun stitch, parma stitch, spiral trellis and Breton stitch. Right-handers needn't feel left out as there is a right-handed version for each stitch too. A stitch dictionary for left-handed embroiderers is long overdue - but this one was worth the wait.
* Stitch *
You may also be interested in...
Simply reserve online and pay at the counter when you collect. Available in shop from just two hours, subject to availability.
Thank you for your reservation
Your order is now being processed and we have sent a confirmation email to you at
When will my order be ready to collect?
Following the initial email, you will be contacted by the shop to confirm that your item is available for collection.
Call us on or send us an email at
Unfortunately there has been a problem with your order
Please try again or alternatively you can contact your chosen shop on or send us an email at