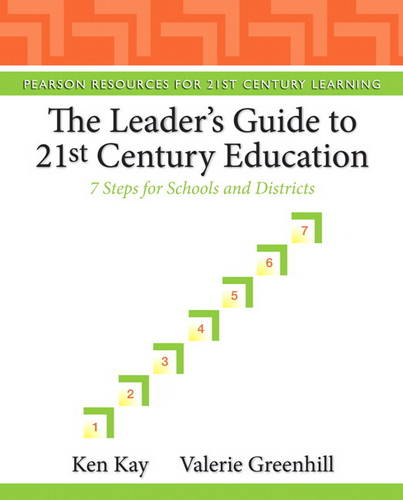 The Leader's Guide to 21st Century Education: 7 Steps for Schools and Districts (Paperback)
Ken Kay

(author)

,

Valerie Greenhill

(author)
Paperback
216

Pages / Published: 13/06/2012
In this all-new resource, educational leaders get a 7-Steps guide to moving their schools and districts forward in the quest to prepare students for the challenges of the 21st century teaching and learning of critical thinking, communication, collaboration, and creativity. This guide focuses on presenting an implementation-oriented resource for education leaders at all stages of implementation, from early through advanced.
Publisher: Pearson Education (US)
ISBN: 9780132117593
Number of pages: 216
Weight: 413 g
Dimensions: 232 x 187 x 13 mm
---
MEDIA REVIEWS
"Perhaps the most urgent issue in education today is preparing our children for their future rather than our past. Yet the biggest challenge isn't changing the students -- they're already in the 21st century -- but updating the attitudes of the adults who are in charge. Take a page -- take whole chapters! -- from this book and get started today."
- Dan Pink, author of Drive and A Whole New Mind
"Kay and Greenhill have written the most important education book I have read in a long time. The authors have worked with some of the country's best education leaders and so truly understand the change process in schools. The Leader's Guide is a wonderfully practical and resource-rich guide for bringing K-12 teaching and learning into the 21st century. It should be at the very top of every educator and policymaker's 'must-read list.' "
- Tony Wagner, author of The Global Achievement Gap and Creating Innovators
"This is a must-read for all education leaders aspiring to help their students succeed in the 21st Century. Ken Kay and Valerie Greenhill bring forward a compelling case for transformation in our schools and an inspiring message to leaders who are facing a increasingly challenging policy and financial obstacles. More importantly, the book presents meaningful and practical guidance for actions in schools drawn from broad experiences working with developing and implementing 21st Century Education."
- Yong Zhao, Ph. D, Presidential Chair and Associate Dean, University of Oregon, Author of Catching Up or Leading the Way: American Education in the Age of Globalization
"Ken Kay and Valerie Greenhill have provided an invaluable contribution to the education reform movement by articulating a step by step guide designed to assist district leaders interested in creating 21st century education school systems. With practical examples and specific guidelines delineating the practices of high performing systems, this book lays out a concrete vision and roadmap for delivering the educational outcomes that our children will need for success in 21st century work and civic life."
-- Barbara Chow, Program Director, Education Program, The William and Flora Hewlett Foundation
"Ken Kay and Valerie Greenhill have taken on a most valuable challenge - to help schools and districts create concrete steps to a 21st century education system. They accentuate the need to build support from the community and the key education stake holders. They underscore the critical importance of supporting teachers in this work. Their book is a "must read" for any education leader that is working to assure that their school or district is really preparing their students for the challenges of 21st century citizenship and the 21st century workforce."
- Linda Darling Hammond, Charles Ducommun Professor of Education; Co-Director School Redesign Network (SRN), Stanford University
"We, as educators, need to align what we are doing with what the changing world is demanding. Ken Kay and Valerie Greenhill of Ed Leader 21, have identified seven steps that support the creation of relevant, 21st century schools and districts. While implementation of these steps may not be linear, they provide a solid framework for shifting the paradigm. The descriptions of these steps clearly inform us of the complexity and depth required to prepare students for futures unknown, because of the changing world. Part of the "unknown" is brought into view with real examples from the trailblazers engaged in this work. Pay attention. This is an important and urgent message."
- Karen Aka, Chief Academic Officer, Academy21
"Kay and Greenhill have amassed a huge amount of material on 21st century teaching and learning and put it into a clear, readable, user-friendly format. This book is more than a "guide," it is the ultimate blueprint for realizing transformation in our schools. Outlining what it will take to lead, guide, nurture and implement the 4C's (critical thinking, communication, collaboration and creativity) through teaching and learning in our schools -- it is a must read for education leaders striving to develop 21st century learners.
I am especially pleased that school board members around the country (many of whom have been active proponents of 21st century education) will be able to leverage this valuable resource to help move their districts forward."
- Anne L. Bryant, Executive Director, NSBA
"As a nation, we have an opportunity to incorporate the Common Core with the 21st Century skills necessary for all students to succeed. Ken and Valerie have taken the last decade of their work to create a compelling framework for us all to follow. The framework and processes outlined in this book create a toolkit for leading 21st Century learning in your school district and community. Their suggested processes apply the 4Cs - creativity, collaboration, communication and critical thinking - to help you create a 21st Century school district supported by a 21st Century community. They urge us to use the 4 C's to create the 4 C's. Following the seven steps outlined in the book will enable us to demonstrate the leadership and direction in education that this nation desperately needs."
- Jack Dale, Superintendent, Fairfax County Public Schools
"We need young people who are effective problem solvers," declare Kay and Greenhill, students who know "how to apply the knowledge they have to contexts [with which] they may not be familiar." The Leaders Guide to 21st Century Education offers a framework for re-creating education in our schools to prepare our students for life in the 21st century. Using roadmaps, real life stories and lessons learned, this book skillfully leads educators through such thickets as accountability, resistance to change, and the false dichotomy posed between teaching skills and teaching content. An important and welcome addition to a crucial discussion taking place in education today!"
- Daniel A. Domenech, Executive Director, American Association of School Administrators
"The Education's Leaders Guide is a terrific resource for educators prepared to make the substantive changes essential to improving our schools. The authors recognize that providing students with 21st Century Skills will require educators to become deeply engaged in the collective inquiry, consensus building, collaborative efforts, action research, and shared learning essential to the process of continuous improvement. Kay and Greenhill don't provide a quick-fix program or easy answers. They instead offer something far more valuable - insights into the important questions educators must consider if they are to meet the needs of contemporary students. The Education Leader's Guide makes an important contribution to the school-improvement literature, and I highly recommend it."
- Rick DuFour, Educational Author and Consultant
"District leaders who want to prepare their students for success in the future must embrace 21st Century learning. But what IS 21st Century learning, how can district leaders assess where they are, where they need to go, and what they should do when they "get there?" Ken Kay and Valerie Greenhill's book provides that roadmap and more. In addition to providing a seven-step model for success, it also highlights best practices across the country, and provides opportunities for growth and reflection during the journey."
- Cathy Gassenheimer, Exec. VP, Alabama Best Practices Center, A+ Education Partnership
"Ken Kay and Valerie Greenhill offer exceptional advice for transforming schools for 21st century learning. Leaders at all levels will find tremendous guidance on their path toward educational success for all students. This book recognizes the essential role of professional learning communities in preparing adults and students for the 21st century. It is practical, powerful, and inspirational."
- Stephanie Hirsch, Executive Director, LearningForward (formerly National Staff Development Council)
"This is not just another book about why we must reshape and redefine our 20th century education system to enable young people to excel and thrive in a 21st century world. Based on the best lessons learned from the field, this book offers a set of ground-breaking strategies to help school leaders build the kind of learning environments that are truly transformative for the 21st century. With over a decade of policy work and applied research at their fingertips, Kay and Greenhill have created an accessible and rich menu of options that can be effectively implemented by educators who wish to lead."
- Margaret Honey, New York Hall of Science
"Ken and Valerie have spent much of the last decade traveling the country on behalf of 21st Century Skills. This book recalls many of the ideas and examples they have encountered and collects them for the first time in a form that is both accessible and inspirational for schools and districts eager to begin the challenging work of school transformation. This book will be an important addition to the library of any educational leader who is interested in implementing 21st Century Skills."
- Tim Magner, Executive Director, Partnership for 21st Century Skills
"Without question, America's K-12 education sector is a topic of much concern and debate. Reforms abound as we struggle to maintain and advance America's historic global educational advantage. We must be careful to be mindful of key goals of education as we look for solutions to our challenges. Shortsighted accountability solutions that are driven by simple-minded notions of education outcomes will drive us in the wrong direction. This book helps keep us properly focused on critical thinking communication, collaboration and creativity. Kay and Greenhill provide ample argument for why these are important goals, but even more importantly, they provide a roadmap for education leaders to actually achieve them. Based on their years of experience in the policy and implementation arenas, they present plenty of excellent examples of how school districts across the country serving a wide range of students can achieve true 21st century outcomes.
This book is more than a must read for school leaders and aspiring leaders, it is a shop manual for success. It needs to be dog-eared and underlined with lots of notes in the margins."
- Ron Marx, Dean, College of Education, University of Arizona
"In this book, Ken Kay and Valerie Greenhill offer an insightful, practical and highly readable roadmap to lead our schools and districts on a journey that prepares all students for lives of purpose, service and productive and creative work in the 21st century. Grounded in their pioneering work with leadership teams to promote 21st century skills they have crafted a book that can be read with equal benefit independently or as part of a collective effort of a leadership team that has stepped up to prepare all students to invent the future. Anyone concerned about the future of education should read this book."
- Fernando M. Reimers, Ford Foundation, Professor of International Education, Harvard Graduate School of Education
"Ken Kay and Valerie Greenhill have more than earned the right to do a book like this. No one did more to heighten the awareness of educators and others about the new set of skills that are now called 21st Century. Through the Partnership for 21st Century Skills and EdLeader21, they took big concepts, connected them to policy, and anchored them in the reality of districts and schools. This Guide gives all of us the roadmap we need to create learning environments truly designed to prepare our children for jobs and opportunities we can't even imagine."
- Ronald Thorpe, President and CEO, National Board for Professional Teaching Standards
"In a rare move, unique in today's reform climate, education thought leaders Ken Kay and Valerie Greenville offer a framework for schools that embraces critical thinking, communication, cooperation, and creativity. With The Leader's Guide, Ken and Valerie lay out an action agenda for creating school environments where educators are decision makers and students are active learners, resulting in well educated communities."
- Dennis Van Roekel, President, National Education Association

"Super A+ Learning for me!"
- Colleen Winkler, Principal, Chateau Estates Elementary, Kenner, LA
"This book provides the practical guide for converting aspiration into reality for any school leader determined to implement the changes that result in student learning outcomes that are truly relevant to the 21st century. Ken Kay and Valerie Greenhill have been national leaders in defining the education all students need; now they have brought their vast experience to bear on the individual school.
Changing education policy is a long and murky process. This seven step practical guide prepares every committed educator to begin changing students' lives immediately.
While this book is about how-to implement real change at the school site; it should be required reading for every legislator and policymaker who can see firsthand the impact of the policies they enact while gaining greater appreciation for what needs to be done."
- Bob Wise, President, Alliance for Excellent Education
"A road map for implementing 21st Century Learning (the 4Cs) system wide."
- Victoria Writsel, Associate Superintendent, Bowling Green Independent Schools, Bowling Green, KY
You may also be interested in...
Simply reserve online and pay at the counter when you collect. Available in shop from just two hours, subject to availability.
Thank you for your reservation
Your order is now being processed and we have sent a confirmation email to you at
When will my order be ready to collect?
Following the initial email, you will be contacted by the shop to confirm that your item is available for collection.
Call us on or send us an email at
Unfortunately there has been a problem with your order
Please try again or alternatively you can contact your chosen shop on or send us an email at