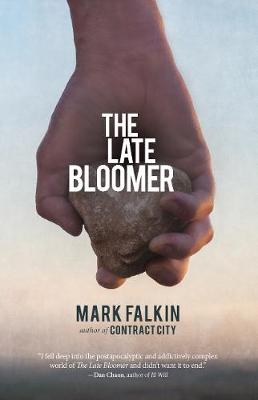 Paperback
320

Pages / Published: 01/11/2018
The world experiences an abrupt and unthinkable cataclysm on the morning of October 29, 2018. Kevin March, high school band trombonist and wannabe writer playing hooky, is witness to its beginning. To stay alive, Kevin embarks on a journey that promises to change everything yet again. On his journey, into a digital recorder he chronicles his experiences at the end of his world. This book is a transcript of that recording.
Depicting an unspeakable apocalypse unlike any seen in fiction--there are no zombies, viruses or virals, no doomsday asteroid, no aliens, no environmental cataclysm, no nuclear holocaust--with a Holden Caulfieldesque protagonist at his world's end, The Late Bloomer is both a companion piece to Lord of the Flies and a Bradburyian Halloween tale.
The Late Bloomer is harrowing, grim and poignant in the way of Cormac McCarthy's The Road. Told in Kevin March's singular and unforgettable voice, delivering a gripping narrative with an unsparing climax as moving as it is terrifying, The Late Bloomer defies expectations of the genre and will haunt those who read it.

Publisher: Rare Bird Books
ISBN: 9781947856547
Number of pages: 320
Dimensions: 216 x 140 mm
---
MEDIA REVIEWS
Acclaim for The Late Bloomer
"Like a sharp, winding staircase that narrows as it turns, the claustrophobic world of The Late Bloomer edges the reader in page by page."
Tal M. Klein, author of The Punch Escrow
"An apocalyptic coming-of-age tale the likes of which you've never seen, Mark Falkin's The Late Bloomer channels the heart of Ray Bradbury, the sensibilities of Rod Serling, and the grim despair of Cormac McCarthy, all wrapped up in Falkin's unshakable, inimitable style. Both beautiful and horrific, this is a young adult novel that even the most case-hardened fans of speculative fiction will find riveting and deeply moving. Highly recommended."
Ronald Malfi, author of Bone White and Little Girls
"If you're a fan of dull, weary storytelling with characters you've seen a million times doing the things you've seen them do a million times until you pass out from boredom, then this isn't the book for you. If, on the other hand, you're into roller coasters, laughter, fear, surprise, and characters who keep going against all odds, then The Late Bloomer will suck you down its twisted literary throat through its very last word."
Jason Neulander, producer, director and creator of The Intergalactic Nemesis
"With pitch-perfect prose, Falkin has penned an irresistible and audacious coming-of-age novel that plumbs the depths of adolescence and global cataclysm in equal, page-turning measure. I predict The Late Bloomer will take its place on the post-apocalyptic bestseller list, next to Station Eleven and The Stand."
Will Clarke, author of The Neon Palm of Madame Melan on and Lord Vishnu's Love Handles.
"Harrowing, unsettling and exquisitely written, The Late Bloomer is part War of the Worlds, part Twilight Zone and part Shirley Jackson. It is an unforgettable unforgiving vision of the end of the world, of those who attempt to survive and those who wish to stop them. The images conjured here will haunt you long after putting it down. Good luck, dear reader."
Louisa Luna, author of Two Girls Down
"An apocalyptic tale unlike any other, The Late Bloomer is smartly written; with shades of Stephen King meeting Cormac McCarthy, a blistering pace and lyrical prose, it demands to be consumed. Falkin's take on the end of the world is intriguing, beautiful and tragic a must-read."
Kristen Zimmer, Amazon #1 bestselling author of The Gravity Between Us
"Imagine nature itself seething with Holden Caulfield's rage at adult phoniness. Now imagine what happens when a decimated humanity inherits the planet. With The Late Bloomer, Mark Falkin combines an authentic portrait of twenty-first-century adolescence with a terrifying, and unsettlingly plausible, vision of the end of humanity as we know it."
Christian TeBordo, author of Toughlahoma and director of the MFA Program and Assistant Professor of English at Roosevelt University
"The Late Bloomer is a standout novel -- a contemporary End of Days novel that grabs you by the throat and won't let go. Narrated in the unforgettable voice of Kevin March, the unlikely and resistant teenaged "Late Bloomer" whose prophetic dreams have marked him for leadership of those who survive a world apocalypse reminiscent of The Great Floods, The Late Bloomer is an important cautionary tale that will haunt you long after you've finished the last page. With themes of good versus evil, the horrors of mob mentality, and the necessity of human empathy, The Late Bloomer gives strong nods to The Hunger Games, The Terminator, and The Lord of the Flies, wherein the beast resides within us all. The story's unexpected climax is a chilling perspective of a political era where it may seem that only our youth can be entrusted with society's moral compass."
Martha Louise Hunter, author of Painting Juliana and host of KOOP's Writing on the Air
"Imagine a dystopian vision in which Stephen King's The Mist meets Jeff VanderMeer's The Southern Reach Trilogy, and Margaret Atwood's The MaddAddam Trilogy. This is the world Mark Falkin conjures up in The Late Bloomer. Like the best post-apocalyptic novels, The Late Bloomer is a tale of horror derived from the stuff of everyday life. A dark menace haunts these pages, lurks in the shadows, and the beauty of this novel is that it makes you seriously wonder: could this happen to us? A smart, sophisticated YA novel, The Late Bloomer will grab you by the scruff and pull you along for a wild ride."
Kyle Semmel, 2016 NEA Literary Translation Fellow and Executive Director of Writers & Books
"In The Late Bloomer, Mark Falkin's post-apocalyptic young adult novel, the world as we know it has imploded. A small band of teenagers are the only ones left to figure out what has happened and try to piece some semblance of their world back together. Beautifully written and action-filled, The Late Bloomer is narrated by a teenager who is at once jaded and hopeful, a voice you're not likely to forget any time soon."
Suzanne Greenberg, Professor of English at California State University and winner of the Drue Heinz Literature Prize for Speed-Walk and Other Stories
Acclaim for Contract City
"In Contract City, Mark Falkin dreams up a near dystopian future that is already eerily upon us, where privatized services are becoming standard fare, where fear is now palpable and our sense of security comes with a price. I happened to come across this fine book in the fall of 2016, and in many ways it's been a sobering glimpse into the age of Trump."
Oscar C sares, Professor of Creative Writing at the University of Texas, NEA Fellow, and author of Brownsville and Amigoland
"Contract City is a firecracker of a story. Powerful, ambitious and compulsive, Mark Falkin's futuristic setting left me nostalgic for a world where I still live. Sara is one of those characters real, raw, vulnerable who I would follow anywhere, even down paths as dark as this one."
Mary Helen Specht, Dobie-Paisano Creative Writing Fellow, professor at St. Edward's University in Austin, and author of Migratory Animals
You may also be interested in...
Simply reserve online and pay at the counter when you collect. Available in shop from just two hours, subject to availability.
Thank you for your reservation
Your order is now being processed and we have sent a confirmation email to you at
When will my order be ready to collect?
Following the initial email, you will be contacted by the shop to confirm that your item is available for collection.
Call us on or send us an email at
Unfortunately there has been a problem with your order
Please try again or alternatively you can contact your chosen shop on or send us an email at