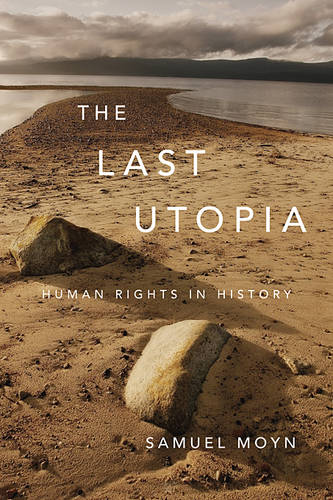 The Last Utopia: Human Rights in History (Paperback)
Samuel Moyn
(author)
Paperback
352

Pages
Published: 05/03/2012
Human rights offer a vision of international justice that today's idealistic millions hold dear. Yet the very concept on which the movement is based became familiar only a few decades ago when it profoundly reshaped our hopes for an improved humanity. In this pioneering book, Samuel Moyn elevates that extraordinary transformation to center stage and asks what it reveals about the ideal's troubled present and uncertain future.

For some, human rights stretch back to the dawn of Western civilization, the age of the American and French Revolutions, or the post–World War II moment when the Universal Declaration of Human Rights was framed. Revisiting these episodes in a dramatic tour of humanity's moral history, The Last Utopia shows that it was in the decade after 1968 that human rights began to make sense to broad communities of people as the proper cause of justice. Across eastern and western Europe, as well as throughout the United States and Latin America, human rights crystallized in a few short years as social activism and political rhetoric moved it from the hallways of the United Nations to the global forefront.

It was on the ruins of earlier political utopias, Moyn argues, that human rights achieved contemporary prominence. The morality of individual rights substituted for the soiled political dreams of revolutionary communism and nationalism as international law became an alternative to popular struggle and bloody violence. But as the ideal of human rights enters into rival political agendas, it requires more vigilance and scrutiny than when it became the watchword of our hopes.
Publisher: Harvard University Press
ISBN: 9780674064348
Number of pages: 352
Dimensions: 210 x 140 mm
---
MEDIA REVIEWS
A most welcome book, The Last Utopia is a clear-eyed account of the origins of "human rights": the best we have. The triumph of The Last Utopia is that it restores historical nuance, skepticism and context to a concept that, in the past 30 years, has played a large role in world affairs. Administer[s] electroshock therapy to a field imprisoned by its own Whiggishness. In his erudite new book, The Last Utopia: Human Rights in History, Samuel Moyn...argues that it was only in the 1970s, when other utopian ideologies—socialism, anti-colonialism, and anti-communism—fell by the wayside that human rights assumed its stature as the ultimate moral arbiter of international conduct. [H]ighly successful and endlessly controversial… In the place of celebratory treatments of a centuries-long, relentless progression of human rights, Moyn proposed a radically new paradigm… The Last Utopia threw shots across the bow of myriad scholarly camps, from political science to anthropology, sociology to philosophy; its impact reverberated far beyond the academy… The Last Utopia was one of those rare and brilliant books that compelled readers to reexamine their most cherished beliefs. It fundamentally changed the tone and tenor of human rights history, vaulting Moyn into the ranks of the country's leading public intellectuals. In this profound, important, and utterly original book, Moyn demonstrates how human rights constituted a new moral horizon and language of politics as it emerged in the last generation, a novel and fragile achievement on the wreckage of earlier dreams. A must read. With unparalleled clarity and originality, Moyn's hard-hitting, radically revisionist, and persuasive history of human rights provides a bracing historical reconstruction with which scholars, activists, lawyers and anyone interested in the fate of the human rights movement today will have to grapple. The Last Utopia is the most important work on the history of human rights yet to have been written. Moyn's search for origins reads like a great detective story as he carefully sifts the evidence of where and when human rights displaced alternative political ideals. Human rights have always been with us--or so their most zealous supporters would have us believe. With surgical precision and forensic tenacity, Moyn reveals how recent and how contingent was the birth of human rights and how fraught has been its passage from 1970s antipolitics to present-day political program. Anyone who truly cares about human rights should confront this bracing account. The way the phrase human rights is bandied about it sounds like an age-old concept. In fact, it was coined in English in the 1940s. Samuel Moyn examines the myths of its historical roots; most explicitly, the conflation of human rights with the revolutionary French and American concepts of droits de l'homme. The latter implies "a politics of citizenship at home"; the former "a politics of suffering abroad." His book teases out the legal and moral implications of this difference, using country-specific and international examples, in a way that leaves little hiding space for the self-serving usages of foreign ministers, supranational institutions and pollyannaish charities. Moyn has written an interesting and thought-provoking book which will annoy all the right people. It is not hard to imagine how impatient Bentham would have been with the notion of "human rights" that has grown so prominent over the past few decades. Samuel Moyn's The Last Utopia provides a succinct narrative of how that idea came to occupy the centre stage of so much international political discourse and activism. But the book also challenges the hegemony of human-rights-speak in ways that are nearly as combative as Bentham's polemical flights, though far more subtle and telling...There is a power and elegance to this book that my survey of it cannot convey. Over it hangs the question of whether the notion of human rights may still have a future, or if some other set of aspirations will take its place. Moyn stops well short of speculation. But it is a problem some activist or philosopher (or both) may yet pose in a way we cannot now imagine. [A] brilliant and bracing new book...Richly researched and powerfully argued, this volume will be the starting point for future discussions of where human rights have been, why they look like they do, and how to think about them down the road. Moyn argues that the origins of human rights are not in the places historians have traditionally looked--the French Revolution or postwar idealism--but in more recent developments...In refocusing our attention on the near history of human rights, The Last Utopia asks new and fertile questions...As Moyn points out, human rights, as never before, provide a framework for engaging with the lives of others. The events we associate with this development--1789, 1948, or the 1970s--influence our view of the present. Moyn has written the perfect history of human rights for the post-Bush era. As Samuel Moyn reminds us in The Last Utopia: Human Rights in History, it is really just a few decades since human rights became the world's preferred vocabulary for talking about justice. In dating the birth of human rights, as an ideology and a movement, to the mid-1970s, Moyn is deliberately bucking a trend...Moyn argues convincingly, however, these attempts to create a "usable past" for human rights, well-intended though they are, actually distort the truth. To understand the real strengths and limitations of the idea of human rights, he argues, it is necessary to see it not as an ancient tradition but as "the last utopia" which emerged "in an age when other, previously more appealing utopias died."...The Last Utopia will shed important light on the actual history of our new global faith. [A] brilliantly illuminating book...Moyn's account of the utopian origins of the contemporary human-rights movement is impressively worked out and largely convincing...Human rights are not the last utopia--just the one we must presently live with. The pursuit of the impossible is too much a part of the modern Western tradition ever to be truly renounced. The idea that utopianism will disappear is itself a utopian dream. The most that can be hoped for is that the piety which surrounds human rights will be tempered from time to time with a little skeptical doubt. It is hard to think of a better start than Moyn's seminal study [A] provocatively revisionist history. Moyn is a highly intelligent, markedly astute commentator. No possible viewpoint eludes his vigilance. He gives the impression of being suave in nature and comprehensive in awareness. This book, as a result, is a bravura performance by a leading light in an apparently crowded and busy field. There is a sense in which the conception of human rights that Moyn documents in this important book is already obsolete. Many of the worst human rights violations of recent years have not been perpetrated by sovereign states. Instead, they are the work of non-state actors: terrorists, militias, or simply criminal gangs...Moyn's contribution is to prove that human rights are not a fixed truth awaiting discovery, but rather an ideology subject to periodic renovation. If the idea of human rights is to survive, it must help us meet the challenges of our own time. Otherwise, it will join other utopian ideologies as the relics of the twentieth century. Myth-busting. [Moyn] argues elegantly and forcefully that the dominance of the nation-state in rights thinking made it impossible for the creators of the UN, the protagonists of the Cold War, and the participants in decolonization to conceptualize a world built on individual rights. This view emerged only in the 1970s, creating an entirely new, morality-based utopianism that was unimaginable until previously existing utopian notions no longer seemed plausible. The book, a triumph of originality, scholarship, concision, and bold conceptualization, has a superb bibliographical essay and will be wonderful to teach. A genuinely thrilling account of the modern history of human rights. The Last Utopia supplies a detailed, subtle, and in many ways convincing account of the human-rights "surge." Moyn's case for a 1970s turning-point is a strong one and occupies the best chapters in the book. Samuel Moyn's book is an erudite and impressive intellectual history, portraying the core principle of contemporary human rights--that individual rights transcend state sovereignty--as a strikingly recent invention. Moyn shows that this moral conception contradicts many of the ostensible roots from which conventional accounts see human rights growing...Moyn's reassessment is groundbreaking and insightful. Moyn's revisionist history is an argument for looking at the concept of human rights as a fairly new phenomenon, dating to the 1970s. While discounting the idea's role in shaping society in earlier centuries, he provides a great primer on the evolution of a revolutionary idea. Samuel Moyn's The Last Utopia is a major contribution to the history of twentieth-century human rights, but at the same time a salutary inquiry into the tensions between the rights of citizens as members of sovereign nation-states and the post-national or extra-national rights claims of humans. Moyn has produced a rich, fertile and challenging study of the modern history of rights...Moyn has shown that the history of human rights was a precarious, contingent, protracted and uneven development...If natural rights died as a consequence of secularization, can human rights decline with the erosion of Western liberalism and the securitization of the modern state? With the rise and fall of utopian dreams, academic opinions about the prospects of human rights may differ--however, from now on taking rights seriously means reading Moyn seriously.
You may also be interested in...
×
Download the Waterstones App
Would you like to proceed to the App store to download the Waterstones App?
Reserve online, pay on collection


Thank you for your reservation
Your order is now being processed and we have sent a confirmation email to you at
When will my order be ready to collect?
Following the initial email, you will be contacted by the shop to confirm that your item is available for collection.
Call us on or send us an email at
Unfortunately there has been a problem with your order
Please try again or alternatively you can contact your chosen shop on or send us an email at