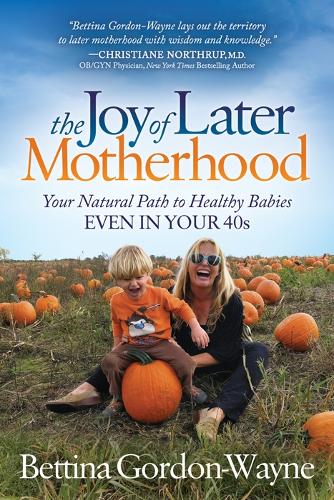 Joy of Later Motherhood: Your Natural Path to Healthy Babies Even in Your 40's (Paperback)
Bettina Gordon-Wayne
(author)
Paperback
248

Pages / Published: 17/05/2018
Serves as the much-needed antidote to the negative hype in the mainstream surrounding later motherhood. The first book written on this topic from the point of view of mature mothers, not a medical expert. Bettina has been published by national and international media (Huffington Post, NEWS magazine, FIRST, etc.) for well over 20 years and penned the popular column New York Wildlife in Germany and Austria. Contains real-life stories and advice from 40 women over 40 who rocked their natural pregnancies and birthed healthy children. Busts the myth that age is the biggest hurdle to pregnancy or that women who wait to start their families are career-focused self-absorbed ladies. Targets an ever growing demographic: In 1970, just 1% of first children were born to women over the age of 35. By 2012, this number had shot up to 15% and it continues to climb. The number of couples giving birth to their first child between the ages of 35 to 44 rose to 40 percent by 2010.
Publisher: Morgan James Publishing llc
ISBN: 9781683506812
Number of pages: 248
Weight: 367 g
Dimensions: 229 x 152 x 14 mm
---
MEDIA REVIEWS
Praise from Experts Who Dedicate Their Lives to Women's Health
"Pregnancy after 40 can be a joyful and healthy experience, despite what so many women are led to believe. In her book, The Joy of Later Motherhood, Bettina Gordon-Wayne lays out the territory to later motherhood with wisdom and knowledge."
~ Christiane Northrup, MD, OB/GYN, and author of New York Times bestsellers: Goddesses Never Age: The Secret Prescription for Radiance, Vitality, and Well-Being; Women's Bodies, Women's Wisdom; and The Wisdom of Menopause
"Bettina Gordon-Wayne has collected powerful and encouraging real-life stories to bring you perspective and resources for your journey to motherhood and to remind you that you are not alone. It's about time the positive science of mature motherhood reached a wider audience."
~ Alisa Vitti, functional nutritionist and hormone expert, bestselling author of WomanCode, founder of the FLO Living Hormone Center and creator of MyFLO app
"I'm thrilled Bettina Gordon-Wayne has collected these powerful stories of women who defied age prejudice and took charge of their own health, fertility, and destiny. The advice shared in this book is invaluable!"
~ Andrew Loosely, Chinese medicine natural fertility expert, author, and speaker
"Women today are not only living longer but we are healthier and have so much to offer a child in terms of life experience and stability. So why shouldn't we have children in our 40s and beyond? I can highly recommend Bettina's book. It is inspiring and empowering. This book will make you think twice about that outdated age paradigm and help you reframe any limiting beliefs."
~ Claudia Spahr, fertility expert, bestselling author, mother of three at 40+, and founder of the popular mother-child yoga retreats Holy-Mama
Praise from Experts Who Thrive to Empower Women
"This book is a must read for any woman who wants to start a family after the age of 35. The way this book combines inspiring, real-life stories with data about becoming a mother past the culturally accepted time is so needed. Reading this book is a hope infusion and will be sure to increase your fertility!"
~ Kate Northrup, bestselling author of Money: A Love Story and founder of the premier mother-entrepreneur membership site Origin Collective
"This book will change how you approach motherhood in later life. As a success coach for the past two decades, I've found a need in the market that this phenomenal book now fills-finally, a book I can wholeheartedly recommend to my clients.
The key element is that Gordon-Wayne focuses on what is possible, rather than dwelling on limitations. She first makes us aware of the massive upsides to motherhood after the age of 40 and then strategically sets out the physical, material, emotional, intellectual, and spiritual options so that the reader can maximize her prospects for having a positive pregnancy experience and a healthy baby."
~ Judymay Murphy, internationally renowned success coach, bestselling author, and speaker
"Becoming a mother is one of the more sacred acts a woman can undertake. Unfortunately, for women over 40, the option is often clouded by fear, inefficient data, and shame. Bettina Gordon-Wayne, through her own story and those of many other women, is taking a stand for natural and healthy pregnancies by creating a new narrative. I imagine you'll feel similarly when you read her extensively researched words of encouragement and hope."
~ Mindie Kniss, entrepreneur, spiritual teacher, and founder of Cor Coaching Academy and HeartPath retreat series
"While it may be slightly surprising to see a man heaping such high praise on a book written for `later in life' aspiring moms, I can assure you this terrific book will be a must-read recommendation for many of my female clients worldwide, as the stories and words in the pages of this book absolutely ring true with their most private thoughts, fears, and hopes. Bettina Gordon-Wayne has done a masterful job in assembling this book. It has all the research and sourcing of a seasoned journalist, and at the same time, it pulls in readers (yes, even men apparently) as it takes them on a journey that educates, entertains, and empowers women simultaneously."
~ Dave Elliott, international relationship expert, author of The Catch Your Match Formula, founder of Legendary Love For Life
Praise from Women for Whom This Book Was Written
"Wow-what a great read! These are stories everyone should hear, not just those contemplating starting a family. As an urban professional, almost all my peers are like the women in this book. Bettina does a wonderful job of not just sharing the hope-healthy pregnancies to women of "a certain age" do happen much more often than the media tells us-but also sharing the humanity around each of the stories. Brilliant!!"
~ Melanie, 45, grant writer
"Bettina Gordon-Wayne is the companion that every woman needs on her journey to motherhood. Ebullient and engaging, she offers readers a wellspring of information, insight, and inspiration that are essential to achieving a healthy pregnancy. I know of no other book on the market that does so as effectively. This is a must read for anyone who is struggling with infertility or who is thinking of becoming a mom."
~ Rachel, 39, editor
"Getting to sit and read Bettina's inspiring book tonight with a purring cat beside me was better than going to a spa! The pages are full of energy and life and hope, encapsulated in turns of phrase that make excellent takeaways. For instance, `mature motherhood' is my new favorite phrase because it replaces all the judgment and fear of being mistaken for a grandma with being an unusually good mother (lucky kid!). I also really appreciated the perspective that the `40s are the best decade of a woman's life' and that this is not just an acceptable or possible time to have a baby-but the perfect time to have a child!"
~ Allison, 38, attorney
"In this beautifully written book, the author shares with us, in an engagingly personal voice as if over a shared cup of coffee, her own story of the journey to pregnancy. And then, as if inviting others to the table, she presents her interviews with a wide range of women, who, each on her own unique journey, happened to arrive at motherhood for the first time in her 40s. It's an incredible privilege to read these intimate stories, and to learn how different women responded to the various challenges, upsets, and opportunities on their paths to pregnancy. Furthermore, the overall orientation of the author's questions and commentary reveal a reverence and respect for the temples that are our bodies, and a reminder to honor ourselves and our bodies at every stage of life."
~ Hannah, 43, environmental expert
You may also be interested in...
Simply reserve online and pay at the counter when you collect. Available in shop from just two hours, subject to availability.
Thank you for your reservation
Your order is now being processed and we have sent a confirmation email to you at
When will my order be ready to collect?
Following the initial email, you will be contacted by the shop to confirm that your item is available for collection.
Call us on or send us an email at
Unfortunately there has been a problem with your order
Please try again or alternatively you can contact your chosen shop on or send us an email at