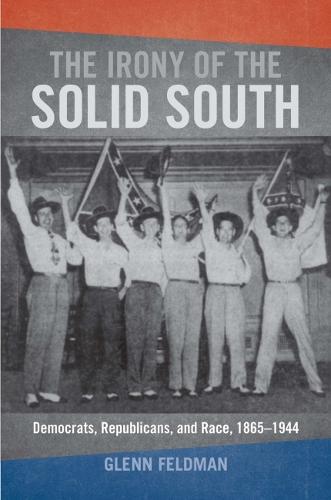 The Irony of the Solid South: Democrats, Republicans and Race, 1865-1944 (Hardback)
Glenn Feldman
(author)
Hardback
352

Pages / Published: 30/05/2013
The Irony of the Solid South examines how the south became the "Solid South" for the Democratic Party and how that solidarity began to crack with the advent of American involvement in World War II.

Relying on a sophisticated analysis of secondary research-as well as a wealth of deep research in primary sources such as letters, diaries, interviews, court cases, newspapers, and other archival materials-Glenn Feldman argues in The Irony of the Solid South that the history of the solid Democratic south is actually marked by several ironies that involve a concern with the fundamental nature of southern society and culture and the central place that race and allied types of cultural conservatism have played in ensuring regional distinctiveness and continuity across time and various partisan labels. Along the way, this account has much to say about the quality and nature of the New Deal in Dixie, southern liberalism, and its fatal shortcomings.

Feldman focuses primarily on Alabama and race but also considers at length circumstances in the other southern states as well as insights into the uses of emotional issues other than race that have been used time and again to distract whites from their economic and material interests. Feldman explains how conservative political forces (Bourbon Democrats, Dixiecrats, Wallace, independents, and eventually the modern GOP) ingeniously fused white supremacy with economic conservatism based on the common glue of animus to the federal government. A second great melding is exposed, one that joined economic fundamentalism to the religious kind along the shared axis of antidemocratic impulses.

Feldman's study has much to say about southern and American conservatism, the enduring power of cultural and emotional issues, and the modern south's path to becoming solidly Republican.
Publisher: The University of Alabama Press
ISBN: 9780817317935
Number of pages: 352
---
MEDIA REVIEWS
"This well-researched work offers a historical perspective that explains the South's realignment, while also exhibiting relevance to contemporary political beliefs. Feldman wisely uses the preface and epilogue to connect with readers by explaining that Dixie's shift to conservatism is 'the blueprint, the roadmap, the model' for conservative movements we have witnessed and continue to witness in American politics." --International Social Science Review
"In addition to persuasively refuting historians that argue Alabama politicians never seriously flirted with liberalism, he argues that the exodus from the party by Alabama conservatives inaugurated the crucial twentieth-century shift of white voters to the Republican party, a move associated with Richard Nixon's 1968 'southern strategy.'"
--American Studies

"The Irony of the Solid South presents an uncomfortable history for American conservatism's adamant supporters, yet Feldman has exhausted an incredible collection of primary and secondary sources to reinforce his groundbreaking claims. His work is a homogenous mixture of dense historical fact and lighthearted narratives. Feldman flashes exquisite prose through his use of clever quips and humorous anecdotes. Alternatively, he regularly reminds the reader of the current themes being discussed."
--Vulcan Historical Review

"The book [Irony of the Solid South] is, as Feldman's work tends to be, significant and something we all must consider when thinking about race and politics in the South in the mid-twentieth century."
--The Historian
"This is a first-rate, original piece of scholarship based on a thorough command of the secondary literature, and on a very extensive exploration of primary sources that Feldman tracked down in numerous and widespread locations." --Sheldon Hackney, author of Populism to Progressivism in Alabama

"This is history with a strong point of view and one that runs counter to more recent trends in the historiography of race and politics. It reflects deep research and a well-wrought argument for the primacy of race that is a powerful challenge to that new historiography that runs the danger of becoming as 'orthodox' as earlier arguments for the primacy of race in twentieth-century politics. It is an impressive marshaling of powerful evidence for an argument that will challenge much of the current historical literature."--Dan T. Carter, author of Scottsboro: A Tragedy of the American South
"Feldman's book is yet another explanation of why white voters turned the solidly Democratic South of the late-19th and early-20th centuries into a region that could be expected to vote for Republicans in the late-20th century. He notes that the sea change in southern politics had national implications and argues that white conservative voters in the post-Civil War years were drawn to the Democratic Party because it shared their values of white supremacy, religions, and cultural conservatism, and support for market economics. When the Democratic Party began to drift away from these ideals beginning with the New Deal, white southerners remained true to their ideology and sought new political outlets in the Dixiecrats, the American Independent Party, and the Republican Party. The inherent instability of Franklin Roosevelt's New Deal coalition contributed to this transformation because it sought to bring together widely different groups, but it could do so successfully only as long as the Great Depression threatened economic survival. Economic recovery allowed these groups to go their separate ways. The bibliography and endnotes reveal the thoroughness of research completed by Feldman (Univ. of Alabama at Birmingham). Summing Up: Recommended. Upper-division undergraduates and above."
--CHOICE

"Feldman provides a real service, especially to readers outside of the academy, with his unsparing approach to the ugliness and violence that steadily supported white southerners' politics and peer pressure. Too often this side of southern history is still seen as unfortunate or, worse, misunderstood, and too often it remains conveniently frozen in black-and-white pictures of law officials using water hoses and police dogs against civil rights activists. As Feldman demonstrates repeatedly, the social and economic pressure, as well as the violence, was relentless, largely unapologetic, and, for a long time, successful in its aims." --The American Historical Review

"Feldman's book is a deeply provocative analysis of southern politics and political history. He explains the recurring themes in southern politics as an outgrowth of "Reconstruction Syndrome". Themes of anti-government, anti-taxation, and deep suspicion of outsiders (African Americans, Catholics, Jews, and immigrants), run throughout the history of southern politics, and remain today. Feldman focuses much of his book on showing that the Democratic Party lost the south long before the passage of the civil rights laws in the 1960s. He tracks the shift in political allegiances back to the 1930s and even earlier. The book challenges conventional notions and is likely to stimulate debate and controversy. It is a worthwhile read for historians of the time period and political scientists, alike." --New Books in Political Science
You may also be interested in...
×
Download the Waterstones App
Would you like to proceed to the App store to download the Waterstones App?
Simply reserve online and pay at the counter when you collect. Available in shop from just two hours, subject to availability.
Thank you for your reservation
Your order is now being processed and we have sent a confirmation email to you at
When will my order be ready to collect?
Following the initial email, you will be contacted by the shop to confirm that your item is available for collection.
Call us on or send us an email at
Unfortunately there has been a problem with your order
Please try again or alternatively you can contact your chosen shop on or send us an email at