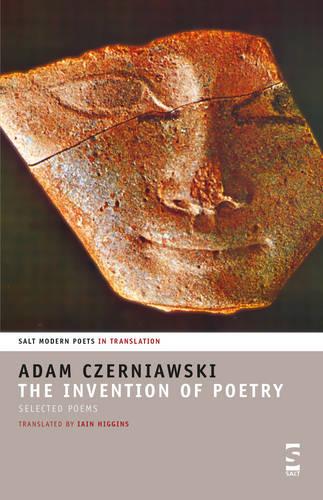 Paperback
168

Pages / Published: 01/09/2005
`Adam Czerniawski's poetry springs from a conjunction of Polish and English (or perhaps European) culture. Deeply rooted in the Polish language, he is at the same time a poet of universal themes observed from a wide perspective of the Western world. I would even claim that this poetry springs from a different basis of culture and literary tradition, that he has managed to set himself free from many complexes of contemporary Polish poetry, to grasp and see them from a global perspective. Additionally, there is his special position as a poet standing outside the emigre cultural life, which gives him the advantage of distance, of reserve and of being above the current disputes and entanglements. The art which he practises enables us to count him among poets of culture full of erudition and various tropes which bear witness to his inheriting the great tradition of European culture.'
-Konstanty Pienkosz, Literary critic
`My favourite poems by Adam Czerniawski include "Seaside Holiday", "Interior Topography" (one of his best poems), "You and I", "Man", "Science Fiction", "Listening to a Schubert Quartet", "World", "Bridge", "Fish", "Triangle", "A View of Delft", "Evening, or a Field of Vision", "Token of Remembrance" and "Golden Age". These poems display a dialectical synthesis of feeling and awareness; without falling below the level of the author's understanding - and let's note that it is a philosophical understanding rare among Polish poets (Milosz is a philosopher of a totally different kind) - these poems do not leave feelings behind, and this is precisely what works in their favour.'
-Bogdan Czaykowski, Poet and scholar
`Consistently labelled in Polish criticism as a "poet of culture," Czerniawski, like Czeslaw Milosz, belongs to the category of writers who express their struggle with culture and history in profoundly personal terms. His poetry is marked by a return to mythological topoi (e.g., "Love") and to such classical motifs as ars longa vita brevis (e.g., "Token of Remembrance"). These returns, however, offer no consolation for the sense of historical and existential displacement; rather, culture tempts with the promise of aesthetic redemption (in this, Czerniawski also resembles Zbigniew Herbert) but ultimately agitates by bringing into the open that from which one longs to escape - the palpability of history, of "today, though somewhat far." Czerniawski's sense of history reflects both the experience of his generation and his own "obsessive memory [of an] annihilated childhood." He comments, for instance, on the traumatic divide in his biography, "for those tainted with the consciousness of `other days' biography falls into before and after." He recalls the emotional impact of the outbreak of the war on the child that he was: "So not even a global picture of the September campaign, but simply stray scenes rooted in the memory of the child. They are enough. And who would have thought that already at that age it is possible to shoulder the humiliation of an entire people?" ("The Ages Speak, or what's new in History").
`Higgins strives to be faithful to Czerniawski's style and tone (including the use of British English to reflect the author's environment), and those able to follow both the Polish and English can appreciate the consistency of his renditions. Higgins's translations read smoothly and show respect for the original. Similar qualities come across in Higgins's sensitive introduction to this generally laudable volume.'
-Prof. Joanna Nizynska
`Thus the reader will find here not only the long and the short of him - as in the concise "Oxford" (an almost sentimental statement of the poet's affection for a mythic England) and the extensive "Mirrors and Reflections" (a moving meditation on being in the world) - but also the more familiar middle ground, Czerniawski's preferred poetic dwelling-place, where the lyric readily admits other modes of writing without necessarily giving up its own character altogether. Here the reader will find poems as different from one another as "You and I" (an unsentimental celebration of childhood pleasure and friendship), "Cape of False Hope" (a striking portrait of life in an imaginary European colony), "triangle" (a brief parable on order and cruelty), "Teatro della guerra" (a dark look at the homologies of war, theatre, and children's games), and the remarkable prose poems from the cycle "Commentaries" (essays on such matters as memory and oblivion, the poet's reading both early and late, and the nature of artistic perception). Indeed, there is nothing quite like these poems in English, although it is possible to gesture towards some analogies: the brilliantly opaque poems of John Ashbery, for instance, offer a partial analogy of their probing and self-undoing manner, if not of the sensibility they conjure up, while the wittily erudite poems of Derek Mahon and Paul Muldoon offer a partial analogy of their heterogeneous cultural and historical matter, if not of their tone and formal qualities. For Czerniawski's poetics derives in part from a tradition little known outside Polish literature, the tradition established by Cyprian Norwid (1821-1883), who is a kind of combined Hopkins, Dickinson and Eliot-cum-Pound. In Norwid's view, "a perfect lyric should be like a plaster cast: those boundaries where forms miss each other and leave cracks ought to be preserved and not smoothed over with a knife." But where Norwid chose a sculptural analogy, strangely thinking of his own dynamic verse in spatial terms, Czerniawski would choose a musical one, thinking in terms of the temporal and the dramatic, as in Beethoven or Bartok, or even in some forms of jazz. Here the preserved cracks become dissonant notes deliberately exploited, and the plaster cast, the compositional whole that contains and attempts to govern them.'
-Iain Higgins, Introduction to The Invention of Poetry
Publisher: Salt Publishing
ISBN: 9781844710911
Number of pages: 168
Weight: 221 g
Dimensions: 216 x 140 x 10 mm
---
MEDIA REVIEWS
This is a book about how seemingly insignificant moments may be the ones that turn out to matter most. It's about disappearances and exile, love and loss, mystery and poetry. It's a book to live with - not just read.
-- Helena Nelson * Ambit *
There is a note of sadness in Czerniawski; his tone is at times nostalgic, even, funereal of, for instance, `annihilated childhood' - a childhood buried in a diasporic past. There is, in his later works, an untitled poem, almost an epigram: `he arranged his life, but not his death', reminiscent of fraszka, a form preferred by Kochanowski, another Polish poet, a seventeenth century master. `Fraszka' (from Italian frasca: a joke, an anecdote) is a humorous form, composed, speaking melodically, in key-major. I detect in Czerniawski's piece that sense: a wry humour over a life lived well and an unavoidable passing. But `not everything ends', the poet says in teh book's epigraph: poetry withstands time, it is eternal, and thus is the poet. This book spans the poet's entire life - the formative and the most recent years, and it celebrates just that.
-- Piotr Wesolowski * Edinburgh Review *
The last poem in the collection, "For the Muses Return', serves as Czerniawski's summa poetica in the way it combines his characteristic attitudes of self-assertion and self-effacement. The poem recalls a visitation by the Muses, nothing remains from the original experience, only some words the poet jotted down in his journal and now can read `with difficulty' ... The Muses' inspiration is a blessing an a beginning. A moment of poetic madness offers (as we learn in Plato's Phaedrus) a transcending experience for both poet and for the future generations of his readers. It is a fit conclusion to Czerniawski's remarkable volume.
-- Piotr Gwiazda * PN Review *
You may also be interested in...
Simply reserve online and pay at the counter when you collect. Available in shop from just two hours, subject to availability.
Thank you for your reservation
Your order is now being processed and we have sent a confirmation email to you at
When will my order be ready to collect?
Following the initial email, you will be contacted by the shop to confirm that your item is available for collection.
Call us on or send us an email at
Unfortunately there has been a problem with your order
Please try again or alternatively you can contact your chosen shop on or send us an email at