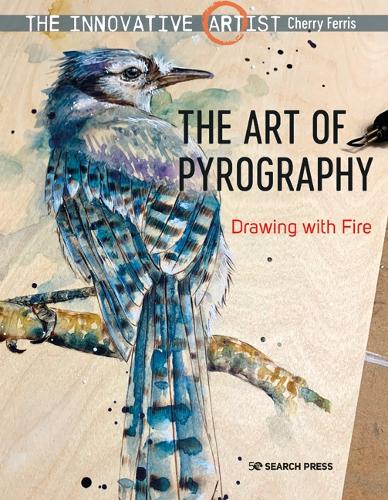 The Innovative Artist: The Art of Pyrography: Drawing with Fire - The Innovative Artist (Paperback)
Cherry Ferris
(author)
Paperback
Published: 10/11/2022
Pyrography is the art of burning a design into wood using a heated metallic point.
Most books on the market take a fairly traditional approach to the subject, limited to using pure burning onto a range of wooden surfaces. The Art of Pyrography goes far beyond this. Cherry Ferris takes the subject to new heights, incorporating mixed media, unusual supports and innovative techniques to elevate the craft to an artform.
The book is suitable for beginners as well as more advanced pyrographers, and is well-suited to artists from other media who want to experiment with new ideas and incorporate pyrography into their practice. Pyrography machines are easily obtainable from online suppliers and major craft stores. 
The Art of Pyrography begins with an overview and history of the subject, a tools and equipment section, an introduction to the basic techniques and information on surfaces that you can safely burn. The book moves onto how to transfer designs onto surfaces and incorporate a mixed media approach by looking at shading techniques, introducing colour into your work, playing with backgrounds and how to finish, protect and display your finished pieces. Four shorter mini burns complement ten longer step-by-step projects that walk the reader through the techniques and materials used. A troubleshooting and safety section is also included, making this a one-stop shop to get all your pyrography questions answered.
Chapters include:
Colour: Incorporating coloured pencils, paint, and inks
Using resin to finish your work – which results in a beautiful glass-like finish
Using gold leaf to add a touch of magic.
Publisher: Search Press Ltd
ISBN: 9781782219385
Weight: 816 g
Dimensions: 280 x 216 x 14 mm
---
MEDIA REVIEWS
I would add this to my ever-lengthening list of 2022's innovations, but I'm pretty sure pyrography has been written about before, albeit more as a craft, maybe a curiosity, than as art. This is the first book to cross my desk, anyway. It's also worthy of note that this appears in Search Press's The Innovative Artist series, which betokens both a broad coverage and a move of the technique into something more mainstream.
As you might expect, this is not a beginner's guide, nor should it be. I think we can accept that those exist and that this is as much a showcase for an experienced practitioner as it is a book of instruction. That said, there's plenty of technical analysis to get your teeth into here. Someone wanting to pursue this as art will find a great deal to occupy and challenge them and the results are simply stunning. The blurb announces that it's suitable for beginners too, but they always say that. Yes, Cherry does explain the fundamental techniques as well as what equipment you need and how to use it, but I think I'd start with something a lot more basic and with rather more simplified exercises. You aren't going to achieve the sort of detailed, coloured work that Cherry demonstrates without a very thorough grounding first and, without belittling the fundamental work done here, I don't think this is the book for it. This is basic techniques for the more experienced worker who mainly wants to make sure they're on the right track and learn from a master.
Small rant over, this is an astonishing book that will open your eyes to work you probably didn't think possible. The detail and subtlety of shade and colouring that Cherry achieves is remarkable and looks more like painting or drawing. There's much to learn and this is a book you're going to want to spend a lot of time with – I'd go so far as to say that, if you price a book by the number of hours spend between its covers, this is definitely well below minimum wage.
Will you ever manage to achieve the same results as Cherry? Well, it wouldn't be for want of trying, on your part or hers.
This book can really only be described as a revelation. As the cover image shows, there's a great deal more you can do with Pyrography than simply burn designs onto plywood with a soldering iron. The images here contain as much fine detail as pencil work and Cherry introduces colour in ways that leave you astounded.
Although this is an advanced book, there is a sound introduction to tools and techniques, with basic exercises to get you started. Further demonstrations will help you progress as far as you could possibly want.
Cherry's book is full of the most beautiful works of art. It is such a worthwhile book for anyone, like me, interested in starting with pyrography, but I'm sure that it will also be valuable to those who are experienced in this art.
All the basics are comprehensively covered on a very practical level with excellent illustrations. This book is however so much more than basic pyrography. There are chapters on colour, introducing mixed media, the use of gold leaf is explained so you can add your own magic and even the use of resin.
I have not had time to explore all this book has to offer but I am thoroughly enjoying reading such a beautifully written book which is infused with the author's magic in her writing as well as her works of art.
This is a book that I will treasure.
Although I have never done any pyrography before, I would be able to follow Cherry's easy to follow instructions on materials and techniques of this method of making art. I think the beginner but also the more experienced pyrographer would benefit from the instruction in this book. As a painter I appreciated the use of mixed media materials, and the section on inspiration for making pictures. I was very impressed by the beautiful production of the book , especially the standard of the photographs. I shall enjoy exploring this book in more depth.
This book is without doubt one of the best books on pyrography I have had the pleasure of reading.
Cherry has written this book with a friendly vibe, being able to pass on the skills that she has without the reader being swamped with the dos and don'ts. Full of stunning art and pure inspiration throughout I would recommend this book to anyone, experienced or beginner.
The book contains a lot of innovative ideas suitable for both the novice beginner and the more experienced in Pyrography. Comprehensive and well illustrated, it provides a good background into the different equipment available and the author has captured all the useful information into one very good book. The techniques used can only add to the inspiration when giving this a go. I am very new to this and have found it to be useful. I have even bought some gold leaf to try out some of the projects. An easy to follow book which will keep you reading if you want to gain knowledge on this art.
I was given this book as a present and wow what a fabulous read. I haven't been able to put it down and can't wait to have a go at a new skill for me. Cherry describes in marvellous words and pictures how to do wood burning and chapter by chapter how to use different materials to enhance your work. I am particularly keen on the chapters using resin and gold leaf. I would definitely recommend this book to any art lover.
Just the book to help you on your way, The Art of Pyrography opens with an overview and history of the subject, moves on to an equipment section, offers up an introduction to the basic techniques, and finally, provides clear instructions for safely transferring, completing, and protecting your designs. This comprehensive title also features plenty of step-by-step projects.
You may also be interested in...
×
Download the Waterstones App
Would you like to proceed to the App store to download the Waterstones App?
Reserve online, pay on collection


Thank you for your reservation
Your order is now being processed and we have sent a confirmation email to you at
When will my order be ready to collect?
Following the initial email, you will be contacted by the shop to confirm that your item is available for collection.
Call us on or send us an email at
Unfortunately there has been a problem with your order
Please try again or alternatively you can contact your chosen shop on or send us an email at