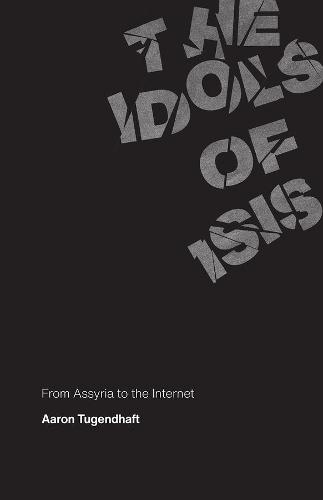 The Idols of ISIS: From Assyria to the Internet (Paperback)
Aaron Tugendhaft
(author)
Paperback
136

Pages
Published: 04/12/2020
In 2015, the Islamic State released a video of men smashing sculptures in Iraq's Mosul Museum as part of a mission to cleanse the world of idolatry. This book unpacks three key facets of that event: the status and power of images, the political importance of museums, and the efficacy of videos in furthering an ideological agenda through the internet.

Beginning with the Islamic State's claim that the smashed objects were idols of the "age of ignorance," Aaron Tugendhaft questions whether there can be any political life without idolatry. He then explores the various roles Mesopotamian sculpture has played in European imperial competition, the development of artistic modernism, and the formation of Iraqi national identity, showing how this history reverberates in the choice of the Mosul Museum as performance stage. Finally, he compares the Islamic State's production of images to the ways in which images circulated in ancient Assyria and asks how digitization has transformed politics in the age of social media. An elegant and accessibly written introduction to the complexities of such events, The Idols of ISIS is ideal for students and readers seeking a richer cultural perspective than the media usually provides.

Publisher: The University of Chicago Press
ISBN: 9780226737560
Number of pages: 136
Weight: 163 g
Dimensions: 210 x 140 x 13 mm
---
MEDIA REVIEWS
"The succinct and reader-friendly prose is accompanied by a series of images. . .from ancient temples to modern museums, intersecting always with cultural and political developments in and between the West and what was once unabashedly referred to as the "Orient." * Tikkun *
"Idols of Isis is an engaging piece of cultural criticism, a passionate meditation on the tension between those seeking ideological purity in society and those seeking what he calls pluralistic grey zones of public discourse." -- Alan Brill * "The Book of Doctrines and Opinions" Blog *
"[Tugendhaft's] rich yet readable book puts ISIS' smashing of ancient sculptures into historical and political context. . . . [it] is extremely relevant to America's current debates about public sculpture, especially with regard to the role of violence in this debate." -- Erin L. Thompson * Los Angeles Review of Books Blog *
""What are we to do with this complicated destruction and iconoclasm, which both draws us in and repels us? I can't think of a better and timelier resource to tackle these immense questions than [The Idols of ISIS]." * Rough Sketch *
"There are reasons and evidence for why 'statues are too terrified to sleep at night lest they wake up as ruins (67),' as Tugendhaft demonstrates expertly." * Hong Kong Review of Books *
"In Idols of ISIS, Aaron Tugendhaft, a descendent of Iraqi Jews and scholar of the ancient Middle East, examines the significance of a video clip which had made the rounds online in 2015. It had showed ISIS militants smashing ancient artefacts using sledgehammers and drills in Mosul Museum, engaging in a modern-day iconomachy, purging 'heresy' from view and existence.

Tugendhaft lingers on this specific video because, he argues, it not only shows a quasi-ritualistic demolition but also highlights the correspondence between imagery and politics. He finds in the clip a resonance, ranging from Biblical times to the sectarian turmoil of post-2003 Iraq. In his book, he also explores why the location of Mosul's museum matters, and discusses the apparent paradox in the militants' decision to record the events with a videocamera." * Review 31 *
"A book with a... [broad] import... His analysis, divided into three chapters, stretches beyond the Mosul museum to examine the long history of iconoclasm in human civilization-from image smashing in the Assyrian Empire, to medieval political philosophy, to the ways images are modified and circulated on the Internet today." * Commonweal *
"The Idols of ISIS marks a solid scholarly contribution to the field of Middle Eastern studies, specifically by demonstrating the function of images, and the function of their destruction, in the construction of political spaces. The brevity and legibility of Tugendhaft's prose makes the book ideal for usage in higher-level undergraduate courses, or as a companion text in graduate seminars. . . .The Idols of ISIS is a book that is worth visiting." * Syrian Studies Association Bulletin *
"The brilliant young scholar Aaron Tugendhaft has proven himself in The Idols of ISIS." * La Voz de Cordoba *
"On February 26th of 2015, Islamic State terrorists went into the museum of antiquities in Mosul and destroyed ancient Mesopotamian art. Not content with the mere act of demolition, they also made and distributed a videoof their action. For Aaron Tugendhaft, seeing a still image from the video immediately brought to mind a strikingly similar image created in the very same area, but thousands of years earlier. The still image looked like a scene of iconoclastic destruction sculpted in a relief for Sargon II's palace in the city of Khorsabad, from the eight century BCE. For Tugendhaft, the uncanny juxtaposition of images across millennia suggested something like an eternal question about the role of images in the political world in the Middle East, and in political life simply speaking. Is a world without images a possible basis for a politics of the enlightened, as iconoclastic religious leaders sometimes suggested? Or, if not, if images were instead a necessary part of political life, how could we avoid forcing the society to live under the permanent shadow of one dominant group's untrue, fantastic dogma? The book is an extremely original attempt to address such fundamental questions about the role of art and images in politics, while at the same time engaging other more ephemeral but quite pressing contemporary problems related to global politics and technology." * Kronos (translated from original Polish) *
"This fascinating and impassioned opuscule earned immediate media notoriety for the author, theoretician of comparative politics, teacher at Bard College in Berlin and also a descendant of a Jewish family from Baghdad. Written in reaction to the video released by the Islamic State in February 2015 which depicted the destruction of the Assyrian reliefs in the Mosul museum, it questions the political meaning of the image, citing in the prologue relevant comparisons, a relief from Nineveh showing Assyrian soldiers hammering the statue of a defeated king, or the biblical episode of Moses and Aaron about the Golden Calf. . . .the author encourages us to go beyond this terror in order to realize that all political life is based on shared images: to be free citizens, any image is good to think about." -- Annie Caubet * Syria (translated from original French) *
"The Idols of ISIS comes to us at a timely moment, as scholars are sounding the alarm about how the internet delivers certain images to our lives, and as the scholarly and museum worlds begin to reckon more fully with their colonial pasts." * Critical Muslim *
"Tugendhaft's book breaks images-and therefore it also makes them. He taps images together, using the ISIS video to sound out the hollowness of contemporary Western culture, from the internet to the United Nations to the war on terror." * Christian Century *
"An elegant meditation on the conflict of images and its necessary role in politics. Looking at the lives of Mesopotamian monuments from Ashurbanipal to ISIS, Tugendhaft shows us how the stories they tell about the building and destruction of images are full of surprising similarities and address common philosophical questions. He argues that both iconoclasm and humanist universalism, for example, represent an impossible desire to depoliticise social life by monopolising the world of images." -- Faisal Devji, author of Islam after Liberalism
"With an argumentative arc stretching from idols to museums to videos, this book will be valuable to a variety of readers, including Assyriologists, archaeologists, ancient and contemporary historians, and scholars in media studies. Tugendhaft offers something unique by discussing the destruction of images by ISIS through the lenses of political theory and comparative history." -- Eckart Frahm, editor of A Companion to Assyria
"There's nothing better than a smart short book." -- Bruce Lincoln, author of Apples and Oranges
You may also be interested in...
×
Download the Waterstones App
Would you like to proceed to the App store to download the Waterstones App?
Reserve online, pay on collection


Thank you for your reservation
Your order is now being processed and we have sent a confirmation email to you at
When will my order be ready to collect?
Following the initial email, you will be contacted by the shop to confirm that your item is available for collection.
Call us on or send us an email at
Unfortunately there has been a problem with your order
Please try again or alternatively you can contact your chosen shop on or send us an email at