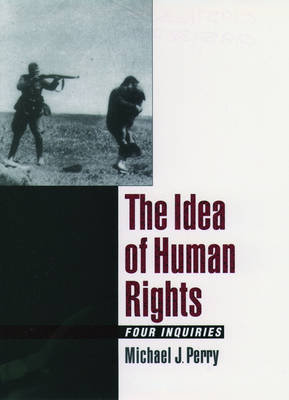 Paperback
170

Pages / Published: 30/03/2000
Inspired by a 1988 trip to El Salvador, Michael J. Perry's new book is a personal and scholarly exploration of the idea of human rights. Perry is one of our nation's leading authorities on the relation of morality, including religious morality, to politics and law. He seeks, in this book, to disentangle the complex idea of human rights by way of four probing and interrelated essays. * The initial essay, which is animated by Perry's skepticism about the capacity of any secular morality to offer a coherent account of the idea of human rights, suggests that the first part of the idea of human rights-the premise that every human being is "sacred" or "inviolable"-is inescapably religious. * Responding to recent criticism of "rights talk", Perry explicates, in his second essay, the meaning and value of talk about human rights. * In his third essay, Perry asks a fundamental question about human rights: Are they universal? In addressing this question, he disaggregates and criticizes several different varieties of "moral relativism" and then considers the implications of these different relativist positions for claims about human rights. * Perry turns to another fundamental question about human rights in his final essay: Are they absolute? He concludes that even if no human rights, understood as moral rights, are absolute or unconditional, some human rights, understood as international legal rights, are-and indeed, should be-absolute. In the introduction, Perry writes: "Of all the influential-indeed, formative-moral ideas to take center stage in the twentieth century, like democracy and socialism, the idea of human rights (which, again, in one form or another, is an old idea) is, for many, the most difficult. It is the most difficult in the sense that it is, for many, the hardest of the great moral ideas to integrate, the hardest to square, with the reigning intellectual assumptions of the age, especially what Bernard Williams has called 'Nietzsche's thought': 'There is not only no God, but no metaphysical order of any kind...' For those who accept 'Nietzsche's thought', can the idea of human rights possibly be more than a kind of aesthetic preference? In a culture in which it was widely believed that there is no God or metaphysical order of any kind, on what basis, if any, could the idea of human rights long survive?" The Idea of Human Rights: Four Inquiries will appeal to students of many disciplines, including (but not limited to) law, philosophy, religion, and politics. Of all the influential-indeed, formative-moral ideas to occupy centre stage in the twentieth century, the notion of human rights is for many the most difficult.
Publisher: Oxford University Press Inc
ISBN: 9780195138283
Number of pages: 170
Weight: 283 g
Dimensions: 235 x 154 x 13 mm
---
MEDIA REVIEWS
"Michael Perry's new book, The Idea of Human Rights, is in my view the best thing that this unusually thoughtful legal scholar has yet done. It is hardly possible to exaggerate the importance of the central idea that he is pursuing: that to speak, as so many claim to do, of 'human rights' from a purely secular perspective may well not make any sense. His willingness to confront the implications of 'the death of God' is precisely what is absent from so much moral, legal, and political rights talk. Anyone who wants to make universal claims for the concept of human rights needs to confront the arguments put forth in this provocative and timely book."-Paul Campos, University of Colorado (Boulder)
"For those who wish to plumb the depths of the largest issues of our time, this book must be read-for it does just that. The author's passion for crystallizing the meaning of human rights in humankind's understanding today is tangible, and his painstaking research and inquiry into others' views on the subject are evident from his reflective, albeit one-sided, debate with their theories....It is a teaching book....a valuable resource."-JURIST
"This timely reaffirmation of human dignity and value is a worthwhile complement to collections seeking to document the post-WW II formation of international human rights law and its defense."-Choice
"Excellent, perhaps Perry's best (which is saying a lot)....At a time when legal scholarship is becoming increasingly dull and unmoored...Chapter One of this book...seems to me an exceptional and outstanding piece of work. The essay shows, I think, that it is possible for a legal scholar to write carefully, thoughtfully, and even constructively about things that really matter...As with his other work, The Idea of Human Rights reflects Perry's broad reading and his effort to carefully consider the variety of objections, counter-arguments, etc. Not many legal scholars are as conscientious as Perry.
"Questions of human righs have become important to a variety of disciplines and sub-diciplines-constitutional law, international law, jurisprudence and political science being the most obvious. Since Perry's book is to a large extent concerned with questions of religion and ethics, it will also be important for theologians and philosophers. Perry wrties lucidly enough that his book will be suitiable not only for scholars but for students in specialized seminars."-Steven Smith, Robert & Marion Short Professor of Law, University of Notre Dame
You may also be interested in...
Simply reserve online and pay at the counter when you collect. Available in shop from just two hours, subject to availability.
Thank you for your reservation
Your order is now being processed and we have sent a confirmation email to you at
When will my order be ready to collect?
Following the initial email, you will be contacted by the shop to confirm that your item is available for collection.
Call us on or send us an email at
Unfortunately there has been a problem with your order
Please try again or alternatively you can contact your chosen shop on or send us an email at