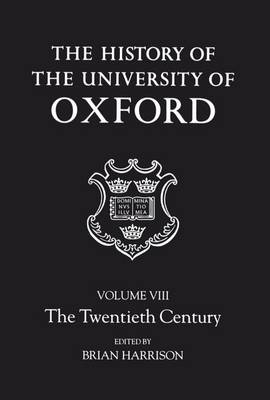 The History of the University of Oxford: The Twentieth Century Volume VIII - The History of the University of Oxford (Hardback)
Brian Harrison
Hardback
Published: 07/04/1994
Can be ordered from our supplier
This volume, the eighth in The History of the University of Oxford, is the first study of how one of the world's major universities has responded to the formidable challenges offered by the twentieth century. Because Oxford's response has not taken a revolutionary or dramatic form, outside observers have not always appreciated the scale of its transformation. Focusing on the years from 1914 to 1970, the authors show how misleading is Evelyn Waugh's Brideshead Revisited as a guide to modern Oxford. Full attention is given to the forces making for change: the rapid growth in provision for the natural and social sciences; the advance of professionalism in scholarship, sport, and cultural achievement; the diffusion of international influences through Rhodes scholars, two world wars, and the University's mounting research priorities; the growing impact of government and of public funding; the steady advance of women; and the impact made by Oxford's broadened criteria for undergraduate admission. Yet the continuities are also stressed: the day-to-day realities of college life; the continuous adaptation and extension of ancient buildings; the persistence of Oxford's traditional emphasis on undergraduate study, on the humanities, and on religion; the steady accumulation of books, research materials, objects of art, and scholarly espertise. Although the emphasis rests on the University's national and international role, and how it has interacted with outside influences, changes in Oxford's internal structure are not neglected, and an epilogue links the volume's historical material with the most recent developments. With its concern for the interaction between ideas and their environment, this generously illustrated and scholarly study contributes significantly to the history of ideas and culture in twentieth-century Britain. It sheds light on the training given to an important section of the nation's political and cultural opinion-formers. And, given the University's distinctive structure and the authors' efforts to avoid undue introspection or self-congratulation, the volume also provides valuable background material for the discussion of educational policy. In short, its presents the reader with a rich cornucopia of insight into many aspects of British life. Contributors: J.M. Winter, Pembroke College, Cambridge; John Prest, Balliol College, Oxford; Dan Greenstein, University of Glasgow; Brian Harrison, K.V. Thomas, and Valentine Cunningham, all of Corpus Christi College, Oxford; Robert Currie, Wadham College, Oxford; J.B. Morrell, Emeritus Professor, University of Bradford; Paul Addison University of Edinburgh; Jose Harris, St Catherine's College, Oxford; John Roche Linacre College, Oxford; Frank Turner, Yale University; Charles Webster, All Souls College, Oxford; Janet Howarth, St Hilda's College, Oxford;R.A. Denniston, G.G. Barber, C.J. White, Diane Kay, D.J. Wenden, R.C. Whiting, A.H. Halsey, J.G. Darwin, J.P.D. Dunbabin, and M. Brock.
Publisher: Oxford University Press
ISBN: 9780198229742
You may also be interested in...
We would love to hear what you think of Waterstones. Why not review Waterstones on Trustpilot?