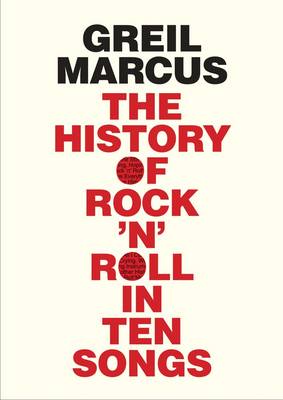 The History of Rock 'n' Roll in Ten Songs (Hardback)
Greil Marcus
(author)
Hardback
320

Pages / Published: 11/09/2014
One of our finest critics gives us an altogether original history of rock 'n' roll

Unlike all previous versions of rock 'n' roll history, this book omits almost every iconic performer and ignores the storied events and turning points that everyone knows. Instead, in a daring stroke, Greil Marcus selects ten songs recorded between 1956 and 2008, then proceeds to dramatize how each embodies rock 'n' roll as a thing in itself, in the story it tells, inhabits, and acts out-a new language, something new under the sun.

"Transmission" by Joy Division. "All I Could Do Was Cry" by Etta James and then Beyonce. "To Know Him Is to Love Him," first by the Teddy Bears and almost half a century later by Amy Winehouse. In Marcus's hands these and other songs tell the story of the music, which is, at bottom, the story of the desire for freedom in all its unruly and liberating glory. Slipping the constraints of chronology, Marcus braids together past and present, holding up to the light the ways that these striking songs fall through time and circumstance, gaining momentum and meaning, astonishing us by upending our presumptions and prejudices. This book, by a founder of contemporary rock criticism-and its most gifted and incisive practitioner-is destined to become an enduring classic.
Publisher: Yale University Press
ISBN: 9780300187373
Number of pages: 320
Weight: 590 g
Dimensions: 225 x 156 x 27 mm
---
MEDIA REVIEWS
"This could be Marcus' most inviting book: Emotion paces erudition, and the present gets to ride shotgun with the past, real and imagined."-Will Hermes, Rolling Stone
"Marcus is our greatest cultural critic, not only because of what he says but also, as with rock-and-roll itself, how he says it."-David Kirby, The Washington Post
"In his new book, which is surely one of his best and most beautifully written, Marcus revisits ten songs, recorded during the last sixty years, some of them long forgotten, in order to capture the pulsating and powerful language of rock 'n' roll. . . . The book, I am certain, will compel readers to return to the songs Marcus has anointed, and to others. Even if they have heard them before, they will listen to them as if for the first time."-Glenn C. Altschuler, The Huffington Post
"Marcus, of course, is one of the epic figures in rock writing. . . . Like so many of Marcus's previous books, The History of Rock `n' Roll in Ten Songs often feels like a tone poem or perhaps a written embodiment of the cultural memory. He flows through the songs and musicians he loves as if creating a waking dream crowded with the stars of rock history."-Toure, The New York Times Book Review
"Revolutionary."-Elissa Schappell, Vanity Fair
"For Marcus, every great song is a Rosetta Stone, an esoteric code. This approach gives him great imaginative, literary breadth. . . . Out of Marcus' dozen or so books, Ten Songs is the purest distillation of his ideas. . . . The chapters on Joy Division, on Buddy Holly, and on the two `Money' songs are tours de force."-Carl Wilson, Slate
"True musos need little introduction to Marcus, whose meditations on the rock and pop canon have delighted many. . . . Here, he is at his most ambitious and obtuse, defying the obvious choices to map an alternative history of popular music."-Louis Wise, The Sunday Times
"Marcus rambles the back roads of rock history in this inventive and entertaining collection of short biographies of 10 songs spanning the entire breadth of rock-and-roll, from doo-wop to post-punk, demonstrating how rock's impulse to combine (and recombine) its influences made each possible and entirely original."-Jon Foro, from Amazon's Big Fall Books Preview, an Editor's Pick
"Marcus ingeniously retells the tale of rock and roll as the undulating movement of one song through the decades, speaking anew in different settings. . . . Marcus brilliantly illustrates what many rock music fans suspected all along but what many rock critics have failed to say: rock 'n' roll is a universal language that transcends time and space and reveals all mysteries and truths."-Publishers Weekly, Starred Review
"The book is really a series of essays, cunningly chiselled, lovingly woven, bold, tough and illuminating, the intention being `to feel one's way through music as a field of expression and as a web of affinities.'"-Mark Ellen, New Statesman
"Overall, it's a stunning, virtuosic performance, as good as any and better than most of what Greil Marcus has written since 1975's genre-redefining Mystery Train. It's a hectic, wild and occasionally bumpy ride, loaded with trapdoors and wormholes leading to unexpected places where you never quite know who you'll confront next, and where you'll immediately yearn to hear every record to which he alludes."-Charles Shaar Murray, Literary Review
"He is . . . a serious writer, dedicated to unlocking the hidden truths and secret meanings in popular music, making those cultural connections to literature, film, and art and by doing so elevating rock and pop music to a discipline that demands to be taken seriously."-Andy Childs, Caught by the River blog
"Marcus is a man in brainy love with the music. I don't know of anyone else who writes as beautifully, and deeply, about songs and singing."-Roddy Doyle, The Irish Times
"The title of the US critic's latest playful, erudite and passionate work, The History of Rock n Roll in Ten Songs, should come with lurid neon inverts around each constituent part: 'The History' of 'Rock `n' Roll' in Ten 'Songs.' It's a magnificently subjective history, in which significant chunks are set outside the realm of rock, in pop or soul."-Kitty Empire, The Observer
"His accounts of listening to these songs, of being transported in unearthly directions by them, show him to be as bewitched by this music as he ever was . . . The Mystery of Rock `n' Roll in Ten Songs might have been a truer name for his latest inspired, wonder-struck book."-Paul Genders, TLS
Winner of the 2015 Deems Taylor Virgil Thomson Award in Music Criticism, given by the American Society of Composers, Authors & Publishers
"You could go to the Rock and Roll Hall of Fame and take in the artifacts and roll call or you can read Greil Marcus' kinetic, pulsing, brilliant history of this deeply American art form, The History of Rock `N' Roll in Ten Songs. From his choice of which ten songs to explore to his invention of a kind of a listener's lexicon-a new way of bending sound to language-Marcus captures why Rock and Roll resonates down to our bones."-Walter Mosley
"When I was 18 and leaving home for college, my brother put one thing in my hand: a copy of Greil Marcus's Mystery Train. It changed my life. More than 20 years have passed, and he's still the Don, still connecting caves. He's as good on Beyonce in this new book as he was on Harmonica Frank back then, but the range of associations is wider, the mind making them deeper, and the deceptively jazzy precision of his prose sharper. He's a treasure."-John Jeremiah Sullivan
"A great essay begins with a theme and then makes it fly. Greil Marcus can make it soar. In The History of Rock `n' Roll in Ten Songs he does just that. He says of Amy Winehouse that she could unlock a song. Marcus unlocks rock `n' roll history to find more than you ever thought might be there."-Jenny Diski
"I first heard Elvis in early 1956 in a school corridor in Norfolk, England. I knew something profound had happened. Where was Greil Marcus back in those Dark Ages to explain to me what was going on? He knows everything and tells an electrifying story."-Stephen Frears
"Like Leslie Fiedler, Greil Marcus is a critic for the ages. There aren't many writers I've learned more from, nor many whose word for word and sentence for sentence writing I enjoy more. The History of Rock `n' Roll in Ten Songs is among his richest work, perhaps his most heartfelt. Like Mystery Train, it's something we will be learning from, that will give us new ways to think about the sounds that have filled the worlds around us and the worlds inside us, for years to come."-Mikal Gilmore

You may also be interested in...
Simply reserve online and pay at the counter when you collect. Available in shop from just two hours, subject to availability.
Thank you for your reservation
Your order is now being processed and we have sent a confirmation email to you at
When will my order be ready to collect?
Following the initial email, you will be contacted by the shop to confirm that your item is available for collection.
Call us on or send us an email at
Unfortunately there has been a problem with your order
Please try again or alternatively you can contact your chosen shop on or send us an email at