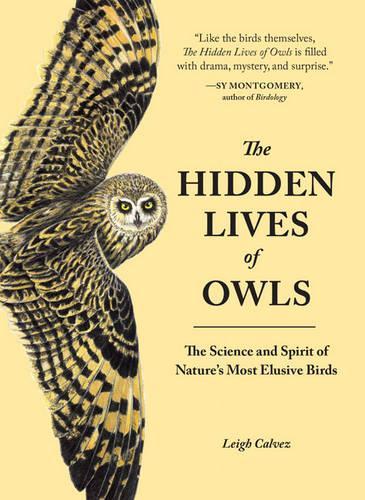 Paperback
224

Pages / Published: 15/09/2016
Embark on an adventure into the world of owls, owl-watching, avian and the deep forest. Leigh Calvez pursues nine different owl species including the great horned, spotted and snowy. Calvez makes the science entertaining and accessible through the stories of the people who are obsessed with these birds and her own avian adventures in the field. The author entertainingly explores the questions about the human-animal connection, owl obsession, habitat, owl calls, social behaviour and mythology.
Publisher: Sasquatch Books
ISBN: 9781632170255
Number of pages: 224
Weight: 242 g
Dimensions: 191 x 141 x 16 mm
---
MEDIA REVIEWS
#9 on the New York Times Best Seller list (Animal Books)
PNBA bestseller
"Leigh Calvez enters the world of owls with a sense of wonder as wide-eyed as her subjects. The reader shares every discovery along the way in this winning and heartfelt exploration."
--Thor Hanson, author of Feathers and Bartholomew Quill
"Almost like spying on the neighbors, Leigh joins the brother- and sisterhood of nocturnal birders who track and measure night birds for science and for love. I've often wondered what the owls were saying to each other. The answer is surprising but inevitable, like all good stories."
--Kathleen Alcal , author of The Deepest Roots
"You'll love going owling with superb naturalist and writer Leigh Calvez. Like the birds themselves, The Hidden Lives of Owls is filled with drama, mystery, and surprise. You'll come away from this riveting book blessed with owl wisdom that will enlarge your world forever."
--Sy Montgomery, author of Birdology and The Soul of an Octopus

"Naturalist Leigh Calvez looks into the almost-human eyes of these elusive birds and shares her riveting and well-told adventures of owling. Informative as it is captivating, this book is a compelling window into the science and secrets of these guardians of the forest."
--Brenda Peterson, author of Build Me an Ark: A Life with Animals
"Aims to entertain by sharing...owl adventures in the field, and by discussing mythology and owl obsession."
--Forbes
"Calvez probes the forest at night in search of answers to the mystery [of owls], exploring topics such as owl calls, social behavior and mythology attached to the species."
--The Chicago Tribune

"Calvez writes with feeling and is obviously in awe of these mysterious creatures."
--Library Journal
"This enthusiastic study of the owls of the Pacific Northwest may inspire new fans and citizen scientists."
--Shelf Awareness
"[Calvez] unravels the mysteries of owls."
--Bainbridge Island Review
"Top ten."
--Bozeman Daily Chronicle
"Leigh Calvez shares what she calls her 'owl journey' in this beautiful book, which is full of sensitive observations and high drama. It's a pleasure to see the world through an owl's eyes, a point of view that Leigh herself believes has enlarged her life. Certainly this book does the same for ours."
--Kristin von Kreisler, author of An Unexpected Grace and Earnest
"An owling delight."
--The Owl Pages
"A thought-provoking, behind-the-scenes look."
--ArcaMax
"An ode to the owl."
--The Washington Post
"Reveals the natural history of 11 different owl species...while weaving in explorations of human-animal connections, mythology and owl obsession."
--Cascadia Weekly
"A look [at] the owls of the Northwest."
--The Olympian
A 2016 Washington State Book Award Finalist
"[An] illuminating journey."
--Sierra Magazine
"Explorations of human-animal connections."
--Chattermarks

"Leigh Calvez is an owl expert who will explain why they are simultaneously cooler and more disgusting than the Harry Potter books ever let on."
--Seattle Weekly
"Leigh Calvez shares many such trivia-friendly tidbits while providing the definitive histories of 11 owl species."
--Audubon Magazine
"It's time to talk about owls."
--The Seattle Review of Books
"Calvez's The Hidden Life of Owls is particularly entertaining to read because she describes the adventures she has looking for and finding the owls... You will enjoy following Calvez's adventures, as she begins to understand that the owls provide her with a way of "knowing something more" about her world than she has known before."
--Evergreen Audubon

"Entertaining and enlightening... a worthwhile and enjoyable read."
--Birdwatch Magazine
"[Calvez's] writing integrates the luscious imagery of her surroundings along with the scientific data and analysis... it creates such an engaging reading experience."
--Owl Eye
"This book intertwines the natural history of eleven owl species with Calvez's personal experiences, adventures and often, close encounters."
--Bird Watcher's Digest
"Bird lovers will enjoy."
--Peninsula Daily News
"Standout title."
--Publishers Weekly
You may also be interested in...
Simply reserve online and pay at the counter when you collect. Available in shop from just two hours, subject to availability.
Thank you for your reservation
Your order is now being processed and we have sent a confirmation email to you at
When will my order be ready to collect?
Following the initial email, you will be contacted by the shop to confirm that your item is available for collection.
Call us on or send us an email at
Unfortunately there has been a problem with your order
Please try again or alternatively you can contact your chosen shop on or send us an email at