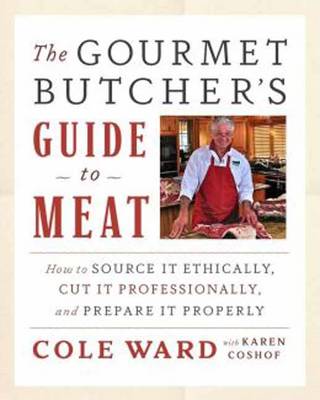 The Gourmet Butcher's Guide to Meat: How to Source it Ethically, Cut it Professionally, and Prepare it Properly
Ward Cole

(author)

,

Karen Coshof

(author)
Mixed media product
416

Pages / Published: 06/03/2014
Vermont-based master butcher Cole Ward delivers a comprehensive guide to whole-animal butchery that goes beyond conventional "do-it-yourself" books and takes readers inside the world of truly sustainable meat production. The Gourmet Butcher's Guide to Meat demystifies the process of getting meat to the table, and its wide scope will be welcome to those who not only wish to learn the rudiments of butchery, but also want to understand how meat animals are raised, slaughtered, and marketed in a holistic system that honors both animals and consumers.

Written in Cole's unique voice of humor and simplicity, the book celebrates the traditional art of culinary butchery, introducing readers to stand-out butchers in America and Europe as well as a diverse group of farmers committed to raising the very best animals with respect.

The many methods of raising and finishing meat animals are clearly and thoroughly explained and compared, and sensitive issues like hormone and antibiotic use in meat production are assessed. Readers will learn all the terminology associated with meat and butchery, as well as the complexities of meat grading, carcass yield, marbling scores, and issues with inspection.

Also included are recipes, a detailed glossary, and more information on:

- The real definition, work, and role of a culinary butcher;
- The history and tradition of butchery;
- Meat: selecting your breed, grading and aging, tenderness, storing; and reheating;
- How meat gets to the table: farmers, slaughtering methods, stress, and animal welfare, the role of meat inspectors, cut sheets, what's legally allowed/not allowed when purchasing meat for further processing, keeping integrity in the local meat movement;
- Understanding the commercial meat food chain and recognizing deceptive practices;
- Processing your own meat: what you'll need, tools, safety, prep;
- Beef: domestication, terminology, how cows work, raising methods (grass, grain, etc.), meat-safety issues, hormone growth implants, antibiotics and feed additives, carcass yield and marbling scores, and a partial list of beef breeds;
- Cutting up a beef forequarter and hindquarter;
- Pork: domestication, terminology, raising methods, grading and inspection, and a partial list of pork breeds;
- Cutting up a side of pork;
- Sheep: domestication, terminology, raising methods, and a partial list of meat breeds;
- Cutting up a whole lamb;
- Chicken: domestication, terminology, how to cut up a whole chicken;
- How to make sausages;
- Value-added products: what they are and how they can help increase your bottom line;
- Your own butcher shop: size, equipment, display, marketing;
- A better way of thinking about meat: a holistic overview and some conclusions.

History buffs will delight in the chapter that traces the roots of butchery from pre-history to modern times, and meat shoppers will welcome Cole's description of what goes on behind the scenes at meat markets large and small. And, of course, new or aspiring butchers will find a well-illustrated slideshow on CD (included in the back of the book) with over 800 images on cutting up a side of beef, a side of pork, and whole lamb and chicken in more detail than is offered in any other book on the subject. Sure to be the ultimate resource on the subject of gourmet butchery, this book will change the conversation and help bring back a traditional art that is in jeopardy, but increasingly important in the local-food and ecological-agriculture movement.
Publisher: Chelsea Green Publishing Co
ISBN: 9781603584685
Number of pages: 416
Weight: 1211 g
Dimensions: 254 x 203 x 26 mm
---
MEDIA REVIEWS
Library Journal-
"For old-world experience of the art of butchery, look no further than master butcher and lecturer Ward. His deep knowledge shines as he delves into nearly every aspect of butchery--from its role in ancient Egypt to profiles of individual farmers and shops to the controversy around ritual slaughter--before ever addressing how to carve up a carcass. While parts of this background are compelling, especially Ward's personal story, those looking for practical instructions will have a 100-page wait. Once there, however, readers are greeted with detailed, well-organized information on choosing and processing the best beef, pork, lamb, and chicken. A CD is included for most of the carving instruction. Sensitive readers be warned: like a well-seasoned piece of meat, Ward's language is mildly salty. -VERDICT With artisan meat and home butchery growing in popularity among DIYers and urban homesteaders, this book is on trend. However, its detailed emphasis on theory and history make it better suited to the serious gourmet than to the casual foodie."
Booklist-
"Resolutely carnivorous, Ward amasses evidence confirming that humans have been meat eaters from early in their history. He passionately defends humane animal husbandry, maintaining that properly slaughtered and processed animals produce superior meat. Ward has little use for high-volume, big-business meat packers. Addressing beef, pork, lamb, and chicken, he inventories some of currently popular animal breeds whose flesh offers exceptional flavors. Ward explains how to break down an animal's primal cuts to produce roasts, steaks, and chops, and he offers some unique recipes for sausages. A bibliography gives sources for further exploration, and a CD supplements the book with step-by-step instructional photos."
"Cole Ward has done an extraordinary job of balancing the widely diverse components of meat production, marketing, and quality in this comprehensive and uniquely informative book. The author has taken every effort to present even the most contentious issues surrounding meat production from a balanced and accurate perspective. His thorough treatment of these issues provides the reader the opportunity to make a well-informed decision as a matter of personal choice, unencumbered by emotion or innuendo.
However, the real value of the book is in the articulate way Ward connects the reader to both the science and the artisanship of gourmet butchering. His comfortable style and incomparable knowledge of gourmet butchering make this a valuable resource for quality meat aficionados and a must read for chefs, butchers, and meat-lovers everywhere."--Mark Boggess, PhD, animal scientist and meat industry expert
"This comprehensive book is far more than a guide to cutting meat--it's for anyone who wants a better understanding of meat (and we all should). Engaging, informative, and, yes, fun!"--Nicolette Hahn Niman, rancher and author, Righteous Porkchop: Finding a Life and Good Food Beyond Factory Farms
"Is there a bible of meat? There is one now. Cole Ward's book demystifies the whole process of how animals are raised, slaughtered, and eventually make it to your plate. From learning about breeds to cutting up your own side of beef, you will be a more empowered meat eater once you read this book."--Rebecca Thistlethwaite, author, Farms with a Future
"After nearly forty years of concentrating, industrializing, and deskilling the livestock and meat industries, a few global meat companies have separated the eater from the farmer, land, communities, and animals that we depend on for food. Cole Ward helps restore the lost craftsmanship of meat production by sharing critical knowledge about where meat comes from and how it's produced, processed, and marketed. His book takes the reader on an important journey from animal husbandry through the fading art of butchery to recipes for preparing a healthy meal, all interwoven with explanatory pictures, notes, and interesting trivia."--Mike Callicrate, owner, Callicrate Cattle Company and Ranch Foods Direct
You may also be interested in...
Simply reserve online and pay at the counter when you collect. Available in shop from just two hours, subject to availability.
Thank you for your reservation
Your order is now being processed and we have sent a confirmation email to you at
When will my order be ready to collect?
Following the initial email, you will be contacted by the shop to confirm that your item is available for collection.
Call us on or send us an email at
Unfortunately there has been a problem with your order
Please try again or alternatively you can contact your chosen shop on or send us an email at