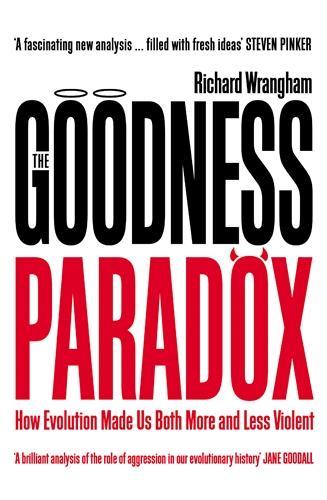 The Goodness Paradox: How Evolution Made Us Both More and Less Violent (Paperback)
Richard Wrangham
(author)
Paperback
400

Pages
Published: 02/01/2020
'A fascinating new analysis of human violence, filled with fresh ideas and gripping evidence from our primate cousins, historical forebears, and contemporary neighbors' Steven Pinker

'A brilliant analysis of the role of aggression in our evolutionary history' Jane Goodall

It may not always seem so, but day-to-day interactions between individual humans are extraordinarily peaceful. That is not to say that we are perfect, just far less violent than most animals, especially our closest relatives, the chimpanzee and their legendarily docile cousins, the Bonobo. Perhaps surprisingly, we rape, maim, and kill many fewer of our neighbours than all other primates and almost all undomesticated animals. But there is one form of violence that humans exceed all other animals in by several degrees: organized proactive violence against other groups of humans. It seems, we are the only animal that goes to war.

In the Goodness Paradox, Richard Wrangham wrestles with this paradox at the heart of human behaviour. Drawing on new research by geneticists, neuroscientists, primatologists, and archaeologists, he shows that what domesticated our species was nothing less than the invention of capital punishment which eliminated the least cooperative and most aggressive among us. But that development is exactly what laid the groundwork for the worst of our atrocities.
Publisher: Profile Books Ltd
ISBN: 9781781255841
Number of pages: 400
Weight: 320 g
Dimensions: 196 x 130 x 28 mm
Edition: Main
---
MEDIA REVIEWS
Magisterial ... [an] extraordinarily detailed, cogently argued, hugely important book His skilful storytelling-which intertwines his hypotheses regarding primitive humans with rich details from decades of observations of chimpanzees in Tanzania-makes his book both stimulating and compelling A brilliant analysis of the role of aggression in our evolutionary history Nobody knows more, thinks deeper, or writes better about the evolution of modern human beings than Richard Wrangham. Here he reveals a rich and satisfying story about the self-domestication of our species, drawing upon remarkable observations and experiments A fascinating new analysis of human violence, filled with fresh ideas and gripping evidence from our primate cousins, historical forebears, and contemporary neighbors In this revolutionary, illuminating, and dazzling book, Wrangham provides the first compelling explanation for how and why humans can be so cooperative, kind, and compassionate, yet simultaneously so brutal, aggressive, and cruel. His brilliant self-domestication hypothesis will transform your views of what it means to be human This will prove to be one of the most important publications of our time. Fully supported scientific information from many directions leads us to a new and compelling analysis of our evolutionary history. Every page is fascinating, every revelation is unforgettable. It will change how we see ourselves, our past, and our future Richard Wrangham has written a brilliant and honest book about humanity's central contradiction: that we are capable of mass murder but live in societies with almost no violence. No other species straddles such a wide gap, and the reasons are staggeringly obvious once Wrangham lays them out in his calm, learned prose. This book is science writing at its best: lucid, rational and yet deeply concerned with humanity This is the most thought-provoking book I have read in years. In clear, elegant prose, drawing on riveting data and vivid scenes gathered from species all over the world, renowned anthropologist Richard Wrangham examines the issues most central to human morality. How did the concepts of right and wrong evolve? Why does our kind excel at both cooperating with others and at waging war? The Goodness Paradox is a breakthrough book that deserves careful reading, thoughtful consideration, and lively debate among all those who care about our evolutionary history and the future of human morality Praise for Catching Fire: Startling and persuasive Richard Wrangham presents a powerful thesis - and the more you think about it, the more it seems to be true. As a very considerable bonus, his book is an excellent read An intriguing thesis... Wrangham's basic thesis, that cooking is the key to the human condition, is convincing and is presented in a lively and readable manner Lucidly written and accessible... What makes his thesis so gripping to read is that it is elegantly argued, step by step Compelling [and] brilliant A daringly unorthodox book, and one that might just transform the way we understand ourselves. This superbly lucid and comprehensive book shows how important cooking was to making us human. Food, its composition, and how it's harvested and processed are critical in the evolution of every animal species. This masterful work shows how cooking was-and continues to be-an essential part of humanity [Wrangham] has delivered a rare thing: a slim book ... that contains serious science yet is related in direct, no-nonsense prose. It is toothsome, skillfully prepared brain food. Absolutely fascinating Richard Wrangham's book is a tour de force on how to study human evolution, combining original ideas with an extraordinary range of science. With elegance and clarity, he has shown how cooking permeates all human life, and must have played a major part in making us what we are as a species Catching Fire is an extraordinary book-a truly important insight into our human past, and as always with Wrangham's work, a real page turner. He has the great gift of making hard and accurate science seem like an adventure story, as indeed it is. Like Demonic Males, Catching Fire will be read in many circles, from classrooms to general readers, to the enlightenment of us all. It's nice to have it confirmed that the raw foodists are not just annoying but also wrong... [Richard Wrangham] writes in this brilliant and original piece of science writing, which explains nothing less than who we are and how we got here... With devastating clarity he shows that the "Man the Hunter" thesis simply does not add up... Wrangham convincingly argues that unlike animals, human beings could not flourish on a raw diet (so yah-boo to the wheatgrass evangelists!)... you have to pinch yourself from time to time to remember just how new Wrangham's argument is. Something this big and original in evolutionary studies doesn't come along very often... In many ways, this is an exhilarating book... It is, too, a good book for vegetarians, who for too long have endured the Neanderthal taunts of carnivorous chefs Brilliantly Original and illuminating Able to see my preparations for Sunday lunch in a dizzying new perspective... Catching Fire is very readable and not in the least technical. Wrangham makes a compelling case... Wrangham's placing of cooking at the centre of what it is to be human carries a great deal of emotional conviction too. The ritual of the family Sunday lunch now also celebrates the birth of our species Good, big ideas about evolution are rare... Catching Fire is that rare thing, an exhilarating science book. And one that, for all its foodie topicality, means to stand the test of time Transforms a daily chore into a pivotal existential act stretching back millennia... a hugely readable history of our culinary pedigree... an energetic and enjoyable book... In this vivid account of human evolution, there's no need to cook the books Richard Wrangham's ingredients are freshly gathered from an impressive variety of fields This is the best kind of scientific writing: clear, strongly argued and provocative. That it's still contentious makes it all the more exciting.
You may also be interested in...
×
Download the Waterstones App
Would you like to proceed to the App store to download the Waterstones App?
Reserve online, pay on collection


Thank you for your reservation
Your order is now being processed and we have sent a confirmation email to you at
When will my order be ready to collect?
Following the initial email, you will be contacted by the shop to confirm that your item is available for collection.
Call us on or send us an email at
Unfortunately there has been a problem with your order
Please try again or alternatively you can contact your chosen shop on or send us an email at