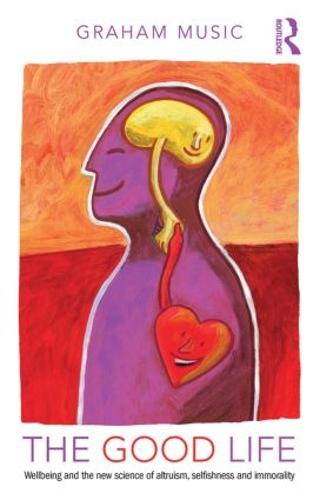 The Good Life: Wellbeing and the new science of altruism, selfishness and immorality (Paperback)
Graham Music
(author)
Paperback
244

Pages / Published: 14/05/2014
Are we born selfish or primed to help others?
Does stress make people more antisocial?
Can we ever be genuinely altruistic?
This book explores some of the dilemmas at the heart of being human. Integrating cutting edge studies with in-depth clinical experience, Graham Music synthesizes a wealth of fascinating research into an explanation of altruism, cooperation and generosity and shows how we are primed to turn off the 'better angels of our nature' in the face of stress, anxiety and fear.
Using fascinating psychological research but rooted in a clinicians understanding of the impact of stress on our moral and pro-social capacities, The Good Life covers topics as diverse as:
The role of parenting and family life in shaping how antisocial or pro-social we becomeHow stress, abuse and insecure attachment profoundly undermine empathic and altruistic capacitiesThe relative influence of our genes or environments on becoming big-hearted or coldly psychopathic How our immediate contexts and recent social changes might tilt us towards either selfish or cooperative behaviour
This book makes a unique contribution to a subject that is increasingly on people's minds. It does not shirk complexity, nor suggest easy explanations, but offers a hard look at the evidence in the hope that we can gain some understanding of how a 'Good Life' might develop. Often personally challenging, intellectually exhilarating and written with an easily accessible style, The Good Life makes sense of how our moral selves take shape, and shines a light on the roots of goodness and nastiness.
Publisher: Taylor & Francis Ltd
ISBN: 9781848722279
Number of pages: 244
Weight: 295 g
Dimensions: 216 x 138 x 15 mm
---
MEDIA REVIEWS
"...the reader cannot help but be convince by Music's central premise: that pro-social behaviour is part of our genetic inheritance, and can be supported or negated both by early patters of nurturance and wider social factors" - Diana Birkett, British Journal of Psychotherapy
"I am really impressed by the amount of research that has gone into pulling this book together from such diverse aspects of human life. The author has managed to create a tantalising review of the fundamentals of humanness and in less than 200 pages."- Jenny Watkins, Trainee Person-Centred Psychotherapist, Person Centred Quarterly
"This is an important book that covers an immense ground. It is full of fascinating detail from the research, scrupulously evidenced, and a salutary read." - Catherine Jackson, Deputy Editor of Therapy Today
"What tips us towards selfish or altruistic behaviour? Graham Music's readable overview of current research in child development and moral psychology helps us to find answers. Using vivid examples from his own work with children, he shows how harsh or insensitive child-rearing can promote materialism and anti-social behaviour, whilst care and kindness underpin well-being and empathy for others. This is a timely and important message we ignore at our peril."- Sue Gerhardt, psychotherapist and author of Why Love Matters: How Affection Shapes A Baby's Brain
"An incisive and timely critique of the "I'm OK, You're Not" Society." - Oliver James, clinical psychologist and best-selling author of Affluenza
"Following his best-selling Nurturing Natures, Music now brings a child psychotherapy perspective on the crucial issue of the psychobiological origins of altruism, cooperation, social cohesion and prosociality. Drawing on an impressive array of evidence, he shows how positive emotions and actions are as integral to our nature as greed and destructiveness. He identifies the conditions that foster positivity -- sensitive parenting, mindfulness, freedom from envy and anxiety -- and those that diminish them, inequality, trauma and neglect. All this is done with Music's characteristic combination of passion and scientific rigour. Accessible to professionals and general readers alike, in this compelling synthesis the selfish gene hypothesis finally meets its nemesis." - Prof Jeremy Holmes MD FRCPsych University of Exeter, UK
"Having just read The Good Life, the psychotherapist Graham Music's new book on altruism, the good news is that, according to Music, humans aren't born selfish. Toddlers have an inbuilt urge to help adults (although anyone whose toddler likes "helping" with domestic chores knows it's uncannily close to hindering). Sadly he works with children whose capacity for niceness to others has been stunted by abuse. But given reasonable parenting, most of us grow up capable of behaving collaboratively or rapaciously, depending on which way we're pushed." - Gaby Hinsliff, The Times
"We humans are not born to be hard. Graham Music is a consultant child psychotherapist at the Tavistock and Portman clinics. His new book, The Good Life: Wellbeing and the New Science of Altruism, Selfishness and Immorality, establishes that children are instinctively generous and social. They only learn to become selfish and brattish." - Yasmin Alibahi Brown, The Independent
"It collates decades of social experimental research and draws on Music's experience as a consultant to paint a grim picture of a western society undermining its natural tendency towards empathy and tipping dramatically towards nastiness." - Tracy McVie, The Observer
"It confirms, through use of data collected by scientists over the last 40 years, what we have all long suspected from anecdote and our own eyes: the materialistic tend to be unhappy .... We cannot say we were not warned." - Tanya Gold, The Guardian
"The Good Life: Wellbeing and the new science of altruism, selfishness and immorality argues that being materialistic makes us more selfish, while living altruistic lives with close friend and family bonds make us feel happy and fulfilled. Dr Music's book draws on the latest psychological research and brain science alongside decades of his own clinical work with traumatised children and adolescents." - Hampstead and Highgate Express
"Drawing from nearly 600 academic sources on child development and moral psychology, He argues that harried parenting and rampant materialism are making children meaner and more self-absorbed. Raised to prize consumer goods over people, children with low empathy are turning into narcissistic adults who have never learned the intrinsic rewards of social belonging and interdependence." - Adriana Barton, The Globe and Mail, Canada
"This is a deeply sobering book...This is an important book that covers an immense ground. It is full of fascinating detail from the research, scrupulously evidenced, and a salutary read." - Catherine Jackson, Therapy Today
You may also be interested in...
×
Download the Waterstones App
Would you like to proceed to the App store to download the Waterstones App?
Reserve online, pay on collection.
Or,
add to basket
, pay online, collect in as little as 2 hours, subject to availability.
Thank you for your reservation
Your order is now being processed and we have sent a confirmation email to you at
When will my order be ready to collect?
Following the initial email, you will be contacted by the shop to confirm that your item is available for collection.
Call us on or send us an email at
Unfortunately there has been a problem with your order
Please try again or alternatively you can contact your chosen shop on or send us an email at