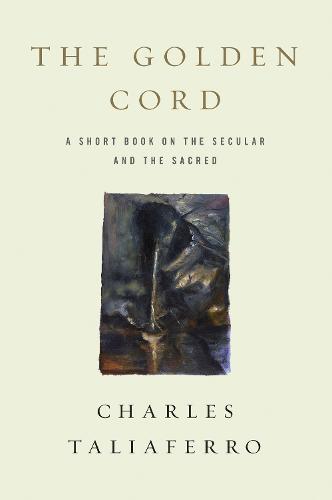 The Golden Cord: A Short Book on the Secular and the Sacred (Paperback)
Charles Taliaferro
(author)
Paperback
184

Pages / Published: 30/12/2012
The title of Charles Taliaferro's book is derived from poems and stories in which a person in peril or on a quest must follow a cord or string in order to find the way to happiness, safety, or home. In one of the most famous of such tales, the ancient Greek hero Theseus follows the string given him by Ariadne to mark his way in and out of the Minotaur's labyrinth. William Blake's poem "Jerusalem" uses the metaphor of a golden string, which, if followed, will lead one to heaven itself. Taliaferro extends Blake's metaphor to illustrate the ways we can link what we see, feel, and do with deep spiritual realities.

Taliaferro offers a foundational case for the recognition of the experience of the eternal God of Christianity, in which God is understood as the fount of all goodness and the subject and object of our best love, revealed through scripture, tradition, philosophical reflection, and encountered in everyday events. He addresses philosophical obstacles to the recognition of such experiences, especially objections from the "new atheists," and explores the values involved in thinking and experiencing God as eternal. These include the belief that the eternal goodness of God subordinates temporal goods, such as the pursuit of fame and earthly glory; that God is the essence of life; and that the eternal God hallows domestic goods, blessing the everyday goods of ordinary life. An exploration of the moral and spiritual riches of the Christian tradition as an alternative to materialism and naturalism, The Golden Cord brings an originality and depth to the debate in accessible and engaging prose.
Publisher: University of Notre Dame Press
ISBN: 9780268042387
Number of pages: 184
Weight: 340 g
Dimensions: 229 x 152 x 18 mm
---
MEDIA REVIEWS
"Charles Taliaferro is a first rate philosopher.
The Golden Cord: A Short Book on the Secular and the Sacred
is truly original in that it picks up the debate about the viability of secular naturalism and brings it into conversation with Cambridge Platonism and with ascetic theological considerations. It will be of interest to students and scholars in philosophy, popular culture, and spirituality." --
William Abraham, Southern Methodist University
"In
The Golden Cord
, Charles Taliaferro again proves to be not only a careful and insightful thinker, but also a wonderfully enjoyable--and widely read--writer. As he tackles big questions of life, he engages the relevant philosophers of our time as well as literary figures from W. H. Auden and Virginia Woolf to Ernest Hemingway, George Orwell, Teilhard de Chardin, and J. R. R.Tolkien. As a guide, Taliaferro doesn't merely wander the edges; he plunges into core issues of our human existence, inviting his readers to wade into the great sea of divine love." --
Matthew Dickerson, author of The Mind and the Machine: What it Means to be Human and Why it Matters
"Charles Taliaferro has written a thought-provoking, original work that succeeds in throwing some of the central tenets of naturalism into question. He has gathered cutting-edge scholarship from the context of debates about naturalism and discusses that within the framework of a theological account of the human condition. The result is a robust theological response to secular naturalism, one that deserves to be taken seriously by the latter's proponents." --
Victoria Harrison, University of Glasgow
"Rooted in ideas and insights generated by the Cambridge Platonists, and over against contemporary secular naturalism, this book brilliantly demonstrates that signs of real meaning, purpose, and love exude within and throughout the universe. Follow Taliaferro's
The Golden Cord
to the very heart of reality and the good life--the wellspring of truth, value, beauty, and temporal and eternal goods." --
Chad Meister, Bethel College
"[One of the work's strength] lies in the easy accessibility of the important themes presented: experience, art and literature, and the way in which philosophical positions concerning God's existence imply and are grounded in different worldviews. Anselm's, Aquinas's, Hume's and other classical philosophical arguments for and against the existence of God will always be part of the human cultural heritage. But they do not of themselves address the question: why does it matter whether there is a God, or why does it matter that one believe (or disbelieve) in a God? What has it got to do with living a meaningful human life, or with enjoying one's life or finding one's inner peace? Taliaferro's book addresses and answers those questions admirably. . . Atheists are inclined to assume that something like, for instance, the argument from design is what motivates people to be Christian, as if Christian theism were essentially a kind of explanatory theory, partly quasi-scientific, partly philosophical. They will find much here to correct that impression. Taliaferro's is an effective and clear presentation that gives the indispensable context for understanding Christian belief in God." --
Notre Dame Philosophical Reviews
." . . In eight chapters, Taliaferro . . brings the bases of naturalistic and materialist views to critical evaluation by examining challenges to consciousness and selfless agency. He response to the challenges that incoherence and the problem of evil pose for theism. This volume interweaves philosophers, including Augustine, Nagel, Dennett, Parfit, and Van Inwagen together with ancient Christian texts to cover an extraordinary breadth of literature . . . This volume is one of the best this reviewer has read in many years. Essential." --
Choice
"[
The Golden Cord
] offers various reasons for resisting materialism and trusting the religious experience of God as an eternal, good being . . . insightfully argued and largely accessible to a wide academic audience. . . . Recommended for university and seminary libraries." --
Catholic Library World
"In this highly eclectic, personal, and engaging work, Charles Taliaferro argues why even 'gravity is a manifestation of God's love' . . . For Taliaferro, there are various cords in life that can lead us to God. To reach such a destination, he takes the reader along a journey whose terrain is steeped in literary metaphors, philosophical contours (and obstacles), and autobiographical insights and depictions. . . . [For him, ] personal experience cannot be excised from any so-called academic work and it is refreshing to see an author (and a publisher) encourage such mixing." -- The Heythrop Journal
"These [final] chapters do not merely talk abut the divine life: they disclose it. The skeptical reader may forget about the time and find himself drawn closer to communion with God. Here is a good book to lose oneself in." --
Christian Research Journal
"Taliaferro strives to demonstrate that there are certain 'golden cords' that one can follow throughout this life that will lead them to the God of eternal love. Taliaferro's critique of radical materialism is especially insightful, and readers will benefit from his discussion on why consciousness fits better within a theistic framework." --Journal of Interdisciplinary Studies
"In The Golden Cord, Taliaferro aims to bring his previous insights together to build a cumulative case for a Christian worldview inspired by the Christian spirituality of the Cambridge Platonists. . . . In fewer than one hundred and eighty pages, the book covers enormous ground. . . . Taliaferro succeeds in presenting an impassioned book that is both thought-provoking and eminently readable, serving as an overview of, or introduction to, Christian philosophy" --The Expository Times
You may also be interested in...
Simply reserve online and pay at the counter when you collect. Available in shop from just two hours, subject to availability.
Thank you for your reservation
Your order is now being processed and we have sent a confirmation email to you at
When will my order be ready to collect?
Following the initial email, you will be contacted by the shop to confirm that your item is available for collection.
Call us on or send us an email at
Unfortunately there has been a problem with your order
Please try again or alternatively you can contact your chosen shop on or send us an email at