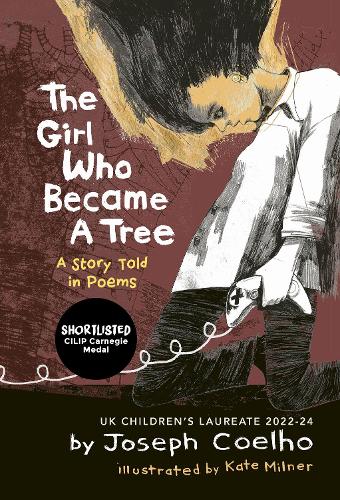 Paperback
176

Pages
Published: 03/11/2022
Daphne is unbearably sad and adrift. She feels the painful loss of her father acutely and seeks solace both in the security of her local library and the escape her phone screen provides by blocking out the world around her. As Daphne tries to make sense of what has happened she recalls memories of shared times and stories past, and in facing the darkness she finds a way back from the tangle of fear and confusion, to feel connected once more with her friends and family. The Girl Who Became a Tree sees Joseph Coelho deploy a wide variety of poetic forms with consummate skill in its narration of events. He seamlessly but searingly weaves together the ancient legend of Daphne, who was turned into a tree to avoid the attentions of the god Apollo, and a totally modern tale, mixing real-life and fantasy, in which a latter-day Daphne seeks her own freedom. This is a heart-stoppingly imaginative story told in poems, at times bleak and even tragic, which is layered, rich and ultimately a tour de force of poetic skill and energy.
Publisher: Otter-Barry Books Ltd
ISBN: 9781913074074
Number of pages: 176
Dimensions: 198 x 129 mm
---
MEDIA REVIEWS
"Heart-breaking, powerful, totally involving...a tour de force...full of energy and a rich palette of language. Evocative and powerful illustrations from one of our most innovative illustrators."
-- Tricia Adams * Love Reading *
"A classic...the way Joseph has blended the modern with the mythic held me totally - I loved it. Absolutely loved it. That's what we have been waiting for. A great book...Not been so excited about a book for a long time."
-- Pie Corbett
"One of the best things I have read this year. The writing and illustration are sublime."
-- Nikki Gamble * Just Imagine *
"Very special. Multi-layered, emotionally intense, beautifully illustrated and written by a poet at the top of his game...beautifully constructed...stayed with me long after reading. Absolutely superb."
-- Jon Biddle
"Mixing real life and fantasy, told in poems. So powerful...Tragic yet enlightening...I have a book hangover and know I will read it again and again! Wow!"
* Book Owl *
"It's almost impossible to articulate just how clever, moving and innovative this piece of work is."
* The Literacy Tree *
"A beautiful verse tale of grief. Magical and mystical. It will stay in your heart for a long time."
-- Jane Etheridge * Federation of Children's Book Groups *
"The author of Overheard in a Tower Block combines intense imaginative power with brilliant poetic technique in a multi-layered story of loss, hurt, deception, recognition and ultimate reconciliation. Milner's evocative art adds further depth."
-- Fiona Noble * The Bookseller *
"The author skilfully reworks the legend of Daphne...into a bleak and emotional YA story of loss and loneliness full of powerful imagery. It is a thought-provoking book which merges fantasy and reality, inner and outer worlds, and urban and forest landscapes. It is an emotional and complex read, but those older readers who enter the forest with Daphne as she confronts the darkness inside will emerge with her into a more hopeful world."
* Books for Keeps *
"I am full of praise for the inventive, tricksy, frightening and (sometimes) comforting aspects of this rich text."
* nicktomjoe blog *
"Only page 1, but I'm already hooked on The Girl Who Became a Tree."
-- SF Said * Twitter *
"Stunning."
* magicfictionsincepotter blog *
"Absolutely wonderful... An imaginative, exciting narrative which is a thrill to read aloud."
* Booktrust - Book of the Day *
"Multilayered, moving, mesmerising."
-- Lovemybooks * Twitter *
"A beautiful new verse novel for teens."
-- Seven Stories, The Centre for Children's Books
"Heart-stoppingly powerful, a mesmerising exploration of grief and renewal."
-- Andrea Reece * The Poetry Summit blog *
"Quite extraordinary. Sinewy, tough and challenging in the best ways. Ultimately transcendent. By far the best 'story in poems' I've ever read."
-- Ben Harris * One to Read twitter *
"The most evocative poetry...stunning illustrations, a great match."
-- Caroline Fielding * YLG London Committee Chair *
"A highly readable, imaginative tale with a positive message. Coelho's poems are succinct, thought-provoking and original."
* The Independent 10 Best Kids' Poetry Books *
"Between the verse factor, the brilliantly fairytale-ish title and that cover art, I was pretty much sold on this before I'd even opened it! And reading it only cemented this!...The illustrations...are stunning and absolutely made this book for me. It's an emotional, magical thing without them, but with them it's just something else. I could pore over them for hours. This is a collection of poetry filled with loss, loneliness, mythology and memories which combine with layered, atmospheric imagery to create a truly modern fairtyale where nature and technology collide. Brilliant."
-- Rachael, Altrincham branch * Waterstones website *
"For young poetry lovers, the talented and inventive Joseph Coelho last month published The Girl Who Became a Tree, a story in verse that revisits the myth of Daphne. Set in a library where the shelves themselves are poised on the point of metamorphosis, and where the pursued nymph has become a lonely, grieving girl, it plays with form and setting in a way that invites young readers in, asserting the myth's perpetual relevance."
-- Imogen Russell Williams * Times Literary Supplement *
"Tragically beautiful. A story that will stay with you for a long time to come...original and moving...Coelho should be hugely congratulated for creating something so powerfully moving."
* Reading Zone *
"Extraordinary and richly engaging."
* A Few to Read blog *
"Powerful."
* Write about Books, Twitter *
"The quality of the writing and verse is quite simply spectacular."
-- Charlotte Hacking * CLPE *
"I can't recommend this novel in verse enough. Since it dropped through my door I have read it 3 times. It addresses loss and loneliness beautifully. It's quite simply brilliant."
-- Jo Bowers * Cardiff Metropolitan University *
"Also showcasing the power of verse novels is Joseph Coelho's superb The Girl Who Became a Tree. Based on the ancient Greek myth of Daphne, who turned into a tree to avoid the attentions of Apollo, Coelho's modern heroine is grieving the loss of her father by escaping into her phone and the local library in search of solace and freedom. A series of rich and varied poems is accented by Kate Milner's dark, evocative art."
-- Fiona Noble * Bookseller *
"There are not many successful poetry collections for the young that tell a story in free verse - but this is one of them. Kate Milner provides outstanding black and white illustrations which perfectly mirror the emotion of the poems."
-- Morag Styles * School Librarian *
"A truly stunning story told in poetic form."
* Library Girl & Book Boy *
"This is wordsmithery extraordinaire."
-- Teresa Cremlin, Professor of Education (Literacy), Open University
"Beautifully produced small book of interconnecting poems about a young person's grief. Tender and raw at the same time. Paper, illustrations and the design of the book are gorgeous!"
-- @QueenswoodLib * Twitter *
"Coelho's imaginative retelling of the Greek myth of Daphne uses different forms of poetry to meld the ancient tale with a modern story of loss, grief and the search for freedom."
* i newspaper *
"Kate's illustrations add something special to the experience of reading Joe's absorbing and affecting poems."
* Cast of Thousands blog *
"The judges found this to be a stunning exploration of grief, anger and isolation. The intertwining of the myth of Daphne with a modern narrative strengthens the depth of the story and results in an immersive read with a lasting impact."
* Carnegie Medal judging panel 2021 *
"A brief yet challenging novel in verse that tackles the gnarly, disordered forest of the grieving process."
* Kirkus Review (US) *
"A most original, dark, verse novel by Joseph Coelho with playful graphic typography, tells a powerful story... The dramatic, empathetic, black-and-white line drawings by Kate Milner work effectively with the text and demand the reader's attention, as does the overall graphic conception of the book, making it attractive to the audience it is aimed for - and beyond."
* Bologna Children's Book Fair Judging Panel *
"This stunning collection will open young readers' eyes to the potential and power of poetry."
* Good Housekeeping - top 50 books every child should read *
"Transforming the love story between Apollo and Daphne into fresh and modern narrative poems, this sequence utilises outstanding wordplay, provocative and thought provoking images, and lines that linger in the memory. The multilayered and varied forms are often startling, are never dull and will appeal to the widest audience. Young people who don't like poetry might rethink. A modern classic. Highly recommended for KS3 and KS4"
-- Tom Tolkien * School Reading List *
You may also be interested in...
"A truly modern fairytale where nature and technology collide"
Between the verse factor, the brilliantly fairytale-ish title and that cover art, I was pretty much sold on this before I'd even opened it! And reading it only cemented this!

Through a series of poems, we meet Daphne... More
×
Download the Waterstones App
Would you like to proceed to the App store to download the Waterstones App?
Reserve online, pay on collection


Thank you for your reservation
Your order is now being processed and we have sent a confirmation email to you at
When will my order be ready to collect?
Following the initial email, you will be contacted by the shop to confirm that your item is available for collection.
Call us on or send us an email at
Unfortunately there has been a problem with your order
Please try again or alternatively you can contact your chosen shop on or send us an email at