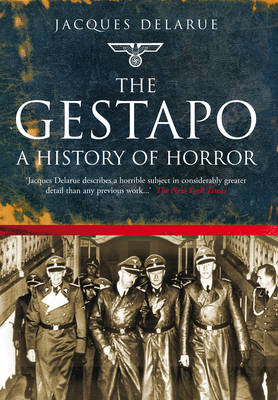 Paperback
Published: 30/01/2015
'This book won't let the world forget ...It details the background of this terror organization and its formation, the personalities who created it - the Goerings, the Himmlers, the Heydrichs - and how each added to its refinement as an instrument of torture.' - New York Daily News Perhaps the most terrifying embodiment of a government's disregard for the value of human life, the Gestapo, Nazi Germany's secret police force, was a veritable killing machine. It was the iron fist that Hitler and his henchmen used to strangle dissent and smash resistance to his rule. In The Gestapo, Jacques Delarue unflinchingly probes the organisation's history, and explains how such a horrific institution could come into being, who was behind it, what they did and why. Drawing upon interviews with ex-Gestapo agents and the organisation's published and unpublished archives, Delarue delivers a complex history of the brutally efficient force whose work included murdering student resisters, soliciting denunciations of 'political criminals', establishing Aryan eugenic unions and running concentration camps.The Gestapo and its leaders - Himmler, Barbie, Eichmann, Heydrich, Muller, and others - devised and implemented some of the most abhorrent torture and extermination techniques the world has ever seen. This book offers a clear view of its crimes against humanity.
Publisher: Pen & Sword Books Ltd
ISBN: 9781473827691
You may also be interested in...
We would love to hear what you think of Waterstones. Why not review Waterstones on Trustpilot?