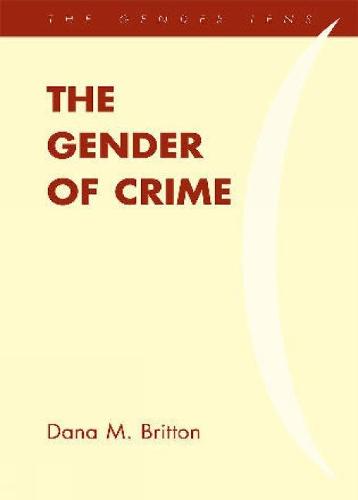 Paperback
192

Pages / Published: 16/05/2011
The Gender of Crime introduces students to how gender shapes our understanding of every aspect of crime. Moving beyond criminological theories and research that have often neglected gender, this dynamic and provocative book shows that gender is central to the definition, prosecution, and sentencing of crimes, that it shapes how victimization is experienced and understood, and that it structures the institutions of the criminal justice system and the experiences of workers within that system. Discussing the intersections of race, class, gender, and sexuality with crime and punishment, this book demonstrates that crime, victimization, and crime control are never generic_they are instead produced and experienced by gendered (and race, and classed, and sexualized) actors within contexts of social inequality. This book highlights key concepts for students and encourages them to think critically through a range of compelling real-life examples, from school violence to corporate crime. The Gender of Crime provides essential reading for students of gender, criminology, and criminal justice alike.
Publisher: Rowman & Littlefield
ISBN: 9781442209701
Number of pages: 192
Weight: 295 g
Dimensions: 231 x 156 x 15 mm
---
MEDIA REVIEWS
Dana Britton offers a critical and thought-provoking examination of how criminology as a discipline has largely ignored the intersections of various social inequalities in individuals' likelihood of engaging in crime or being victimized. . . . The Gender of Crime provides a nice example of the ways in which the intersections of gender and other master statuses can be understood in a variety of social arenas, but particularly in the CJS. In addition to being well-referenced with current and classical criminological, sociological, and legal literature, Britton's book is extremely well-written and can be appreciated by advanced scholars, students, those who work in the field of corrections, and even those with a general interest in the issue of crime and its root causes. There is much to learn from Britton's insightful presentation of the criminal enterprise as a highly gendered, racialized, classed, and often sexualized realm of social life. * Sex Roles: A Journal of Research *
This treasure-trove of evidence and insights about gender and crime in the U. S. offers a disturbing picture of the dynamics of criminalization, crime victimization, and the kinds of people (and entities, e.g., corporations) that are prosecuted (or not) for committing crimes. Britton exposes as false many widely-accepted myths about gender and crime (e.g., women and girls have become more violent, law enforcement officers' chivalry accounts for women's lesser arrest and incarceration rates) and continually reminds us that race/ethnicity, social class, and sexual orientation as well as gender are implicated in crime commission and society's responses to it. On every major issue, Britton's review of competing explanations of empirical patterns (e.g., rape rates, homicides) is even-handed; for example, she contrasts feminist explanations with others to explore their differing assumptions and claims. This profoundly sociological book urges readers to focus on social contexts when seeking to understand how crime is 'constructed' by society (legislatures, the courts). A comprehensive, insightful, well-documented analysis, Britton's book is an invaluable resource that will both inform and prompt debates in coming years. -- Patricia Yancey Martin, Daisy Parker Flory Professor of Sociology Emerita, Florida State University
Dana Britton's The Gender of Crime is theoretically sophisticated, examining the topics of import for teaching students to think critically about the relations of gender, race/ethnicity, sexuality, class, and inequality with crime and justice. In addition to its thorough research coverage, throughout Britton uses concrete examples to make key concepts readily understandable. It's just the text I've been waiting for! -- Jody Miller, School of Criminal Justice, Rutgers University
The author of the widely-heralded At Work in the Iron Cage, has brought readers another carefully crafted, meticulously researched, and thoughtfully argued book. In The Gender of Crime, Dana Britton turns a gender lens on criminology, offering clear and nuanced explanations and examples of how gender (as well as race, class, and sexuality) shape the commission of crime and our responses to it. Britton also exposes the biases within criminology that, to date, have prevented us from recognizing the influence of masculinity or the criminal acts of the government and corporations. This book also soundly debunks persistent and damaging myths about crime, such as the ideas that female offenders are liberated or hyperviolent, that rape is a rare event committed mainly by strangers, and that women and men participate equally in intimate partner violence. Britton's lucid and even-handed explanations make this an excellent resource for anyone interested in the study of crime. The Gender of Crime presents a compelling case that addressing the problems of crime and the criminal justice system demand that gender (as well as race and class) be fundamental considerations, not incidental ones. -- Jeanne Flavin, Fordham University; author of Our Bodies, Our Crimes: The Policing of Women's Reproduction in America
This book comes at just the right time: at this historical moment, when girls and women are increasingly visible in media images of crime and the criminal justice system; when there is a growing body of scholarship on the nexus between law, crime and the criminal justice system, on the one hand, and gender, on the other hand; and when the demand for (and importance of) understanding more about this nexus is at an all-time high. The Gender of Crime draws on both classic and contemporary theoretical and empirical scholarship as well as provocative real world examples and illustrative cases to systematically reveal how law, crime, and criminal justice are gendered through and through. Moving seamlessly from how gender is encoded in law, to the gendering of law breaking and attendant victimization, to the structure and operation of the criminal justice system, Dana Britton systematically applies a gender lens on criminology. Treating gender as a multifaceted phenomenon-as a social characteristic, a process and mechanism, and an outcome and manifestation-she skillfully reveals the multitude of ways in which gender operates to shape the context of crime, the perpetration of crime, the victimization associated with crime, and the institutions charged with managing crime. The result is clear: the value of this book for academics, advocates, and policymakers is beyond question, precisely because it is synthetic without glossing over important frameworks and findings; it is readable without betraying the complexity of the nexus between gender and crime, and scholarly without being 'just academic.' -- Valerie Jenness, University of California, Irvine; President-Elect, Pacific Sociological Association
Drawing from social and historical contexts, as well as theoretical works and empirical research, The Gender of Crime offers a nuanced account of the relationship between gender and crime, and is distinct in its intersectional focus. The book is not a simple review of similarities and differences in women and men's crime and victimization. A key contribution of this book is its ability to illuminate understandings of offending, victimization, criminal justice system responses, and occupations within gender, race, sexuality, sex, and class contexts through a wide-ranging review of related research and theory. * ASC Division on Women and Crime *
Britton (Kansas State Univ.) offers a succinct and important treatment of a complex issue, leading off with an assessment of criminology as a discipline, discussing the historical ignorance and denial of gender, and moving toward more recent trends in the treatment of the issue. She then addresses women as offenders, as victims, and as employees and workers in the criminal justice system. An additional chapter explores the issue of gender as it is generally manifested in the criminal justice system overall. Britton makes good use of a slender volume. Her writing is crisp and succinct; when the numbers get unwieldy, she supports her thesis with graphs and tables. She addresses the topic of gender and crime in an elegant manner. Readers are not bludgeoned with superfluous detail or distracted by unnecessary repetition of points that have been adequately argued. The text is substantial enough to be of use to graduate students while avoiding the common issue of being so dense that it is not accessible to the typical undergraduate. * CHOICE *
You may also be interested in...
Simply reserve online and pay at the counter when you collect. Available in shop from just two hours, subject to availability.
Thank you for your reservation
Your order is now being processed and we have sent a confirmation email to you at
When will my order be ready to collect?
Following the initial email, you will be contacted by the shop to confirm that your item is available for collection.
Call us on or send us an email at
Unfortunately there has been a problem with your order
Please try again or alternatively you can contact your chosen shop on or send us an email at